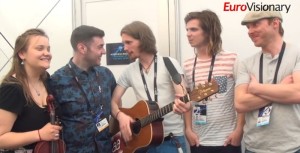 EuroVisionary caught up with the Latvian representatives right after their first rehearsal in Copenhagen. Our journalist might have planned a regular interview, but Aarzemnieki had other plans…. exactly how it went when they took over, you can see here.
This "video features the four members of the group Aarzemnieki, the lead singer Joran Steinhauer, violinist and vocalist Katrina Dimanta, drummer Raitis Vilumovs and Guntis Veilands, pianist, and also the author of their Eurovision entry Cake To Bake. EuroVisionary's Will O'Regan caught up with them Monday afternoon.
Will quickly found himself in an akward situation having the Latvian representative singing to, with and about him. It was a lot of fun though and certainly a moment to watch again.
The video is recorded in 3D, which we recommend to enjoy it to its fullest. If however you don't have a pair of suitable glasses, it can easily be turned off in the player below for regular 2D viewing.