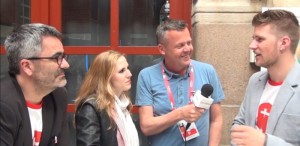 The group Takasa, representing Switzerland at this year's Eurovision Song Contest, found some time to answer our questions right after one of their rehearsals in Malmö and they even delighted us singing a typical Swiss song. You can see it in this video interview, which has been recorded in 3D.
In the video below you can watch an interview conducted by Frank Holm with some of the members of the group Takasa who are representing Switzerland this year with the song You And Me.
They were chatting about how their rehearsals went, their Eurovision memories… and they also mentioned their countrywoman Lys Assia, the first Eurovision winner, who was also one of their rivals at this year's Swiss national selection.
At the end, we asked them to sing something typical from Switzerland and they improvised a version of a typical Swiss song. If you want to know which song is you have to watch this interview and you can do it in 3D to enjoy it to its fullest. If however you can't see that, you can always turn it off in the player below for regular 2D image.