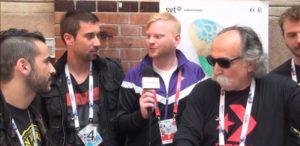 Here you can get to know the guys of Koza Mostra and Agathon Iakovidis a bit better. Have you ever wondered what kind of music it exactly is they do? They tried to explain it to us in this video interview, which was recorded in 3D.
Eurovisionary's Jens Erik Møller got the chance to catch up and have a conversation with the members of Koza Mostra and Agathon Iakovidis who will be representing Greece at this year's Eurovision Song Contest. First of all we asked them to describe exactly what kind of music they perform, but even for them, it is not easy to be specific with the definition.
Regarding the title of their song, Alcohol Is Free, we wanted to ask the Greek hopefuls about their favourite drinks and also they spoke in depth about the real meaning of the controversial title of their song.
This is just a little bit of what we talked to them. You will find much more in the video below recorded in 3D to make the artists stand out even more. But if you don't have a pair of glasses ready this can easily be turned off in the player for a regular 2D view.