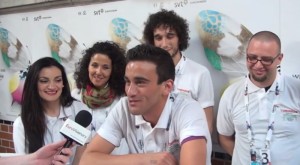 EuroVisionary caught up with this year's Maltese representative Gianluca Bezzina and his team and we took the opportunity to ask him some questions. In this interview he also dares to sing his favorite song in the history of the Eurovision Song Contest. Do you want to know which one it is?
EuroVisionary's Jens Erik Møller talked to Gianluca Bezzina who will represent Malta at the second semi-final of the Eurovision Song Contest with the song Tomorrow. In this interview, he compares both of his professions as besides being a singer, he is also a doctor. He of course tells us how is enjoying this experience alongside his team of musicians and backing singers and when he was asked about his favourite song of the Eurovision history he did not hesitate to answer with the title of the Danish entry which won the contest in 2000 Fly On The Wings Of Love. Listen to him singing his own version of this song and much more in the video below.
Of course, this interview was recorded in 3D and, as always, we strongly recommend watching this video in 3D to enjoy it to its fullest, but if you do not have a pair of suitable glasses this can easily be turned off in the player below and watch it in regular 2D.