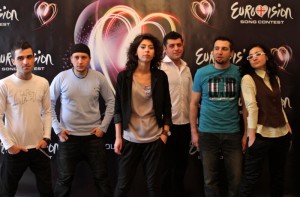 Eldrine will represent Georgia at the 2011 Eurovision Song Contest with the song, One More Day.  Here the band talk about their history and their plans for Eurovision and the future.
Congratulations, Eldrine, on winning the Georgian national selection. First of all could you introduce yourselves? What are your names?
Greetings! Thank you for taking interest. We are "ELDRINE", it's 6 of us: Sophia Toroshelidze (lead singer), Michela Chelidze (Rap Singer), Irakli Bibilashvili (Bass Guitar), Beso Tsikhelashvili (Lead Guitar), Davit Changoshvili (Drums), Tamuna Shekiladze (keyboard).
How long have Eldrine been together?
Eldrine is already one year old, we are friends brought together by music.
Sopho, you are new to Eldrine. How did you get involved with the band?
There is a day in everyone's life when the dreams come true. This was the day for me when I become the part of Eldrine.
Have Eldrine released any albums and do you have a new album planned for release?
All of our time and energy is concentrated towards Eurovision because, the Georgian nation has trusted us with great honour and responsibility to represent our beautiful country in the largest song contest in the world. We have a very tight schedule but we still manage to work on our album and you will be first to hear it when it's ready.
Have you had any advice or words of wisdom from previous Eurovision entrants from Georgia or otherwise?
From all the previous representatives of Georgia on Eurovision, we are getting very useful and productive advise and suggestions and of course they wish us success.
How will you promote Georgia to the rest of Europe?
Georgia is the country that is developing and prospering day by day. Our country is beautiful, very musical and one of our greatest strengths is the hospitality. We love our guests and would like to take an opportunity and invite you all to come to Georgia. Georgians sing all over the country and not just when they are happy, we sing even when there is sadness. Georgians sing from the heart.
The stage in the Georgian national final was quite small. Do you already know how you will change the performance to fit a significantly bigger stage in Düsseldorf?
The stage performance for the song, One More Day, is being created by the famous French performing arts director, Pascal Jourdan. It's and honour for us to work with Pascal and you and entire Europe will see our creation on may 10th.
Have you heard the other entries from this year's Eurovision Song Contest? If so, what are your favourites?
We indeed listened to all the songs presented this year. We are glad we have very talented competitors. This makes the challenge even more interesting for us. We can't talk about any of them in particular. We just don't want to hurt someone's feelings. One of our goals is to gain lots of friends after Eurovision.
Finally what question that I have not asked you would you like to ask yourselves and what would your answer be?
This is the 3rd time the singer named Sopho is representing Georgia at Eurovision. This is becoming a kind of tradition for us. We hope the 3rd Sophia will be the most successful. Please listen and support, because it's very important for us.
Thank you Eldrine. Good luck in Germany.