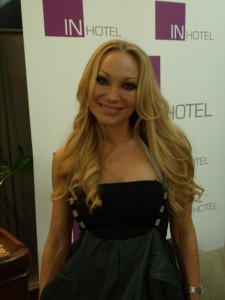 Charlotte Perrelli from Sweden talks to Eurovisionary.com about her reactions after the semifinal.
We met Charlotte at In Hotel. As one could expect there was a media-chaos around her. We got a couple of minutes with Charlotte in a quiet corner of the hotel where she enjoyed a glass of champagne while talking to us.
Charlotte tells us that she is incredibly relieved to go through to the final on saturday and to feel that she has not disappointed the swedish people. Her aim now is to prepare herself and do everything even better on saturday.
When we asked Charlotte what she thinks about starting from number 15, she she told us that it is a wonderful starting number: "The starting number really doesn't matter at all but for me personally I think it is a good starting position. Same number as in Jerusalem!"
We also asked her about who she saw as her main competitor. She answerd that it was hard to tell. She thinks Ukraine has a big number which stands out and that it is performed very well.
Regarding her personal favourite songs, she mentions Denmark and Switzerland.
Charlotte intended not to go to the afterparty. By the time we did the interview the time was 1.30 and as soon as we finished the interview she told us that she would do a bit of blogging before going to bed.