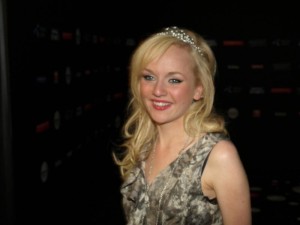 EuroVisionary had a talk with Anna Bergendahl after the Semi-Final. The clock was 0.30 when Anna arrived to the transfer bus outside Telenor Arena. She was followed by a big flock of media. The interview itself was done inside the bus.
We began to ask Anna about her feelings right after the Semi-Final. She describes that she & the swedish delegation is feeling a little bit low at the moment and that she is left with a melancholic feeling, but this is a situation that she & the team will handle together according to Anna.
Some bursts of laughter amongst the delegation members can be heard a bit back in the bus and Anna smiles and explains that everyone still are in a good mood.
Anna tells us that she is very satisfied with her performance and that there is nothing about it that she would like to change.
We asked Anna to tell us more about here visit in Oslo and what she have been doing during her stay. She tells us that she visited a school, the swedish embassy, parties, Eurovision village, a hundred interviews and spending time with the ones close to her and she calls the visit in Oslo the time of her life.
When we asked about if she made any new friends during her Eurovision adventures she explains to us that she did and that she especially came close to many people in the swedish delegation.
Last we ask Anna about her future after Eurovision. She tells us that is doing a summer tour, that she will graduate from school and that she would be glad if she could find some suitable education for her. She also would like to travel a bit and mentions New York as a destination.
We thanked Anna and wished her good luck with her future career.