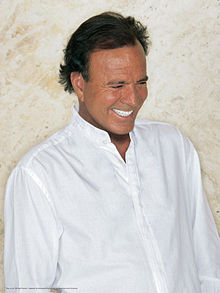 The universal Spanish voice, Julio Iglesias, participated in the Eurovision Song Contest in 1970. Although he didn't win the contest, he is well known as "the Universal voice" in all over the world.
Julio Iglesias was born on September 23rd, 1943 in Madrid. Before his music career, he was a remarkable athlete and played in Real Madrid's junior soccer team as a goalkeeper. In spite of his success at Real Madrid, he never abondoned his studies and he studied law in the Complutense University of Madrid.
When he was 20 years old, in 1963, he had an major traffic accident and this left him semi-paralysed for more than a year and a half. During this period his nurse, Eladio Magdaleno, presented him with a guitar and that made Julio inspired to write romantic poems and songs.
After he began to continue his normal life, Julio never gave up writing songs and he decided to go to a record company. The manager of the company asked him to sing his songs and Julio later performed at the famous Benidorm Music Festival.
In 1968, he was proclaimed the winnner of the contest with his famous song La Vida Sigue Igual. In 1969, he participated in the Romanian Brassow Golden Stag Festival and Chilian Festival de Viña del Mar. During that year, he did his first American tour and he released his first movie called "La Vida Sigue Igual".
Julio participated as the Spanish singer at the Eurovision Song Contest in Amsterdam, Netherlands, in 1970, where he reached 4th place out of 12 countries scoring 8 points.
Julio got married in 1971 to Isabel Presley Arrastria in Toledo, Spain and they have two sons; famous Enrique Iglesias and Julio Iglesias Jr. and one daughter; Chabeli Maria Isabel. In that year, he was number one all over the world from Argentina to Japan. He translated his song 'Como el Alamo al Camino' into Japanese with 'Anatamo Uramo' in that year.
He recorded his first German LPin 1972. In 1975, he made an LP in Portuguese. He recorded his first Italian and French singles in 1978 and the next year, he was invited to judge the Miss Universe contest in Australia in 1979.
Julio received the first and the only Diamond Record Award ever given to a singer by the Guiness Book of World Records in 1973 for selling more records in more languages than any other musical artist in history; Spanish, English, German, French, Italian, Portuguese, Tagalog and Japanese. In 1985, he was honoured with a star from the Hollywood Walk of Fame and Walk of Latin Stars at Miami's 8th Street.
In 1988, he received a Grammy Award for the Best Latin Singer with his album "Un Hombre Solo" which was released in 1987, and he won the Applause '92 award for Artist of the Year.
Julio was named "Universal Spainard" in Floridain 1992, "Ambassador of Galicia" to the world in Spain. He also received the Monaco World Music Award for being the Best Latin Singer in 1997, and the Golden Record Award in 1995 in China. In 1997, Julio won the most memorable award ever his life, the ASCAP Pied Piper Award, the society's most prestigious award for entertainers. In addition to that, they proclaimed 8th of September 1997, "Julio Iglesias Day" in Miami.
Julio Iglesias is one of the most popular recording artists in the world. He has sold more than 250 million albums, and he has been the recipient of over 2600 Platinum or Gold records in his music career. Julio still continues his unstoppable triumphant march through the world. His songs play on any radio station every thirty seconds. He performs in concerts all over the world and his albums continue to be successfull in sales.
Links