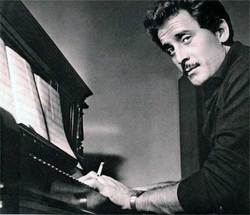 Such is Domenico's contribution to Italian music that he is known as the Father of Italian music.
He was born on 9th January 1928 in Polignano a Mare in the Puglia region. Even as a small boy, his love of music began to show, he learnt to play the guitar and the accordion and wrote his first song when he was fifteen. Keen to live in a big city and not a small town, Domenico moved to the other end of the country and settled in Turin when he was nineteen, finding work in a factory. After completing his national service, he went to Rome where he began his musical career while still having a 'normal' job. His first experience of competition was in an acting contest at Centro Sperimentale di Cinematografia, where he won a bursary.
In 1951, while still a student, he won roles in the film 'Filumena Marturano', and 'Carica Eroica' a year later. Also in 1952, he moved into theatre with a part in 'Il Borghese Gentiluomo', in which he had the chance to show his singing skills. More film roles followed soon after. In 1953, he appeared on 'Trampolino', a music competition on the radio paying homage to Frank Sinatra. After this, state broadcaster RAI gave him another radio series called 'Amuri… Amuri', in which he wrote words, produced, acted and had a hand in the sound effects.
At this time, he wrote many songs in his own Pugliese dialect, and also in Siciliano, using the folklore of Puglia and Sicily as his inspiration. Songs such as 'Lu Pisce Spada', 'La Svelglietta' and 'Attimu d'Amuri' created a lot of interest among journalists. In 1957, he entered and won the Festival della Canzone Napoletana with the song 'Lazzarella'. A year later, he entered the Sanremo festival for the first time with a song that would become one of the most popular Italian songs ever written, 'Nel Blu, di Pinto di Blu'. The same song came 3rd in the Eurovision Song Contest but still managed to be a hit all over the world and would be covered by many major international singers, usually under the title 'Volare'. It won many awards, including the Grammy for Record of the Year and Song of the Year. During a tour in America, he was offered the the keys to Washington and a star in Atlantic City. The highlight of the tour was playing before 121,000 people at Coney Island.
He won Sanremo again in 1959 with 'Piove', which represented Italy at the Eurovision in Cannes. This time he finished joint 6th. In 1960, he entered Sanremo again and finished 2nd with 'Libero'. An accident kept him out of the spotlight for a while, but he returned in the musical comedy 'Rinaldo in Campo', which became Italy's entry in the International Theatre Festival in France, where it received wide critical acclaim. In 1962, he won Sanremo again with 'Addio, Addio'. As with his other Sanremo songs, he co-wrote it, but although the song represented Italy at the Eurovision that year, it was sung there by Claudio Villa.
He tried his hand behind the camera in 1963 when he was the Cinematographer on the film 'Tutto e Musica'. In 1964, he had mixed fortunes musically. He unsuccessfully entered Sanremo with 'Che me ne Importa.. a me' but he won the Festival di Napoli with "Tu si' 'na Cosa Grande".
He entered Sanremo six more times between 1966 and 1974. He only won it one more time, in 1966 with 'Dio, Come Ti Amo', where he suffered the indignity of scoring no points with the same song at the Eurovision. He continued to appear in films and in the theatre into the 1980's. On 6th August 1994, after suffering many years of illness, he died at his home in Lampedusa, Sicily.
Links