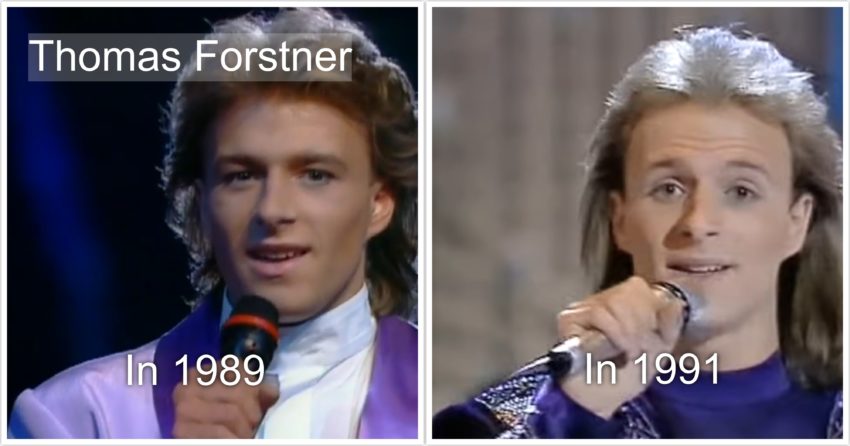 Thomas Forstner represented Austria twice. First time, in 1989, he finished in fifth place. Two years later, he didn't receive any points and thus finished last. Eurovision fans now compare the two entries.
In Eurovision Battle we put two former Eurovision entries up against each other. It's songs with something significant in common which makes them worth a comparison. The Fan Panel members are asked to watch the videos for both songs before providing their opinion.
Thomas Forstner represented Austria twice at the Eurovision Song Contest, with only two years in between. It's two excellent ballads, but yet they scored very differently.
Nur ein Lied finished 5th with 97 points. This included the maximum 12 points from Belgium, Greece and Italy.
Venedig Im Regen finished 22nd and last with zero points.
Austria 1989 vs Austria 1991
In order to find out what Eurovision fans today think of these two entries, we asked our Eurovision Fan Panel. It includes team members as well as fans from all over the world.
🇳🇱 Eric O. – This is a typical example of a returning Eurovision artist failing, as the 2nd attempt didn't do very well, ending last in 1991 and correctly so, since the song & performance (as well as his stage appearance) weren't that great. His 1989 entry deserved a 5th place though, as it perfectly fit with the era: a dramatic, well-sung ballad and a typical stage appearance of wide shoulders and long hair. It made me think of Modern Talking, the 1980s German pop duo of Dieter Bohlen and Thomas Anders, who also had a few similar ballads at the time. It's still a well-known song on ESC Radio. So for me, the winner is definitely 1989!
🇫🇮 Martti I. – Nur Ein Lied is still my favourite from his songs. Bohlen was too easy to notice as songwriter and I suppose this entry could have been better with more tempo. The artist managed well, mediocre to be honest. I think he could have had more fitting outfits and definitely a haircut…
🇩🇰 Charlotte J. – This battle is an example of how music taste develops as one gets older. In 1991, the teenage me loved Venedig Im Regen and was unable to understand the zero points. Two years earlier, I hadn't paid much attention to Nur Ein Leid. Today, there's no doubt that Mr. Forstner's 1989 entry is the better one of the two. I almost feel ashamed now that I didn't appreciate the qualities of that song back then, but at the age of 13, it was very hard for ballads to catch my attention. Today, I still like his 1991 entry, but the 1989 one gets a love from me ♥️
🇬🇷 Mike E. – Thomas is a sweet guy, no one can deny that! Also, none can deny that he likes purple too. Now on the songs I think most people will agree but Nur Ein Lied is definitely a better song with a melody that even though it doesn't have a big moment, it's stuck in your head while on the other hand our, the other entry even though it didn't deserve to get 0 points, I think it stayed at the last places for a reason.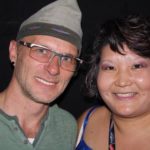 🇩🇰 Liza P. – Nur Ein Lied is my favourite Austrian entry ever. It's a fantastic song. The lyrics are so beautiful – both in the German and English version. Well-deserved 5th place – and I don't understand how Germany finished 14th, since it was composed by the same team and is a brilliant song too. I also think that the suit Thomas had in 1989 makes him the best dressed male in Eurovision ever – the colour was so bold for a guy and yum he looked good.
Venedig Im Regen is almost my 2nd favourite Austrian entry ever. Though in 1991 I think the general quality of the songs were better, and Thomas being in the first half probably didn't help. However, I still think it's a beautiful song and it definitely didn't deserve 0 points or to finish last.
Since 1989 I've had a huge crush on Thomas Forstner, so it was a dream coming true, when I met him in 2015.
🇬🇧 Michael O. – Austria 1989 was a very good entry indeed, and even then it was being compared though favourably to the German song that year, written by the same writer. As I'd been a fan of the 1989 entry, I probably thought that I liked the 1991 entry more than I really did. As time has passed I realise that the 1989 entry is way better than the 1991 entry and I'd wager that Thomas agrees.
🇨🇴 🇫🇮 Alvaro S. – I like Forstner's 1991 entry slightly more because the melody composition sounds more engaging to me. While on the other hand, the 1989 creates a more solemn atmosphere around it that is fine but comparing the two makes it look more outdated.
🇹🇷 Gunec G. – Almost the same in style. I guess this is Thomas' style. Both songs are very good examples of the eighties Europop songs that I've always been fond of. I prefer Nur Ein Lied though.
Thomas Forstner – a mini biography
Being born in December 1969, Thomas Forstner was just 19 years old when he represented Austria at the Eurovision Song Contest for the first time. It was in 1989, and the song Nur Ein Lied was written by German composer and Modern Talking member Dieter Bohlen. The song finished in 5th place. The English version of the song, Song Of Love, was used as anthem for a ZDF crime series.
Two years later, Thomas returned to the Eurovision stage. The song Venedig Im Regen failed miserable to live up to the prior success. With zero points, it finished last at the 1991 Eurovision Song Contest.
He has married twice, and musically been involved in many different projects, but he hasn't stayed in the industry as a solid name and instead trained himself and took work as a software developer.
In the two videos below you can watch both of these Eurovision entries from Thomas Forstner.