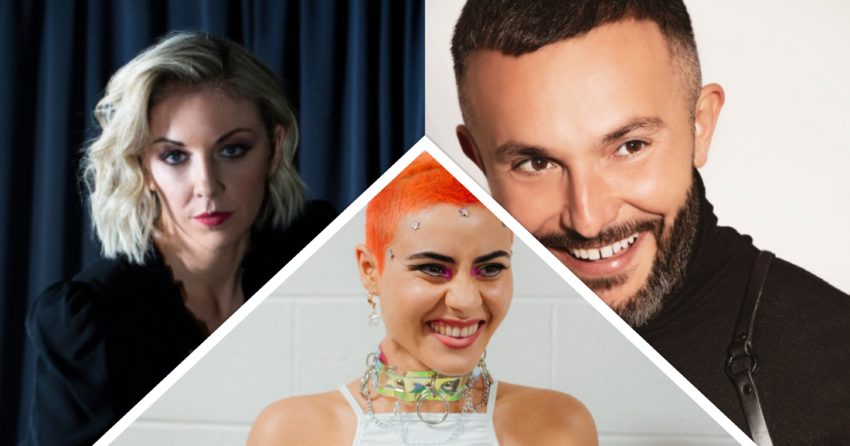 After a lunch break, we continued with Australia's Live-on-tape recording and rehearsals from North Macedonia and Ireland. These rehearsals show us what we can expect from each country when first semi-final kicks off on the 18th of May.
Earlier today, we saw the first rehearsals from Lithuania, Slovenia, Russia and Sweden. These are the first four countries in the line-up for the first semi-final. You can read about them in our rehearsal coverage article from this morning. They are followed by Australia, North Macedonia and Ireland.
Let's check out the rehearsals from these next three countries. The article is being updated during each rehearsal so remember to come back or refresh to catch the latest news.
Contrary to other years, this time, the first run through of each rehearsal was closed. This is the one where they test vocals. After that, each country had two rounds which were available for the press to watch.
Australia: Montaigne – Technicolour
As Australia won't be in Rotterdam, they will use their Live-on-tape recording. We had been told we would see a backstage of the recording of that one today instead of a rehearsal. Well, whatever it was they put on, it was really short. We saw a few seconds before it was all over.
Afterwards press kept asking each other the same questions; what was that, and was that it? It appears that the few flashing clips was all indeed.
A longer video has been available on YouTube. You can watch it below.
North Macedonia: Vasil – Here I Stand
Vasil was alone on stage in his black costume with a silver vest underneath. The performance started off plain but impressive and emotional, quite fitting to the song, one might add. The light ball representing Vasil's heart spread all over to light the stage through the end of the performance. That light represented the love that Vasil wants to spread all over the world to bring us together.
Vocally, this was a very strong performance. In the first run, there was one tiny little moment, where we got in doubt if we could carry it, but he quickly convinced us. In the second run, he was outstandingly strong. With the big backing vocals, this song could be a vocal study in itself.
Pictures from the rehearsal can be found on Eurovision.tv. A little video from the rehearsal can be seen below.
Ireland: Lesley Roy – MAPS
There has been a lot of concern from fans naturally, if Lesley can pull it off live. This is a rather fast song and as such not easy to sing if there's a lot going on in the performance. Let's wait and see… they sure made us all very excited, and nervous too, as it takes forever before we are allowed to see live footage from the rehearsal. This usually indicates big props, or vocal problems they want to address.
Lesley is dressed all in dark green clothes. She is alone on stage, but various visual elements makes it really interesting to watch – in particular the flipping pages in a book. It's basically a continuing story of what was to be her entry from last year. There's a lot going on during the stage performance, but Lesley has a great energy on stage, but yes, let's be honest, the vocal needs a little improvement. At least from what was heard on the stream available for the press.
Due to how difficult the staging is, there was only time for one visual performance from Ireland today.
Pictures from the rehearsal can be found on Eurovision.tv. Below you can watch a little video.