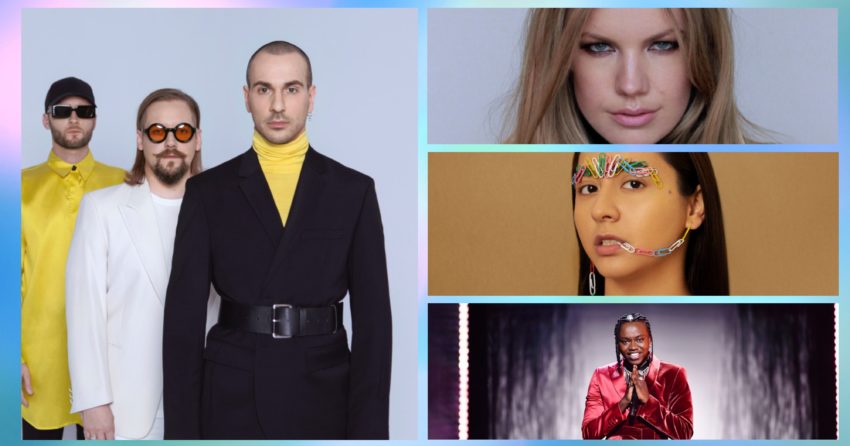 The 2021 Eurovision Song Contest has started. It's time for the first countries from semi-final 1 to try out their performance on the stage in Rotterdam, the Netherlands. Here you can check up on the rehearsals from Lithuania, Slovenia, Russia and Sweden.
It has been tough, but now we are here; at the beginning of two weeks full of Eurovision rehearsals and press conferences. It's not a 'normal' Eurovision, but it's happening! After last year's cancellation, this is a moment many of us have been waiting for.
Let's check out the rehearsals from the first four countries. The article is being updated during each rehearsal so remember to come back or refresh to catch the latest news. Later this afternoon, we'll see live on tape preparations for Australia, and rehearsals from North Macedonia and Ireland. That will be available in another article.
Contrary to other years, this time, the first run through of each rehearsal was closed. This is the one where they test vocals. After that, each country had two rounds which were available for the press to watch.
Lithuania: The Roop – Discoteque
Fresh up this morning Lithuania served us Discoteque as breakfast. Once we get to see it in the semi-final, it won't be served together with coffee, bagels and juice (except from in Australia, perhaps). But being on first, The Roop will get plenty of attention.
As it often happens, the set-up wasn't quite in place from the beginning. We had no sound at the beginning for Lithuania, but once that was sorted, there was no further issues. The three band members are dressed in the same yellow clothes as we have got so familiar with by now. They are joined by two dancers (also dressed in yellow) appearing like a fully integrated part of the band. Lots of energy, and lots of purple and pink in the background. There's a good interaction with the camera, and they use split screens from time to time.
A really good first rehearsal. The Roop is an experienced band, and they clearly know their routine. Nothing to worry about here.
Below you can watch a little video from the rehearsal. A gallery with pictures have been provided by Eurovision.tv.
Slovenia: Ana Soklič – Amen
Ana starts being all in focus before the camera zooms out to show the viewers her white outfit. It's once again a familiar outfit, the white trouser suit with a long train from the shoulder looks very similar to what we saw in the official video. Behind Ana, we see first the earth, and then later various nature shots. The colours are mainly brown and gold earth colours with a bit of fire added.
She is alone on the stage, but behind hear you hear what sounds like a big gospel choir. We all know that it can't be totally big as the limit of six people also includes the backing singers behind stage, or pre-recorded, as it most likely is in this case. The 'choir' really lifts this song, and it supports Ana's vocal well.
A gallery with pictures from the rehearsal can be found on Eurovision.tv. Below you can watch a little video from the rehearsal.
Russia: Manizha – Russian Woman
Manizha appeared on a colourful stage in a big ethnic costume, and when we write big, we do mean it literally! She came out of the big costume revealing her red sport suit, which we saw in the national final. Four backing vocalists accompanied her on stage. Her big gown from the beginning keeps standing on the stage.
The back screen was used for ethnic and colourful images of women – and messages to women. Towards the end of the performance, real Russian women were shown on the large back screen. Flames shoot up during the performance here and there.
A very theatrical and strong performance as expected from Manizha.
Pictures from the rehearsal can be found on Eurovision.tv. A little video can be watched below.
Sweden: Tusse – Voices
Tusse has had some vocal issuess lately, and that was also noticeable in today's rehearsal. It sounded much better in the Swedish final though, so it's probably just illness and as such something that can be sorted for the semi-final. His second run-through today was already better than the first aside from just one big knack in the voice.
The red colours from the suit in Melodifestivalen are being re-used, but this is a slightly different version we see now. Black and silver on the arms and neckline makes this something you notice.
On the stage, Tusse is joined by five dancers all in black. The dark-coloured stage with golden lights makes this quite a dark performance where all focus is supposed to be on him.
Contrary to many other years, we haven't seen any spectacular props from Sweden this year. The backdrop was at some point used to give the impression of more dancers by multiplying the existing ones, but that's basically it. Nothing complicated that takes a long time to set up.
Pictures from the rehearsal can be found on Eurovision.tv. A little video can be watched below.
After a little lunch break, we'll continue with Australia (backstage footage from Live-on-tape recording), North Macedonia and Ireland. That will be in another article.