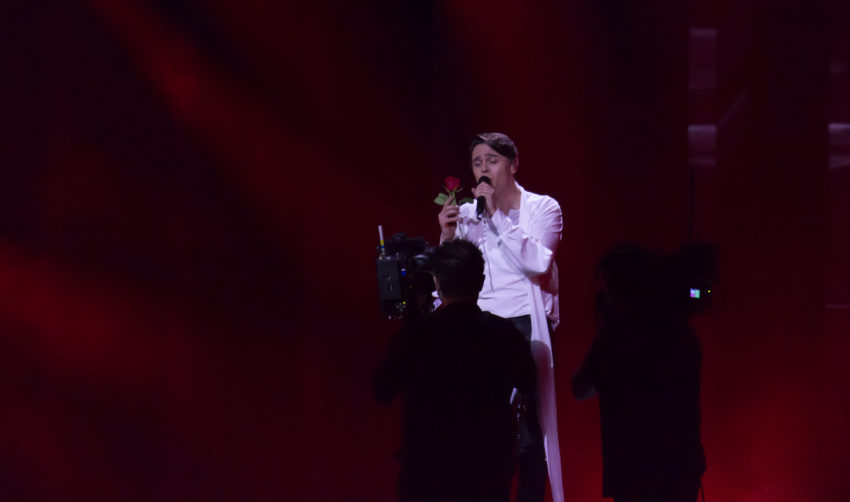 A dramatic national selection with accusations of foul play brought Alekseev to the Eurovision Song Contest. He failed to reach the final – maybe due to a performance that stood out for the wrong reasons?
For the Belarusian national final in 2018, 11 entries were shortlisted from the 95 submitted entries. They performed in front of an audition on the 11th of January 2018. Alekseev, had already performed his entry before the 1st of September 2017 in Russian language, thus made it public which was against the Eurovision rules. After this news was revealed, 7 participants wrote a letter to the broadcaster BTRC stating that they would withdraw from the national selection if Alekseev was not disqualified. They also stated that Alekseev was rigged by BTRC to win the national final.
One of the participants, Sofi Lapina, officially withdrew from the competition on the 16th of January 2018 after BTRC had blocked several of her songs from participating as they were made public before the 1st of September 2017. Another participating group, Shuma, were said to be investigated as their song's lyrics turned out to be taken from a traditional Belarusian folk song. Yet, Alekseev was not disqualified.
After winning the national final, Alekseev went on to represent Belarus at the 2018 Eurovision Song Contest.
Alekseev took the stage in the first semi final in Lisbon, Portugal. The dramatic stage performance accompanied by a female dancer in a red dress ended with Alekseev showing roses attached to his back. At the end of the night, Belarus failed to make it to the final with 65 points and 16th place.
Forever – Opinions from fans
In order to find out what Eurovision fans today think of this Belarusian entry from 2018, we asked our Eurovision Fan Panel. It includes team members as well as fans from all over the world.
🇩🇰 Charlotte J. – This is too weird for me. While I do kinda like the music (in particular the second half of the song) then the performance is just lost on me. I don't get it, and instead of enjoying it, it leaves me frustrated. I can't connect to the song while it happens, and once it's over, I can't remember it.
🇹🇷 Güneç G. – This is what I call pure dark romance. I can understand many can find it outdated. But in my humble opinion, this kind of love and emotion should not be out of fashion. This is why I appreciated young Alekseev's dramatic stage performance and the way he lives that old fashioned deep and dark love while performing Forever. I think this one at least should have been on the stage at the night of the grand final.
🇱🇻 Jānis O. – Wow, this guy was really in my guilty pleasures list from Eurovision in Portugal. He is some kind of sexy freak😊 I like his voice and attitude on stage. The song though is a bit creepy because this ballad sound like an old Russian lullaby. It was really sad though that he didn't get in final.
🇩🇰 Alberte B. – I think it's a great song which definitely deserved going to the final. I see a lot of people arguing whether he was nervous, or if it was part of his act to get emotional. But he doesn't always have the cleanest pitch. But that happens a lot in Eurovision, I think, and it doesn't mean that he's a bad singer, no matter the reason. I don't know if the song would've won if it made it to the final, but I don't think it would have placed very low either. It's great, and definitely better than some of the songs that did end up in the final.
🇳🇱 🇩🇰 Wouter W. – One would think that all those gimmicks with roses would help to make this song more memorable. But no. I just heard it, and already I have problems remembering more than that last disgusting shot with roses pouring out of his back like blood. And I have completely forgotten the song.
🇬🇧 Michael O. – Not sure what to make of this song. Alekseev seems a pretty cool guy and performer but this stage presentation verged on the laughable. And if I remember correctly the Eurovision version was remixed from an already acceptable previous one. Yeah not the greatest.
🇨🇴 🇫🇮 Alvaro S. – Alekseev looked over dramatic (including that ending) for my own taste and his voice was not the best live. After so many versions of his song it seemed to me that not even him was sure about this song.
🇸🇪 Jill R. – Even though Alekseev competed in ESC with Forever only two years ago I had already forgotten it. Forever is not really a bad song; it is rather pleasant, but also nothing special. Alekseev has a nice voice, but he needed a better song to make an impression. He reminds me somewhat of Dima Bilan. And unfortunately the song sounds like it´s from the same era – a bit dated now. It didn't go to the final and I don´t think that it should have either.
🇲🇹 Amira M. – I have to be honest even though I like the melody and the emotional performance, I couldn't hear much of the lyrics especially in the beginning.The diction was lacking quality. However the songs composition is attractive.
🇷🇸 Milosav T. – I looked forward to this one when I saw the preview video, but the live performance was somewhat of a letdown. He seemed quite nervous and his vocals showed it. Visually, the whole red rose and petals thing was a bit tacky and too much, and the camera work didn't help either. Also, I much preferred the original version (Навсегда). I still think he should have qualified for the finals, but any placement higher than 15th would be a long shot.
Enjoy Alekseev's performance from the 2018 Eurovision Song Contest in the embedded video. Below the video, you can read more about him.
A Mini Biography to ALEKSEEV
Nikita Vladimirovich Alekseev, aka. Alekseev, was born on the 18th of May 1993 in Kyiv Ukraine to a Ukrainian-Russian family. When he was 1,5 years old, the family moved to Chita in Russia. Two years later the family returned back to Kyiv. At the age of 12 he started dealing with music and began his education with Konstantin Pona. He later formed a band called Mova. He also took Marketing Education and graduated with this degree from university.
His adventure taking part in The Voice Ukraine lasted only one broadcast, even though the Ukrainian star Ani Lorak turned her chair for him. After that, Ani Lorak continued to support his musical career for a while.
His debut single Everything Is In Time was released in 2014. His first studio album Drunken Sun was released in 2016. His latest work is his latest single No Honey which was released in 2019.