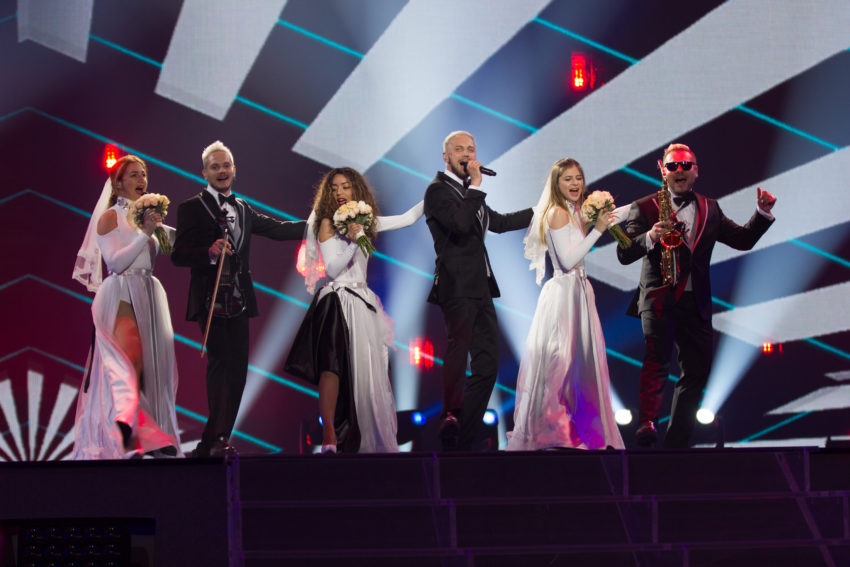 Moldova is yet to win the Eurovision Song Contest. They came closest in 2017 with the song 'Hey, Mamma' that earned them a third place. Well deserved if you ask Eurovision fans where a majority really enjoy this entry.

Moldovan broadcaster TRM decided to use their traditional national final 'O Melodie Pentru Europa' to select their entry for the 2017 Eurovision Song Contest. After a semi final on the 24th of February and the final on the 25th of February held at the TRM studios in Chişinau, Sunstroke Project was given the honour to represent their country with the song Hey, Mamma. It would be their second participation after 2010 with Run Away featuring Olia Tira.
The 2017 edition of Eurovision Song Contest took place in Kyiv, Ukraine. Moldova received 291 points and took the 2nd place in the semi-final. At the grand final which took place on the 13th of May, they were 7th in the running order to take the stage. They performed their uptempo dance song full of energy and received 374 points which earned them the 3rd place which is their country's best result to date.
Hey, Mamma – Opinions from fans
In order to find out what Eurovision fans today think of this Moldovan entry from 2017, we asked our Eurovision Fan Panel. It includes team members as well as fans from all over the world.
🇬🇧 Aaron S. – I can just hear the iconic trumpet now; I love Hey, Mamma by The Sunstroke Project and there's no doubt why this is Moldova's best performing entry at Eurovision to date. It's a song you just want to sing and dance a long too, it's so catchy and I really liked this entry.
🇩🇰 Charlotte J. – This was one of my favourites in 2017. Already legendary from their first Eurovision entry, the group didn't need much introduction. They ARE and will probably forever be what I think of, when it comes to Moldova. This is class. Extremely catchy, a fun performance and of course a saxophone solo to die for. Love it
🇲🇹 Christopher D. – This song is really catchy and fun to listen to. The presentation on the stage was excellent and Sunstroke Project are really an amazing group. They managed to return to the contest with a stronger song from their first entry and they were awarded with the third place. Moldova should be proud of them.
🇬🇧 Ashleigh K. – A fantastic entry from Moldova and a regular feature on my summer playlist. Hey, Mamma was the first song I had liked from Moldova since Aliona Moon in 2013. The performance was cheeky and fun. I particularly liked the saxophone solos.
🇹🇷 Gunec G. – A song full of life and energy and that's what I love about it. Sunstroke Project has the best positive energy on stage an this is the basic reason to bring them the success.
🇷🇸 Miljan T. – When the Sax-guy-meme was strongly viral, I knew it was from Eurovision, but I had forgotten the song, and whenever I see it on YouTube, I remember I don't like it. And I didn't like the style the band had back then. But in 2017, everything was different. I think we can compare the first and second song to the situation with Poli Genova. Both acts first came with a more traditional pop song for the country they're from, but changed the next time to a very modern one. I love Hey, Mamma, I think the performance was strong vocally and visually and I still have it on my playlist, I listen to every day.
🇬🇧 Michael O. – What on earth did most of the public hear that I didn't? I do not like this at all, from the stupid dance to the song itself. Sorry.
🇨🇴 🇫🇮 Alvaro S. – Although Sunstroke Project in 2010 made the band a Eurovision meme their second song is more memorable. It is catchy with silly but funny lyrics and a good execution on stage. Both the trio as gents dancing with their dancers in wedding dresses. I was not expecting this song would end up so high in the final, but seen in retrospective this is one of the catchiest songs of the year.
🇸🇪 Sara T. – I really liked Run Away, the song that SunStroke Project competed with in 2010, so I had high hopes when I learned that they were back in Eurovision. Unfortunately, Hey, Mamma failed to live up to my expectations. The different parts of the song are pretty boring and the song is too repetitive. I was very surprised that the song reached third place, although it made me happy to see Moldova succeed in Eurovision since their entries are often underrated.
Enjoy Sunstroke Project's performance from the 2017 Eurovision Song Contest in the embedded video. Below the video, you can read more about them.
A Mini Biography to Sunstroke Project
The group was founded in 2007 and currently consists of Sergey Stapenov (the Epic Sax Guy) and Sergei Ialovitski. Anton Ragoza was also in the group and he broke up with them due to disagreements. Pasha Parfeny (Moldova 2012) was also a member of the group from late 2008 till the summer of 2009.
Shortly after the group was formed in 2007, they have released their first and sole album Don't Word More… They have released many singles, and the last one is Shake It was released in 2020.
Their Eurovision adventure started in 2010 as a trio and joined by the Moldovan star Olia Tira. Despite a good performance, their entry Runaway didn't bring them the success they were expecting and they were 22nd with 97 points at the grand final eventually. However, the song, their performance on stage and especially Sergey the epic sax guy's performance became memorable among fans. Additionally, in 2017 they reached the success they were looking for with their entry Hey Mamma and came 3rd with 374 points.
The group is continuing their career as a duo.