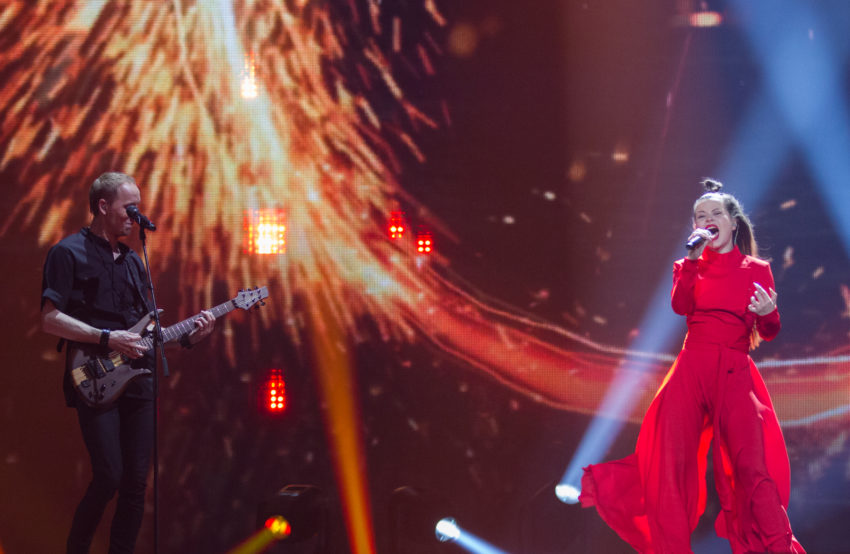 In 2017 Fusedmarc won the right to represent Lithuania in the Eurovision Song Contest. The band tried to impress the audience with an electronic sound. However, the result they got was far from ideal. "Rain of Revolution" achieved one of the worst results from Lithuania in the song contest.
For the Eurovision Song Contest, Lithuania organised "Eurovizijos dainų konkurso nacionalinė atranka". The national final consisted on eight shows, one second chance show, a semifinal and a Grand Final. After so many dates, seven acts competed in the final on March 11, 2017.  Fusedmarc  won both the maximum 12 points from the televote and the jury and got the right to represent Lithuania in Kyiv, Ukraine.
They competed in the second semi-final. Lead vocalist Viktorija Ivanovskaja sung wearing a red dress. She was joined by Denis Zujev playing a guitar and four backing vocalists. During their performance, the screens displayed geometric figures all in red, a heart and fireworks.
They received 42 points in the semi-final, scoring no higher than a 17th place, the second last position in this semi-final. However, they did receive the maximum 12 points in the Irish televote and 10 points from the Norwegian televote. Rain Of Revolution became one of the worst results for Lithuania in the Eurovision Song Contest.
Rain of Revolution – opinions from fans
In order to find out what Eurovision fans today think of this Lithuanian entry from 2017, we asked our Eurovision Fan Panel. It includes team members as well as fans from all over the world.
🇳🇴 Robert I. – I was at the arena in Kyiv in 2017, both at the rehearsals and at the actual semi-final. And I don't even remember this song. That says it all. This entry is totally forgettable.
🇬🇧 Michael O.- One of Eurovision's most maligned entries. The backing singers were amongst the best ever sent to Eurovision. The music was pretty good too, there was more to this song than yeah yeah yeah yeah, but for some reason people seemed to just grasp on to that piece. I really like this entry.
🇷🇴 Mihai D. – Lithuania's song is one that sends me thinking in several directions without being particularly noticeable. A fairly common disco rhythm, with some brass blowers in the background, a voice with a dose of insecurity, all mixed in a choreography that gave me the feeling of "déjà vu" several times before.
🇺🇸 🇬🇧 Mhairi O. – It's so chaotic that it's good. It's become one of my favourites from Lithuania. It's such a guilty pleasure for me.
🇩🇰 Charlotte J. – What is this? I don't get it. This fusion doesn't work for me. The music, the lyrics, her hairstyle, the performance… it's all a mess to me. In the chorus, there's a little part I actually like – and as such, it's not totally bad, just mostly.
🇮🇪 🇦🇺 Vivienne F. – I was disappointed that Lithuania didn't get into the final. When I first hear it at the beginning I thought I don't think I'll like this, it didn't grab me, it was a bit jazzy for me, but then the chorus! Oh, I liked it all of a sudden, then I enjoyed the second verse more, I don't like the clapping bit, and today I still don't like the beginning of the song and all the yeah yeahs. I liked her strong cool look though, I wanted to see more of those boots! Out of the 43 songs it came 18th on my list, so I'll give it a 7.
🇨🇴 🇫🇮 Álvaro S. – This song makes me think about an artistic performance from an underground group, not what one would expect at Eurovision. I think the main problem with this song is that it is forgettable. There is not something fascinating from this song for me apart. In this case "the revolution was not televised".
🇮🇪 John D. – Not a fan of this entry at all. She seems to shout and pout her way through a song that has neither hook nor melody. She strains her voice so much that the large pin on her head could be mistaken for something there to keep her head from bursting open. The backing singers and strange staging do nothing to add to this horrendous effort from Lithuania.
Enjoy Fusedmarc's performance from the 2017 Eurovision Song Contest in the embedded video. Below the video, you can read more about them.
Fusedmarc – a mini biography
Fusedmarc is an alternative, audiovisual, electronic music trio from Vilnius, Lithuania. The band consists of lead singer Viktorija Ivanovskaja, multi-instrumentalist Denis Zujev, and visual designer Stasys Žak. Fusedmarc started their music career in 2004. In 2005, they released their first EP called Contraction.
Fusedmarc are influenced by IDM, electronic, trip-hop music genres and visual arts in their performances. In 2017, they represented Lithuania with their song Rain Of Revolution. Unfortunately, they did not qualify to the final.