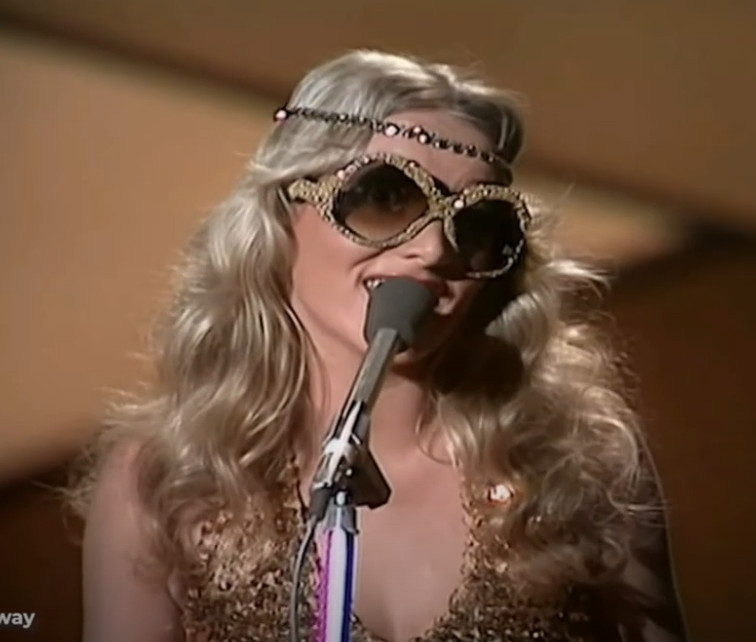 Forty-five years before Azerbaijan's Efendi, a Norwegian singer sung about Mata Hari in Eurovision. Her name was Anne-Karine Strøm. Unfortunately, her disco rendition was not received well by the jurors. Almost five decades later, a panel of eurovision fans is revisiting this 70s song.

Norway held their traditional Melodi Grand Prix in 1976. Five songs competed to represent Norway in Eurovision. A panel representing the different regions of Norway voted for their favourite song in February 1976. Anne-Karine Strøm won her national final. Previously, she had represented Norway on two occasions.
Anne-Karine Strøm represented Norway in the Eurovision Song Contest 1976 held in The Hague, the Netherlands. Strøm wore a golden dress and sunglasses which she removed and put them back several times during her performance. Her song Mata Hari is a disco song. Mata Hari marked also the second time that Norway sent a song in English for the Eurovision Song Contest.
At the end of the night, Strøm finished in last place with only seven points. This was the fourth time that Norway ended in last place.
Mata Hari – opinions from fans
In order to find out what Eurovision fans today think of this Norwegian entry from 1976, we asked our Eurovision Fan Panel. It includes team members as well as fans from all over the world.
🇨🇴 🇫🇮 Álvaro S.- This act is entertaining. From the moment Anne-Karine entered the stage looking so confident in her golden dress you know this will be an act! It is a nice disco song, not the best from the year, but it definitely deserved a better result.
🇬🇧 Michael O. – I thought this was a really modern chart possible hit when I first heard this, but what on earth was Anne Karine playing at on stage. A good tune poorly performed.
🇪🇸 Alexander S. – This song Mata Hari was a fiasco only two countries voted for her and 17th position…. the entry is an uptempo song using the English language, possible those years, and as for the performance she glittered in her dress and glasses. I must recognise I did not remember the song, but I don't find it that bad.
🇦🇺 Michael R. – A good song there's just something lacking in this performance that makes this appear disjointed. Can see why it underperformed expectations
🇩🇰 Charlotte J. – I had forgotten all about this one. Obviously, one shouldn't compare it to this year's Azerbaijani entry with the same title. But that I will probably also not be able to remember in 45 years! The 1976 edition of Mata Hari is fine background music from that time. It's not a song I would wish to put on myself though.
🇭🇺 Takko M.- Wow I did not know that there was also another song in the Eurovision history with the title Mata Hari. Not my type of music though. If we compare the two songs, the one from Norway of 1976 and the one from Azerbaijan of 2021, I prefer the Azeri one. Not bad but nothing special for me comparing to other participations of Norway.
🇬🇧 Louis E. – One of the most undeserved last places in Eurovision history. Anne-Karine rocked up onto that stage meaning business with an iconic costume that told you already she meant business. The song itself is extremely catchy, and the constant modulations every chorus give it a very refreshing feel, not to mention the amazing orchestration. Had this been sent a year later when songs of this genre were much more common I suspect it would've done a lot better. The superior song called Mata Hari.
🇳🇴 Stine F. – To start with the most important part: I really don't think Norway deserved last place with Mata Hari in 1976. I actually think the song is quite fun and very representative for that era. It sounds like a melody that could have been on the soundtrack of Love boat. Maybe it was the fairly strange use of sunglasses that secured the bottom placement? I don't know what they were trying to do with that. Some kind of 70s disco version of spy glasses?
Enjoy Anne-Karine Strøm's performance from the 1976 Eurovision Song Contest in the embedded video. Below the video, you can read more about her.
Anne-Karine Strøm – a mini biography
Anne-Karine Strøm was born in Oslo, Norway in 1951. She represented Norway in the Eurovision Song Contest on three occasions: in 1973 with Å For Et Spill as part of the group "the Bendik Singers", in 1974 and 1976 with Hvor Er Du and Mata Hari. However, her two attempts as a solo singer did not do well in Eurovision, finishing in last place both times. This gives her the infamous record of being the only Eurovision artist to date to finish in last place in a final twice.
Anne-Karine participated in the Norwegian national selection Melodi Grand Prix in 1971, 1972 and 1975 in addition to her Eurovision participations. After her Melodi Grand Prix participations, she continued her music career. Her last album was released in 1986. She also did musical cabaret performances. She was married to Ole Paus and is the mother of Norwegian Composer Mascus Paus.