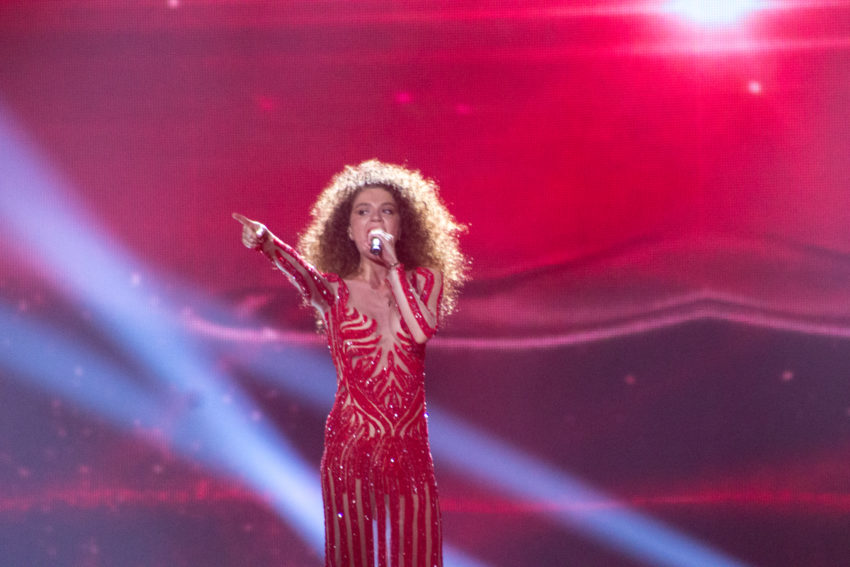 With two 9th places as best results, Georgia does not have a long list of good results to look back on. A total of five times have they failed to reach the final. In 2017, they were close, and narrowly missed the qualification.
Georgian Public Broadcaster GBP organised a National Final which took place on the 20th of January 2017. Among 25 participants including Tornike Kipiani (2020 Georgian hopeful) and Oto Nemsadze (Georgia 2019), Tamara Gachechiladze won the national final with her power ballad Keep The Faith. The song was written by Tamara herself and Anri Jokhadze (Georgia 2012)
At the Eurovision Song Contest in Kyiv, Ukraine, Tako took the stage 2nd in line in her semi-final. She was all flame red on stage with her costume and big hair like a true diva. She performed her power ballad worthily. However, all this was not enough to carry her and her country to the grand final as she finished 11th with 99 points.
Keep The Faith – opinions from fans
In order to find out what Eurovision fans today think of this Georgian entry from 2017, we asked our Eurovision Fan Panel. It includes team members as well as fans from all over the world.
🇫🇮 🇨🇴 Alvaro S. – I like this song from the dramatic introduction to the simple yet impressive smoke effect, the chorus and the very end. Tamara's interpretation is very strong and it connects with the lyrics. However, I think that Tamara's performance in her national final, though more simple, conveyed her message with the use of dramatic images onscreen. That could have helped her.
🇹🇷 Gunec G. – I loved this one from the national final. Especially the huge video show impressed me a lot. In Kyiv, Tamara looked like a true diva on stage. She gave her everything performing the song at its best. I really don't understand why that song didn't go to the final.
🇬🇧 🇹🇭 John E. – A great singer who performs with much sincerity but the song does nothing for me. I find it old-fashioned and easily forgettable. I think that with a different song Tamara could be awesome. This song reminds me of old style Shirley Bassey style ballads.
🇩🇰 Charlotte J. – Another boring ballad, which unfortunately doesn't catchy my attention. I am able to hear that she sings fine, performance looks fine too, but there's nothing that stands out and makes me pay attention to it. Apparently I wasn't the only one thinking that as it finished 11th in the semi-final and thus didn't qualify, but wasn't among the bad ones either.
🇬🇷 Kostas C. – I find the song, one of the best ballads at Eurovision '17. Very emotional with a great live performance. Everything was perfect for me, the dress, the hair, the staging and above all her voice, who came deep from her soul. Absolutely unfair result, which even now, I cannot explain.
🇲🇹 Luke B. – Let me get this straight, this is not a bad song. But just that… not bad. It's something safe and easy to listen to (one of the rare instances when Georgia actually sent something safe) but that is as far as it gets. It's like going to McDonald's, it's good and predictable but it's not something to suggest to when going on a date. On a separate note, Tamara is such a great singer and the performance was also top-notch but, given the song, it wasn't a shocker for me that it failed to qualify on the night.
🇨🇿 Josef S. – Tamara did really a great job with her song Keep The Faith. So powerful and energetic. And I love her fire-like dress as well. This is a song that should have been in the final for sure, Georgia was robbed in 2017 for sure.
🇬🇧 Michael O. – There was nothing wrong with this song at all, but it probably got lost, even though her competition wasn't that great either. Good singer, probably above average song. She just landed unlucky.
🇷🇴 Doina A. – She has a strong voice and a great appearance on stage. The lyrics are flowing in a brisk pace according to the story she sings about. It's quite a beautiful melodic line, up and down passages made this song an amazing one. I really like it, even if she didn't qualify… "Even if the world is wrong…"
Enjoy Tamara's performance from the 2017 Eurovision Song Contest in the embedded video. Below the video, you can read more about her.
Tamara Gachechiladze – a mini biography
Tamara "Tako" Gacheciladze Milanova was born on the 17th of March 1983. She represented her country at the Eurovision Song Contest in 2017 with the power ballad Keep The Faith.
In 2008, she also attended the Georgian national final with two songs Me and My Funky and I'm Free. In 2009, she was a part of the group Stephane & 3G  singing the selected entry We Don't Wanna Put In. As they were asked to change the lyrics, that was deemed too political offensive, they refused and instead withdrew from the Eurovision Song Contest.
She has been married to the Bulgarian musician Borislav Milanov who is the composer of author of many Eurovision songs since 2018.