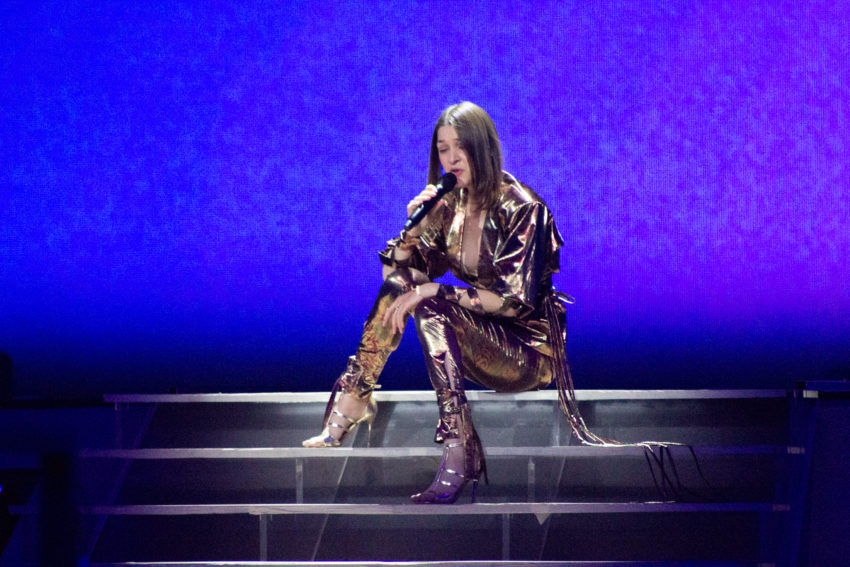 Martina Bárta is mostly described as a good artist, but the dress and staging were not good. Today, her Czech Eurovision entry from three years ago is in focus. Unfortunately 'My Turn' failed to qualify for the final.

After qualifying for the first time in 2016 with Gabriela Gunčíková, Czech Republic aimed high as well for 2017. They have internally chosen song My Turn from UK songwriting team consisting of Pete Barringer, Greig Watts and Paul Drew (aka DWB Music) and Kyler Niko. After the song was chosen, they tried to find the right artist for the song which was young jazz singer Martina Bárta.
Martina Bárta took part in the pre-parties season and gained many fans for her nice approach and good live performances. But in the end, it did not lead to another qualification as Martina performed in the first semi-final and ended in 13th place. All 83 points were received from the juries and no points were given by the televote. It remains unknown if it was because of the staging or the song itself.
My Turn – opinions from fans
In order to find out what Eurovision fans today think of this Czech entry from 2017, we asked our Eurovision Fan Panel. It includes team members as well as fans from all over the world.
Mirka M. – Czech Republic chose another ballad song but this time sent a singer with a very original voice – Martina Bárta. I personally didn't like the song because it is not my cup of tea but Martina does what she loves and I admire that. On the other hand, I like the staging because it captured all emotions from the song. Unfortunately, I can't remember the lyrics but I still remember her dress because it was something very atypical, and she at least gained my attention with her outfit.
Michael O. – I don't think Eurovision 2017 had the best songs in general, and while not great this was on a par of many that qualified. Remember this was the year Estonia, Finland, and Iceland missed out. The staging let this song down, but I can't say I rush to listen to this today.
Vivienne F. – I like the piano leading into the song and the lyrics at the beginning, and I liked the video, and I really like the chorus even though I usually don't like this style of song. Then when the second verse started I was getting bored, however, it picks up again halfway through, and then we have the wonderful chorus again, so overall I like the song and felt it should have made it to the final.
Charlotte J. – How did this not qualify for the final? I had it in top 5 in the semi-final. I am not a ballad-lover, but this one is interesting, and Martina is a strong performer. She keeps me connected to the song all the way through. I remember interviewing her first at Eurovision In Concert that year and being impressed by her and her vocal abilities acapella. At Eurovision, it got repeated. Still, a mystery how it didn't qualify…
Gunec G. – My Turn is a nice and quality song but sadly I think not strong enough for Eurovision. Martina is a very good singer. Also, the crowd detail in the background didn't appeal to me very much. Czechia has done much better.
Josef Š. – I stood behind our entry back in 2017, even though I knew that the chances were not high at all. The song is good, Martina is a great performer, but there wasn't enough connection between her voice and style, the song itself and the staging. Even if I would accept the song for Martina, what would be the best on stage would be Martina on a bar stool, accompanied on piano by her sister Kristina. That would work much more IMO, but I was disappointed to see it scored null points from the televote.
Mhairi O. – I wasn't a fan of My Turn in 2017 but now I really like it. I still listen to it regularly now because it has grown on me so much.
Alvaro S. – This is a very sweet song. I like the lyrics with such a beautiful and emotional message. The problem for Martina's was the execution. During her whole performance, the stage looked so empty and the people in the background from her music video may have looked strange for the audience. It is quite sad because in the end, you can see she is feeling her song and put the emotion but for me, people did not get the message.
Liza P. – This is a very beautiful entry from the Czech Republic and with a strong vocal performance. However, it is also a song, that I can't remember five minutes after it's over. I really think that Martina does it great on stage, and I also like the song, but somehow there is something missing, so the song doesn't stick. I wish, that I could remember the song because I think it is nice and deserves more. But no.
Enjoy Martina's performance from the 2017 Eurovision Song Contest in the embedded video. Below the video, you can read more about her.
Martina Bárta – a mini biography
Martina Bárta is a jazz singer from the Czech Republic. Besides that, she also plays a French horn, which she studied in music schools in the Czech Republic and Germany. Martina first shined when she took part in a TV reality show Robin Hood – A Road to Fame, which was looking for cast of the two lead roles in the musical Robin Hood. Martina was the winner and played then the role of Lady Marianne for some time in Prague.
During her studies in Berlin, Germany, Martina performed in multiple project such as Scotch & Soda with Marcus Gartschock. Her sister Kristina Bárta is a composer and pianist and together with Martina, they wrote a song Find Peace Of Mind which won Best Jazz Song of 2016 at Bohemia Jazz Fest.
In the Eurovision Song Contest 2017, she participated for the Czech Republic with the song My Turn but did not pass to the final. In 2018, Martina took part in German Idol where she amazed the juries and passed to the second round. She still performs in Prague and Berlin, accompanied by Kristina Bárta trio, a group lead by her older sister.