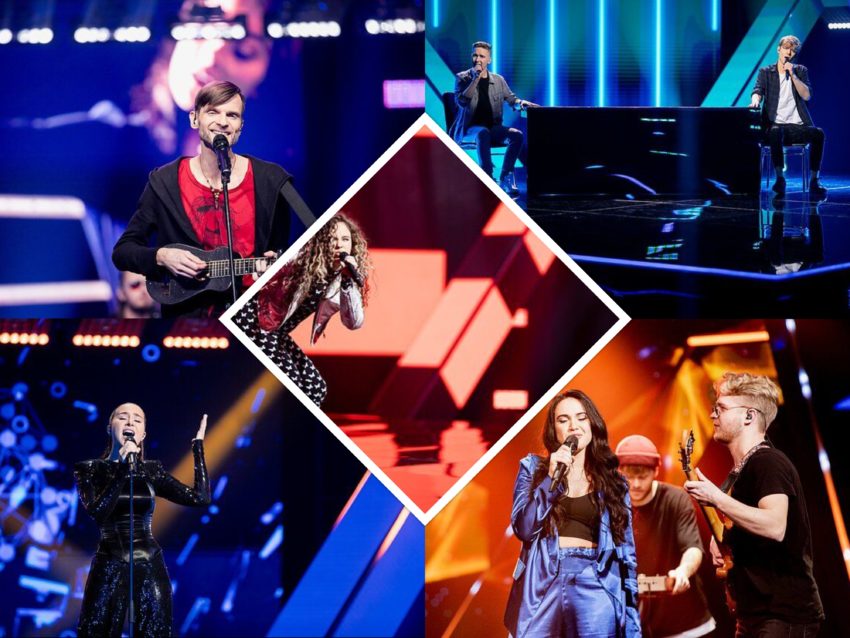 Tonight the Lithuanian, Pabandom iš Naujo! 2021 Heat One was broadcast on LRT, having been recorded all day on January 12, 2021.
The all day taping was caused by the necessary cleaning and disinfecting of the stage between each performance due to COVID-19 regulations.
Nevertheless, a cheery group of ten contestants did their best under the restrictive circumstances. Tonight was the first of two heats, which will each send five acts to the semi final, to be held on January 30. The Lithuanian Eurovision Song Contest entry will be chosen on 6 February 2021.
The Show
The hosts of the show were Ieva Stasiulevičiūtė, Vytautas Rumšas Jr. with Vaidas Baumila, who  co-represented Lithuania in 2015 with the song, This Time. Vaidas was in charge of the Green Room, and keeping the judges under control. All were wearing their protective face visors. Sadly LRT are still using We Are The Winners, before the acts begin performing.
After three acts performed, the judges were given the chance to offer their opinions of the acts and songs. They all looked quite relaxed in last year's comfy chairs. Their next review came after Twosome performed.
During the voting interval, Beissoul entertained us with some space age music.
The Songs
Black Stripes featuring Indrė Launikonytė – Don't Tell Me
This opening number was a real wake up, for anyone who had fallen asleep. The visuals were quite appealing but it took awhile for a tune to kick in. The stripes were all in black, while Indrė went for bright red. Pretty strong vocals, but not a song you'd be singing by the end of the show. Heavy metal comes to Lithuania.
Thomukas – Wish
This song had a bit of bang bang bang about the beat and little Thomukas could certainly hit the high notes. Down on his knees pleading to get through to the semis, and performing sitting on the floor. Quirky as only Lithuania can do.
Be U – Love Yourself
This was a nice little pop song from the newcomers which needs a little bit of polishing. Not a Eurovision winner but with rehearsal and practice there's potential for future years. The five males in the band worked well together, but don't expect a Blondie for the new millennium here just yet. Guoda has a really good singing voice.
Titas and Benas – No
The duo stayed socially distanced, sitting on each side of a big black desk. This one is for One Direction fans, though the song seemed to lack energy. With a bigger chorus in the background, there is potential here. The cousins harmonised well.
Martyna Jezepčikaitė – Thank You Very Much
This song had a good beat and Martyna's voice is pretty powerful. She was wearing the trousers of the evening. Again this is not a Eurovision winner but Martyna is another name to look out for in the future.  Her voice has been compared to Ariana Grande. This should at least make the semi final.
Donata Virbilaitė – The Way I Am
This is the first actual melodic flowing song of the evening. A great string arrangement and the backing singers adding to the mix, makes this a very pleasant. listen. This is indeed Donata's best entry at the contest and will hopefully proceed to the next stage. Well done.
Twosome – I Love My Bear
Back for more, but the joke is starting to fade a little, which is a shame as Justin is a superb musician and songwriter. Up against the Roop this will probably fade into the background. Not sure what to think of it. Let Lithuania make of it, what they will.
Milita Daikerytė – Shadows
Milita has certainly been given the most radio friendly song of the evening. This is a mid paced ballad that has a good strong instrumental backing. Surely, this is making it to the semi-final. Another positive is that Milita remembered it was a song contest and stood on a podium, in her black suit and just sang the song.
Aldegunda – Sit Down
This is the only performance of the evening where the song is sung in Lithuanian. This will probably work against it, as despite people moaning that not enough entries are in the native language, they equally complain when they can't understand the song. Aldegunda put in a strong performance, backed by two dancers and two chairs, a furniture item which she seems to like to use as a prop. Aldegunda asked What Are You Waiting For.
Voldemars Petersons – Never Fall for You Again
The most accessible song was left to close the show. This is a medium  tempo upbeat song which is the most sing a long of the whole evening. With a stronger arrangement this has quite a good chance of doing rather well in the contest.
The Jury
The jury was made up of five members.
Ramūnas Zilnys – if at first you don't succeed in finding a Eurovision winning song, then keep on sending the same old judges. Old silver fox returned again to give his opinion of the songs with LRT obviously oblivious that this man hasn't picked a winner for them yet.
Jievaras Jasinskis – Jievaras was a member of Inculto, who failed to qualify to the final in 2010 with Eastern European Funk, in Oslo, Norway.
Vytautas Bikus – Vytautas wrote When We're Old for Ieva Zasimauskaitė in 2018, which placed 12th at Eurovision, in Lisbon, Portugal.
Ieva Narkutė is a singer songwriter from Kanaus
Aistė Smilgevičiūtė was the 1999 Lithuanian representative, who came 20th with Strazdas
The Results
The Results were decided 50% esteemed jury and 50% stay-at-home public, with the top 5 acts proceeding to the semi-final to be held on 30 January 30, 2021.
| | | | | |
| --- | --- | --- | --- | --- |
| | Jury | Public | Total | Placing |
| Black Spikes ft. Indrė Launikonytė | 4 | 8 | 12 | 6 |
| Thomukas | 2 | 1 | 3 | 10 |
| Be U | 6 | 7 | 13 | 5 |
| Titas and Benas | 8 | 10 | 18 | 2 |
| Martyna Jezepčikaitė | 5 | 12 | 17 | 3 |
| Donata Virbilaitė | 7 | 3 | 10 | 7 |
| Twosome | 2 | 2 | 4 | 9 |
| Milita Daikerytė | 10 | 5 | 15 | 4 |
| Aldegunda | 3 | 4 | 7 | 8 |
| Voldemars Petersons | 12 | 6 | 18 | 1 |
Lithuania At The Eurovision Song Contest
Lithuania made their debut in 1994 with many other Eastern European countries, but unfortunately did the worst by finishing in last place with zero points.
They didn't return again until 1999, when one of tonight's judges, Aistė Smilgevičiūtė opened the contest but finished 20th. Her song, Strazdas has gone on to become a bit of a cult classic in Lithuania.
In 2006, without the juries to mark them low, the public awarded the country their best result to date with We Are The Winners coming 6th for LT United.
In one of those, we'll never know situations, The Roop's proposed 2020 entry, On Fire, had been expected to give Lithuania its best result to date.
Below is tonight's winning song from Voldemars Petersons