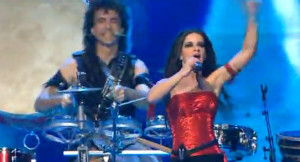 Bulgaria confirmed their return to the Eurovision Song Contest after the successful Junior Eurovision Song Contest they held in Sofia in November. Now the broadcaster have confirmed that they have already made an internal selection for Stockholm and that they have selected a female singer.
The Bulgarian national broadcaster BNT confirmed on Twitter that the singer and the song that will represent them at the 2016 Eurovision Song Contest have been internally selected, and that it is a female singer. BNT didn't want to give more details yet about who the singer is apart from telling Twitter users that Sofi Marinova is not the singer. BNT has not announced when they will reveal more details.
Bulgaria in the Eurovision Song Contest
Bulgaria has participated in the Eurovision Song Contest nine times since their debut in 2005. The country's best result is a fifth-place finish for Elitsa & Stoyan at the 2007 contest in Helsinki. Bulgaria has failed to qualify for the final on its eight other appearances at the contest, most narrowly in 2012, when Sofi Marinova lost out on the 10th qualifying place from the second semi-final in a tie-break with Norway.
Below you can watch the last Bulgarian entry at the 2013 Eurovision Song Contest: