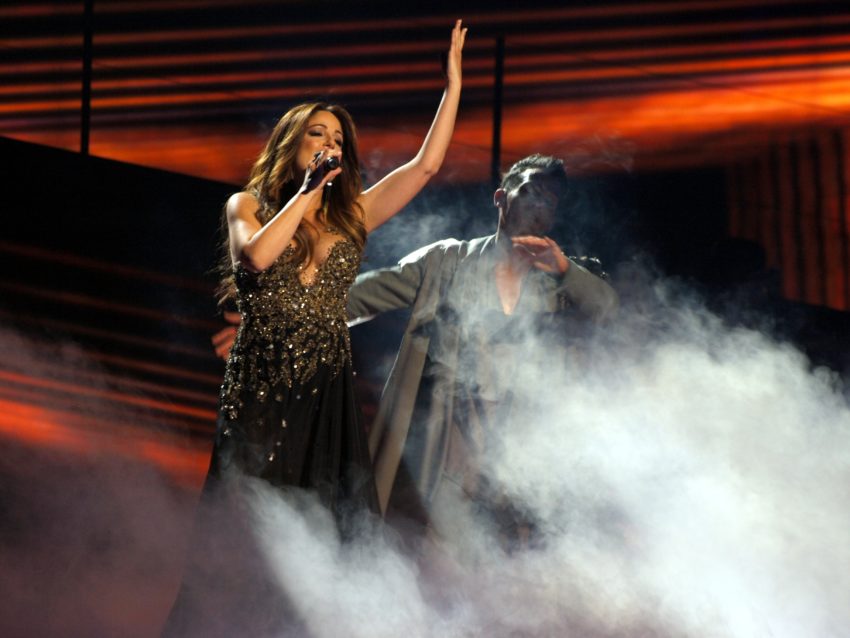 Malta sent their 2002 runner up Ira Losco to Eurovision for the second time in 2016 with the uptempo pop dance song 'Walk On Water'. When reacting to that 4 year old entry, fans naturally compare to her first participation.
Maltese broadcaster used a national final selection to pick their 2016 Eurovision Song Contest representative. A semi-final was organised in which 20 entries competed on the 22nd of January 2016. Familiar faces competed in the semi final (Ira Losco (Malta 2002), Jessica (San Marino 2018) and Christabelle  (Malta 2018). As a result of the semi- final show, 20 entries were shortlisted to 14 and those 14 entries competed in the grand final held on the 23rd of January 2016. Ira Losco won the final with top marks from the televote as well as the jury with her song Chameleon. 
Following her victory in the National Final, Ira Losco suggested that she could perform a song other than Chameleon in Stockholm if it would improve Malta's chance to do better. Upon this, 10 new songs including the revamped version of Chameleon were presented to a 13 member jury consisting of local and international experts. On the 14th of March 2016 Walk On Water was announced as the Maltese entry for Eurovision Song Contest 2016.
Followed by a busy promotion tour, Losco arrived at Stockholm. Accompanied by a male dancer, Losco competed in the first semi – final and came 3rd with 209 points which meant the ticket to the grand final. In the final, Ira Losco received 153 points with her song Walk On Water and finished 12th.
Walk On Water – opinions from fans
In order to find out what Eurovision fans today think of this Maltese entry from 2016, we asked our Eurovision Fan Panel. It includes team members as well as fans from all over the world.
🇩🇰 Charlotte J. – This is not Ira Losco's best entry in my opinion. I adore the catchy 7th Wonder, but this one doesn't reach that level for me. Walk On Water is nice enough to listen to, but it doesn't stand out as one I will add to a favourite playlist myself. A 12th place in the final is quite a good result for her in 2016. I wouldn't have in top 10 either.
🇨🇴 🇫🇮 Alvaro S. – All I can say is that I prefer her Seventh Wonder song over Walk On Water. I am not surprised that this song was better received by the jurors than the public. It is an okay song but it did not give me a long lasting impact. I have the impression that Ira's song from her national final, Chameleon would have been better received.
🇬🇧 Paul G. – I loved 7th Wonder in 2002 and hoped for years that Ira Losco would come back and she didn't disappoint me. I absolutely adore Walk On Water which deserved (in my opinion) a lot higher than 12th!
🇹🇷 Gunec G. – The rhythm of the song captured me when I first watched the promo video of Walk On Water. I also liked the dance routine. I think because of Ira's pregnancy, she couldn't do very harsh dance movements. I liked it in total. Contrary to the majority, I like Walk On Water more than 7th Wonder. Well done Malta.
🇬🇧 Michael O. – Like I said with Seventh Wonder, I'm sure there are two Ira Loscos in Malta. The Eurovision one who under delivers and the real one who makes fantastic albums. This isn't anything near Ira's best although she gave it her all. The song doesn't flow very well and finished where it deserved. But Ira is fantastic.
🇲🇹 Amira M. – Ira Losco's entry of Walk On Water is such a powerful song and catchy too.The video is also spectacular with the beautiful scenes of Malta's seascapes. Its one of my favourite entries and I turn to it when I an feeling low.
🇪🇸 Mária P. – In my opinion Ira Losco is a good singer and she gave a great performance, but I don't find the song itself outstanding, it hasn't anything which really appeals to me. Even so I like Walk On Water better than 7th Wonder. I still hope to see Ira Losco in Eurovision for the third time, with a song I like at last.
🇧🇷 Amir B. – I like the song. Ira Losco also competed in my year of birth (2002) and I have an affection for those who participated that year. Walk On Water isn't among my favourite songs of 2016 but isn't in my 2016 bottom. Is an ok song for me.
Enjoy Ira Losco's performance from the 2016 Eurovision Song Contest in the embedded video. Below the video, you can read more about them.
Ira Losco – a mini biography
With the victory in the Maltese national final, and the following second place at the Eurovision Song Contest in 2002, Ira Losco kicked off her career with a flying start. She had taken part in the national selection before, but not yet achieved the massive success that were to start in 2002.
Over the years, Ira has released a total of so far six regular studio albums and two remix albums. She has also found time to serve as judge on Malta's X-Factor. Ira Losco has also used her popularity to fight for equal rights for the LGBT society as well as anti bullying campaigns.
So far, Ira Losco has represented Malta twice at the Eurovision Song Contest. She returned to the contest 14 years after her first appearance. Where her 7th Wonder came second in 2002, Walk On Water finished in 12th place in 2016.
Losco is married to Sean Garvina and the couple has 2 kids.