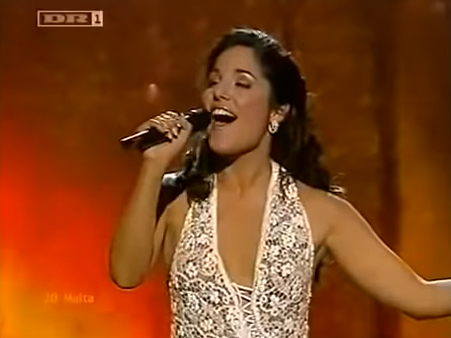 In her first Eurovision appearance, Ira Losco charmed Europe with her '7th Wonder'. As she finished in second place, she brought the country their best result to that day. 18 years later this song is still loved by many Eurovision fans while others find it too sweet.
Over two days in February 2002, Malta's national broadcaster PBS organised a national selection Malta Song for Europe. 16 acts took part with Ira Losco achieving a convincing victory. She was the favourite from both televoting and jury.
At the Eurovision Song Contest, Ira Losco became the runner up to Latvia's Marie N. Malta's second place was secured with 12 points from Croatia, United Kingdom and Denmark. Back then, it was Malta's best ever Eurovision result. Three years later, Chiara were to repeat the second place.
Malta's 2002 entry 7th Wonder is written by Philip Vella with lyrics provided by Gerard James Borg.
7th Wonder – opinions from fans
In order to find out what Eurovision fans today think of this Maltese entry from 2002, we asked our Eurovision Fan Panel. It includes team members as well as fans from all over the world.
🇲🇹 Christopher D. – Being Maltese may cause me to be biased. But for our small island Ira is an icon. She was in her first years of her career when she represented us with 7th Wonder. She deserved to win over Latvia that year. She gave a flawless interpretation and shined on stage. Malta was and still is very proud of her. 7th Wonder was a great stepping stone for Ira as she never looked back from that year onwards. Good luck to Ira who is expecting her second child.
🇩🇰 Charlotte J. – To this day, I still have no clue how Marie N. could win over this. Was it really all due to the clothes change? Anyway, this song is for me a good example of how small musical changes in the production can make a big difference. While still catchy, it was a bit of a mess in the national final. The Eurovision version is a lot more smooth. 7th Wonder is sweet, innocent, seducing (without a strong sex appeal) and catchy with a chorus easy to sing along to. Ira Losco sings it very well, and there's nothing wrong with the performance either. I still find myself singing this from time to time.
🇬🇧 Michael O. – The Ira Losco that gets sent to Eurovision is a different Ira Losco that has made the fab albums The Fire and Not A Sinner, I far preferred the original version of 7th Wonder too, than the one sent to Eurovision, but I'd certainly have placed Ira near the top. To me the Top 5 in 2002 should have been reversed, and Malta would have deserved a 4th place that year.
🇳🇱 Jacques H. – This is what we in Dutch call 'een lief liedje', a dearing song. But I don't like it at all. Ira's voice is feeble and too close to off key. If I had a cat, it would probably scratch my coutch, or worse, scratch me! As if I were to blame for singing so dreadfully. The lyrics are mere 'rijmelarij' or in English doggerel. It has nothing compelling to say! The song 'kabbelt voort', or in English, it rattles on and on and on and then it stops. Finally!
🇬🇧 🇮🇪 William S. – This should have won in 2002, Ira walks about that stage with such confidence and poise for a 20 year old and delivers this Disney, saccharine pop number with ease. That glitter though, that just makes the whole performance for me. This really should have been Malta's first win.
🇨🇿 Josef Š. – Ira Losco, take number 1 and a summer hit 7th Wonder. It is a little bit cheesy to be honest, but catchy at the same time. And Ira was a good singer already in 2002, that helps a lot as it makes the whole performance better. And on top of that the dress Ira wears is really gorgeous.
🇨🇴 🇫🇮 Alvaro S. – I love Ira's 7th wonder much more than her 2016 entry. The lyrics sound a little bit silly for me, in particular the cheesy chorus but the sound of the guitar is on point and Ira looks more natural than her over elaborated second attempt in 2016. In spite that I prefer this song after all these years her performance onstage is as good as ever.
🇬🇧 Ashleigh K. – I like a cheesy, bubblegum song every now and then but this is too much. Everything about this song makes me cringe – it sounds like a filler track from a girl band album that will never be released and is just there to make up the numbers. Please make it stop.
🇮🇪 John D. – This was a very surprising 2nd place for Malta in my opinion. They had better entries that didn't do as well. The singer was very pretty and charismatic and she sung with confidence. It was a simple melody although she did go off key in places. The staging was also very simple and the most memorable part was the blowing of the glitter at the height of the song. This for me was more than a bit cheesy and made me squirm. I think however that Ira's smile and good use of the stage may have made the difference in this poor year for entries.
🇩🇰 Liza P. I have never been very happy about 7th Wonder. I have always thought it was too sweet – like an overdose of honey.
In fact, on the evening of the final, I was so preoccupied with watching that Malta didn't win, that I forgot to watch how "well" Denmark was doing on the scoreboard.
Even today I still don't understand how this song could finish 2nd, compared to many of the other songs. Not that I find the winner great either. But Malta is in my opinion one of the weakest songs that year.
🇦🇺 Michael R. – I used to hate this song, but recently have started to like it. It's incredibly catchy and Ira performs it with such a youthful charm and it is staged well. It would've been a worthy winner had it won.
Enjoy Ira Losco's performance from the 2002 Eurovision Song Contest in the embedded video. Below the video, you can read more about Ira Losco.
Ira Losco – a mini biography
With the victory in the Maltese national final, and the following second place at the Eurovision Song Contest in 2002, Ira Losco kicked off her career with a flying start. She had taken part in the national selection before, but not yet achieved the massive success that were to start in 2002.
Over the years, Ira has released a total of so far six regular studio albums and two remix albums. She has also found time to serve as judge on Malta's X-Factor. Ira Losco has also used her popularity to fight for equal rights for the LGBT society as well as anti bullying campaigns.
So far, Ira Losco has represented Malta twice at the Eurovision Song Contest. She returned to the contest 14 years after her first appearance. Where her 7th Wonder came second in 2002, Walk On Water finished in 12th place in 2016.