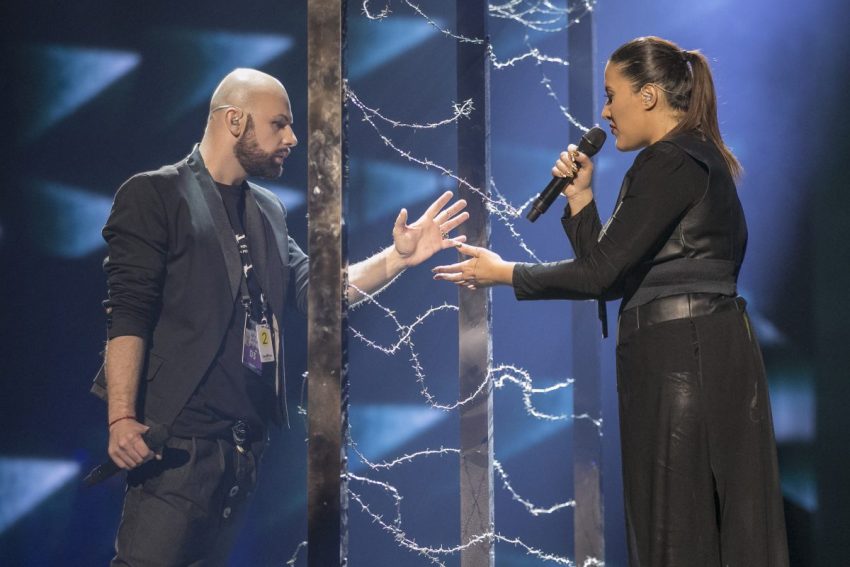 EuroVisionary is covering the Eurovision Song Contest 2016 rehearsals live from Stockholm to give you an idea of what to expect! We got to see the first seven countries of the First Semi Final yesterday and now it will be Bosnia & Herzegovina, Malta and Sweden taking to the stage of Globen Arena.
Bosnia & Herzegovina: Dalal & Deen feat. Ana Rucner & Jala – Ljubav Je
Bosnia & Herzegovina is sending an entry that is very typically Balkan as far as Eurovision is concerned. It is a mid-tempo song that incorporates classical elements, delivered by Croatian cellist Ana Rucner, with rap.
The performance starts with Rucner playing the introduction solo of the song wearing a highly reflective silvery cape (the material looking dangerously similar to aluminium foil). The camera turns to Deen whose style has changed somewhat since the last time he represented the county back in 2004 with the dance tune In The Disco. He now sports a shaved head and a beard. He is all dressed in black, same as Dalal who appears a bit later on, and is wearing a pair of characteristic golden trainers today. The backing singers are also wearing capes similar to Ana Rucner's (they all discard them on the floor later on in the performance)
The stage is predominantly lit in blue with abstract geometric formation being displayed on the backdrop. The main presentational feature is a barbed wire fence in the middle of the stage, separating Deen from Dalal who sing on either side of it facing each other. In subsequent runs, the fence appears to have been fluffed up, one would imagine so that it is more visible during the longer shots. When rapper Jala appears, both him and Ana get to the front of the stage and perform very close together. As unlikely as it may sound, the two musical styles complement each other nicely. Dalal and Dean's vocal performances are very good and the whole presentation feels quite classy.
Malta: Ira Losco – Walk On Water

A few seconds in and you can tell that the Maltese delegation are not kidding this year. The presentation starts with a double image of Ira's face seemingly on the stage backdrop but it could just as well be computer graphics, just like a subsequent image of her face that changes slowly from bright yellow to blue.
Ira, another Eurovision veteran who came too close to winning in 2002, sings well and is wearing a brownish/golden long gown to start with. The gown seems to be reflecting the lighting used for the stage. She later takes it off to reveal a black dress underneath. She is joined on stage by a male dancer carrying out a contemporary dance routine, lying most of the time very close to the stage floor, which often resembles rippling water (and thus making a reference to the song's lyrics) in blue and, later on, golden hues.
What really works with Malta is not so much the gimmicks but the overall lighting arrangement for the stage, which is generally done in golden hues of yellow, blue and red. Needless to say, spotlights are everywhere. In the overhead shots, Ira and her dancer look boxed by the vertical spotlights into an expanse of water that, at some point, starts spiralling and, in the process, forms a circle in the middle of the stage floor. Some more abstract graphics consisting of bright golden stripes in different directions give the whole thing a more contemporary feel.
Sweden: Frans – If I Were Sorry

Having won last year, Sweden will not be competing in the semi final stage. It appears however that this was a convenient time for the host country to rehearse its entry. If I Were Sorry is co-written by seventeen year old Frans and it has a very American sound to it.
This is a seemingly simple but effective presentation. We start with a blurry initial shot of Frans, shortly followed by a close up. Frans is brightly lit against a totally dark stage. There is a quick succession of camera shots from different angles and degree of zooming in and out and, in this respect, the camera work brings to mind that used for some sections of the Armenian presentation. Indeed, though the two presentations are very different otherwise, they also share a sense of originality that not many other entries have.
Franz is wearing casual clothes, trainers and a woolly hat. He appears to be fairly relaxed and performs his song well. At some point, words start forming by what appears to be tiny little lights on the backdrop. The same 'lights' spread out to cover a square panel of the backdrop and reform every so often into other words from the lyrics of the song, such as 'lies', 'stop' and 'enough'. Franz also makes use of the runway in front of the stage – a panoramic camera shot reveals that the runway and the rest of the stage are also lit in the same 'tiny light' fashion as the backdrop earlier on