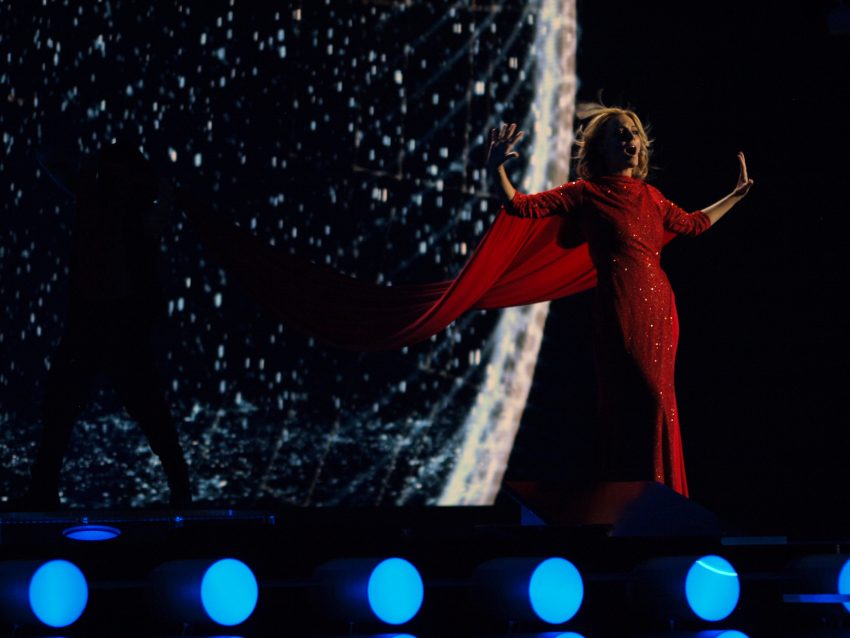 'Amanecer' gave Edurne her highest charting single since her debut but failed to connect with the audience gaining points from just eight countries. Did Edurne deserve a better score? And what went wrong? When asked about this entry, fans have very different opinions.
Edurne was internally selected to represent Spain at the 2015 Eurovision Song Contest with the song Amanecer (Dawn). The song was written by a Spanish and Swedish trio Tony Sánchez-Ohlsson, Peter Boström and Thomas G:son. Mid in tempo, the song is often described as 'atmospheric' and 'dramatic'.
Though being received well in Spain, the song finished in a disapointing 21st place, receving just five points in the grand final. At the grand final Edurne opted for simple staging with just her and Italian dancer Giuseppe Di Bella as the focal points. Edurne started the performance in a red cloak and hood, this being ripped off her after the first chorus revealing a glittering gold dress.
Amanecer – Opinions from fans
In order to find out what Eurovision fans today think of this Spanish entry from 2015, we asked our Eurovision Fan Panel. It includes team members as well as fans from all over the world.
🇨🇿 Josef S.- Amanecer by Edurne was my no.1 back in 2015. I loved it back then and still love it today. Edurne is a good performer and well experienced, and beautiful woman, and she had the hot dancer as well. Maybe the staging wasn't the best, but the song was simply EPIC. I think if I should be looking for epicness in a song, Amanecer would be on top of such list even today. ♥
🇬🇧 Michael O.- While not remarkable I did expect this one to have done better at Eurovision. The TV broadcast did not show the full effects of her staging that we saw in the arena, so that can't have helped. Still listen to this now and again. Not my fave Spanish entry, but good enough.
🇵🇹 Enio P. – Edurne is a beautiful singer and her stage dresses and the transition from one to another were truly amazing. I enjoyed this ethnic midtempo pop song and her singing was flawless. It didn't succeed in Eurovision's final. Maybe the staging wasn't the most appropriate or maybe consequences of the ongoing backlash against the big 4. Yeah, the song is quite repetitive but Edurne did a good job and represented Spain with grace and class!
🇹🇷 Gunec G.- Edurne is one of the most gorgeous women to have graced the Eurovision stage, that's for sure. But as for Amanecer, the song and the show did not impress me that much. Though Edurne tried her best…
🇬🇧 Ashleigh K.- Amanecer was one of my favourite songs in 2015 and it really deserved better than 21st place. Having watched the performance back, I think the staging let her down – the song is very dramatic but the staging feels too light, the colours are too bright and it doesn't quite match, it needed to be darker and create more of an atmosphere. That being said…. it still deserved better than a measley 8 points. It should have finished top 10.
🇮🇪 John D. – I always thought this was just a pretentious model shoot and it sounded more like an advertisement for feminine hygiene products than any real attempt to win an international song contest. Spain in 2015 went for appearance over substance with this effort and ended up paying the price of yet another poor placing.
🇦🇺 Michael R.- Edurne fell victim to a curse which has fallen upon many a Spanish entry … good song ruined by poor staging. Amanacer is dramatic, anthem of and mysterious at the same time. It deserved something better than poorly executed costume reveals for its big trick. Just one year before Spain delivered flawless staging with Ruth Lorenzo, propelling her to the top 10, but with Edurne they dropped the ball. I truly believe she could've been top 10 with a better staging.
🇪🇸 Quique B.- Amanecer is another fake song for Spain that everybody knew in the moment of being chosen.
It's a pity because Edurne is a good singer and didn't deserve it. She is lovely, beautiful and has a good voice (certainly that night she was nervous), the staging was good too.
But the composers, for me, are pretty bad although they must have good contacts.
Despite that, I think Spain deserved a better place, there were so many songs as bad as ours that got a better place.
But we are in the XXI century and everything is different, and Spain has to regain the prestige lost after so many shit entries.
🇩🇰 Charlotte J.- Please, can I have that red coat/dress which she takes off? I love it, and it will be perfect for Christmas. I like the performance too, and her vocals – and parts of the song… but I am not feeling it. It's nice enough to listen to, I don't feel like skipping it, though I do start to look at my watch about half way into it. The problem is that I can't connect to it. I guess the result shows that I wasn't the only one with that issue.
🇷🇸 Miljan T.- Though I didn't like the song back then, with years, I've learned to appreciate it for what it is. It sure was different than most of the songs that year, but then again, we had some very outstanding entries 2015, all different from each other. Edurne's vocals were good, the stage presentation was good… did the song deserve such a low placement? Definitely no.
Enjoy Edurne's performance from the 2017 Eurovision Song Contest in the embedded video. Below the video, you can read more about her.
Edurne – A mini biography
Edurne García Almagro rose to fame in 2005 when she participated in TV talent show Operación Triunfo where she finished in 6th place but has been working in the entertainment industry since she was a child having worked as an actor and being a member of a children's band.
After participating in the Eurovision Song Contest in 2015 where she finished 21st, Edurne became a judge on the Spanish version of Got Talent as well as Idol Kids. The singer has continued to make music since her time in the contest and has also found time to go back to her acting routes, she joined the cast of Spanish police drama 'Servir y proteger'.