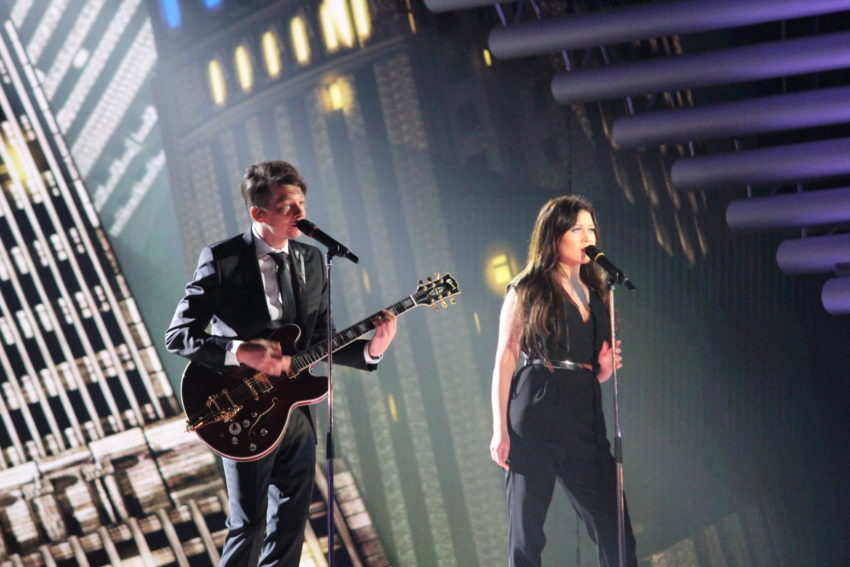 Estonia's 2015 entry 'Goodbye to Yesterday' performed by Elina Born and Stig Rästa in 2015 has already become somewhat of a timeless classics that's adored by a majority of Eurovision fans. Six years later, it still has a large fan base.
Estonia's traditional Eurovision selection system Eesti Laul's 2015 version consisted of three shows as usual: First semifinal on the 7th, second semifinal on the 14th and the grand final on the 21st of February 2015. 20 entries participated, 10 in each semifinal. With 5 selected entries from each semifinal, a total of 10 competed in the grand final hosted by Marko Reikop and Henrik Kalmet. At the end of the show, Elina Born and Stig Rästa received top votes from both the jury and the televoters with their heartbreaking mid tempo romantic song Goodbye To Yesterday, thus earned the ticket to Vienna.
In Vienna, the duo initially took the stage in the first semifinal 7th in line. After a remarkable performance, they received 105 points and finished 3rd in the semifinal, earning the right to compete in the grand final. In the grand final, they took the stage 4th in line, received 107 points thus finished 7th in the Eurovision Song Contest 2015.
Goodbye to Yesterday – opinions from fans
In order to find out what Eurovision fans today think of this Estonian entry from 2015, we asked our Eurovision Fan Panel. It includes team members as well as fans from all over the world.
🇹🇷 Gunec G. – One of Estonia's top entries and a real classic already. I love the chemistry between the two artists, the theatrical stage act and the whole performance.
🇬🇧 Michael O. – A timeless duet that could compete any year. Staging was perfect, everything about it was top-notch, but sadly for them, there were lots of great songs in 2015.
🇩🇰 Charlotte J. – I like this one. I really do. It's catchy, well performed and damn, Stig Rästa is handsome. Elina is the weaker leak in this constellation, though I love how she is vounable and extremely confident at the same time. A 7th place is quite alright for this one, around where I would place it myself though I wouldn't agree with all the ones above it.
🇨🇿 Josef S. – As 2015 was the year of duets, most of them were really awesome (Czech Republic, Lithuania, Norway…) but Estonia was probably one of the best and not only in the category of duets. What escalated the song to another level was that super creative staging which proves that a well-used staging may elevate the overall performance. The lyrics, the meaning and the tear on Elina's face, it is something unbelievably good. I don't love it, I adore it! ❤
🇭🇺 Vangelis M. – Back in 2015 Estonia was one of my favourite countries that year. I still listen to the song sometimes. It is a song you can easily listen on the radio. The performance was also very good full of power and emotion. It's a YES.
🇮🇱 Adi S. – This is one of the best songs in the competition's history, it's in my all-time top 10. The lyrics are simple but brilliantly accurate, the staging is genius, the acting the genuine (she actually CRIES while singing, you know how hard that is?). And also, it's perfect on the Eurovision stage, but also as a song on the mainstream radio. A masterpiece.
🇳🇴 Stine F. – This is a really sweet song, and the chemistry, connection and communication between the two vocalists is subtle and believable. It is just such a shame that they at some points during the performance are somewhat off-key. This ruins it a bit, in my opinion. Still, I would listen to it on the radio.
🇪🇸 Alexander S. – They performed their hypnotic ballad very well, completely mysterious. Stig's sharp voice contrasts to Elina's sweet voice….. a melody that catches you in full. The song ranked 7th in the grand final, and It was a #1 chart success in Estonia. It also charted as well in the other Baltic countries, Netherlands, Austria, Germany and so on. I really liked this song very different and calling compared to other songs… I still listen to It in 2021.
Enjoy Elina Born and Stig Rasta's performance from the 2015 Eurovision Song Contest in the embedded video. Below the video, you can read more about them.
Elina Born – a mini biography
Elina Born was born in Lehtse, Estonia on the 29th of June 1994. She was discovered by Stig Rästa on YouTube while singing Cruz by Christina Aguilera. This started her musical career. In 2012, she finished as runner-up in the Estonian talent show Eesti otsib superstaari (Estonia is Searching for a Superstar). She won the Eeesti Laul 2015 and represented Estonia with Stig Rästa in the Eurovision Song Contest. She has released one album (Elina Born) in 2015 and 10 singles, including her Eurovision entry Goodbye to Yesterday and Jagatud Saladus which is a duet with Jüri Pootsman (Estonia 2016).
Stig Rasta – a mini biography
Raul-Stig Rästa was born on the 24th of February 1980. He has represented Estonia in Eurovision Song Contest 2015 with Elina Born and co-wrote Jüri Pootsman's Play (Estonia 2016). He formed and was a part of the band Slobodan River from 2002 till 2006. Since 2006, he has been playing in the band Traffic and since 2010 he has been playing in Outloudz.