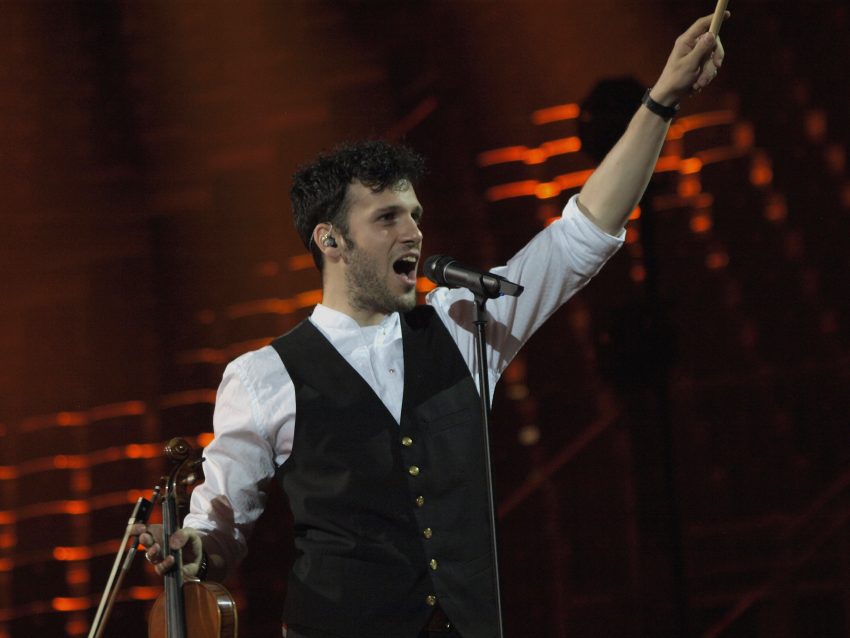 A charming, charismatic guy, and a distinguished whistlling. Sebalter's 'Hunter Of Stars' from 2014 is an entry well-remembered by Eurovision fans.
'Die Große Entscheidungsshow 2014' was held to select Switzerland's Eurovision representative. All four Swiss broadcasters had to be represented in the selection. Eventually, the many acts were cut down to just six for the final that took place on the 1st of February 2014. The six acts performed two songs each in the final; their potential Eurovision entry and a cover version of a well known song. Sebalter won with the song Hunter Of Stars. In the final, his cover song had been Avicii's Wake Me Up.
At the Eurovision Song Contest, Sebalter qualified from the semi-final in a 4th place with 92 points. This included the maximum 12 points from Poland, and 10 from Germany and Romania. In the final, no countries had 12 points for Switzerland. Sebalter received as highest 10 points from Poland and next 7 points from Portugal. In total, the Swiss entry received only 64 points which meant a placement as 13th. While this doesn't sound too impressive, it was actually Switzerland's best result in 9 years.
Hunter Of Stars – opinions from fans
In order to find out what Eurovision fans today think of this Swiss entry from 2014, we asked our Eurovision Fan Panel. It includes team members as well as fans from all over the world.
🇬🇷 🇬🇧 Theo V. – The thing that initially comes to mind is the immense heat coming off the stage when the pyrotechnics were first used during rehearsals back in 2014. Spectacular as they look on screen, I had not realised up to that point just how unpleasant pyrotechnics must actually feel for the performers themselves onstage. More to the point though, this was quite a catchy song performed by a fairly charismatic artist. On the other hand, for me, there was also a bit too much nervous energy coming off Sebalter (would that have been due to the pyrotechnics? I wonder…) The lyrics felt a bit too forced to fit the musical phrases, too, and the whistling – catchy as it felt to start with – was getting ever so slightly more annoying with every repeat. Despite such imperfections however – the song was all about "bear(ing) the stains of imperfection" after all – my overall impression is a positive one.
🇦🇺 Craig M. – We saw this song performed live, when we were lucky enough to get to Copenhagen in 2014. While it was not among my favourites, I think it was worthy of the Grand Final. In my opinion, it finished about where it deserved, in 13th place. If I had to rate it, I'd say 6.5/10. P.S. I remember how the fireworks scared the audience for the live show, one second before the song started.
🇹🇷 Günec G. – Sebalter is a sympathetic guy. The song is really catchy. The whistling detail is smart. However, still there's something missing about this song for me.
🇩🇰 Charlotte J. – All through the song, I am rather distracted by his look. Damn, he is handsome – and charming! When you then add a good song with a catchy whistling, you have the whole package. And I think Switzerland did have that in 2014. I am really enjoying it and I think it deserved much more than it got. This was in my top 3 that year. First place went to the fantastic Common Linnets and then it's Switzerland and Armenia fighting for 2nd and 3rd with Hungary fourth. Austria's winner would be my 5th. To summarise; a really good entry from Switzerland which should have done better. I do hope to see Sebalter back at Eurovision sometime soon.
🇬🇧 Michael O. – To this day I don't really know what I think about this song. The whistling is annoying, I didn't like it before Eurovision, but he performed it well, so I kind of started to like it for a while. Actually now I think about it, it irritates me.
🇳🇱 Jacques H. – I love the energy of Hunter of Stars, but unfortunately I cannot say the same for the performance. It is too blunt to say Sebalter can't sing, but it ain't good either. The song deserved a better voice, a better singer. His looks and smile make up a lot, but in total it just is not good enough. And how I hate to see bands that fake play on their instruments. Gruesome! That 13th place is slightly overrated.
🇨🇴 🇫🇮 Alvaro S. – Sebalter is probably the most charismatic lawyer on Eurovision. From the moment Sebalter starts whistling it is irresistible not to enjoy with this happy tune. I also like the violin part and let's be honest, the way he flirts to the camera probably gave him some extra points from the public.
🇨🇿 Josef Š. – I love when a country is not afraid to go with a folk influenced entry, just like Switzerland did in 2014. The song is catchy, well sung, interesting and as Alexander Rybak proved, playing the violins is a good thing. And that whistle tune is always good for the audience, same as when someone uses viral dance moves. This was a good song and artist choice, Switzerland. Thank you! ❤
🇬🇷 Mike E. – And here we have one of the most memorable entries of Switzerland and Eurovision in general. Not the most popular but definitely you listen to this song once and that whistle is going to follow you in your head for a while. Personally I do feel like it could be in the top 10 at least as he is charming, the performance was good and it's a great song as well! A big thumbs up.
Enjoy Sebalter's performance from the 2014 Eurovision Song Contest in the embedded video. Below the video, you can read more about him.
Sebalter – a mini biography
We know him as Sebalter, but his real name is Sebastiano Paù-Lessi. He is born in the Italian-speaking part of Switzerland, and took violin and guitar lessons as a child. He is educated as a lawyer. When music began to take more of his time, he put his job as a business lawyer on pause, but later resumed it.
After represented Switzerland at the 2014 Eurovision Song Contest with the song Hunter Of Stars, he released his debut album Day Of Glory. Both that and his second album Awakening released in 2017 peaked as #9 on the Swiss chart. A third album followed in 2020.
Sebalter made an attempt for a Eurovision comeback in 2019 with the song Carry The Light, but didn't manage.