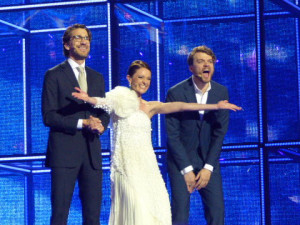 Last year's edition of the Eurovision Song Contest has been nominated for an award in relation to Copenhagen TV Festival, which will be held in August. Eurovision 2014 is nominated in the category "Best TV on several media".
Programmes produced in Denmark and aired in the period of 1st of May 2014 – 30th of April 2015 are eligible. The 2014 edition of the Eurovision Song Contest fits, and it has been nominated in the category "Bedste TV på flere medier" (Best TV on several media).
This category is described as:
The award goes to a programme, which manage to engage users on one or more platforms besides TV giving the programme a life outside the TV screens. It is not just about presence on other platforms and social media, but about the usage of content and involvement of the users. The programme must work with the users and use minimum one new media and/or platform to develop, extend or supplement the TV programme and the story.
With the very active hash tags; #Eurovision and #JoinUs, the 2014 Eurovision Song Contest is a good candidate to win the award.
If the Eurovision Song Contest 2014 wins this award, it won't be the first award the show gets. In November 2014 it won the prestigious Ondas Award for best International TV production.
It is production companies and broadcasters who suggest nominations, and it cost a fee of 1200 DKK to suggest a programme for nomination. Copenhagen TV festival 2015 will be held at Tivoli's Congress Center in the days 13th and 14th of August.