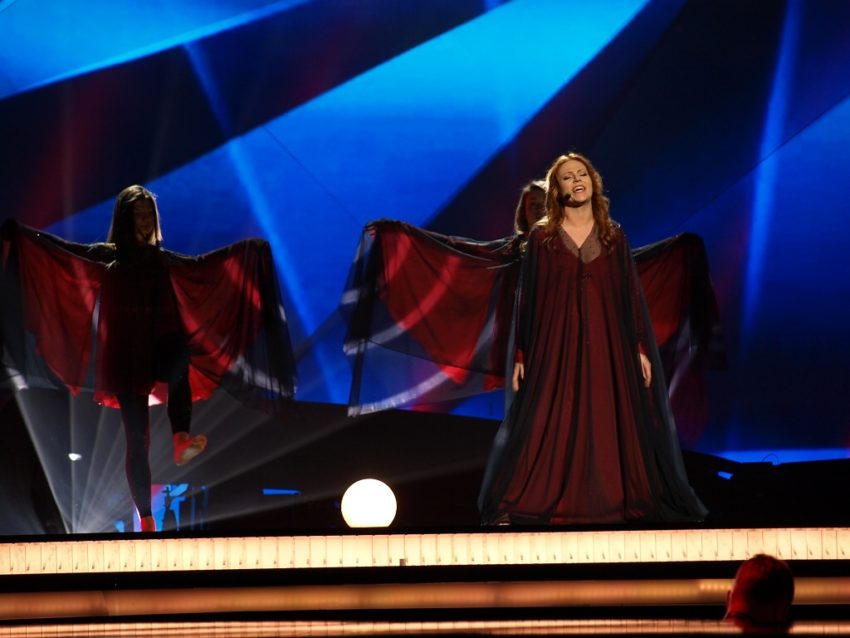 Valentina Monetta is surely a Eurovision icon with 4 participations, three in a row and the last one as a duet with Jimmie Wilson. Unfortunately, she has not been that lucky with the results. 'Crisalide (Vola)' her second participation representing her country is one of the most liked ones though it failed to qualify for the grand final.
On the 30th of January 2013, the Sammarinese broadcaster SMRTV announced that Valentina Monetta was internally selected to represent San Marino at the Eurovision Song Contest in Malmö, Sweden.
Out of many submissions, the broadcaster selected the song Crisalide (Vola). The song was composed by legendary German musician and record producer Ralph Siegel and the lyrics were by Mauro Balestri. The song is a mixed tempo pop song which starts as a slow tempo ballad and towards the middle, becomes an uptempo pop song.
At the Eurovision Song Contest in Malmö, Valentina Monetta competed in the second semi-final. She took the stage as 2nd in line, in her big red dress holding a sphere light and accompanied by two dancers. After a passionate performance, Monetta received 47 points which was not enough to carry her country to the grand final. She was placed 11th.
Crisalide (Vola) – opinions from fans
In order to find out what Eurovision fans today think of this Sammarinese entry from 2013, we asked our Eurovision Fan Panel. It includes team members as well as fans from all over the world.
🇳🇱 🇩🇰 Wouter W. – This song is brilliant, and highly underappreciated. Some might complain it's two songs in one, but I think the duality perfectly symbolises the metamorphosis from caterpillar to butterfly. Certainly Monetta's best Eurovision song, and perhaps even the best Ralph Siegel has ever written.
🇦🇺 Craig M. – I love this song. It's a Eurovision classic. I love Valentina ❤️ and she well and truly deserved to go through to the final. This is my favourite song of Valentina's. I love how it picks up tempo near the end. And you can clearly see the audience loved it too. (Lucky for me, I got to see Valentina qualify for the final, when I went to my first and only ever Eurovision in Copenhagen 😁)
🇩🇰 Charlotte C. – I like the song, but it's not a love feeling. I like both of the two songs put together for this one, but the transition between them is a little off to me. I do enjoy it whenever it's on though, and I wouldn't turn it off.
🇹🇷 Gunec G. – I really admire Valentina and her works in Eurovision. And Crisalide (Vola) is my favourite Sammarinese entry. I really can't understand how this one failed to reach the grand final and certain others did. Anyway, cheers Valentina and Ralph Siegel.
🇩🇰 Liza P. – I think, that this is the best entry with Valentina. I love how the song starts like a ballad and builds up in tempo. All though it took me a few days to get used to the change in tempo, it was all made easier to accept because the song was in Italian. I love that language. The performance match the song so well, starting dark and mysterious – don't even get me started on my fascination of the lightning ball. The only thing I miss a bit is maybe some golden light for the ending of the song. Otherwise, I think it is so well adapted on stage. A shame it didn't qualify.
🇳🇴 Robert I. – I love all of Valentina Monetta's/Ralph Siegel's entries for San Marino and this is no exception. This is an absolutely beautiful ballad turning into a catchy pop tune, sung by a super strong vocalist and great artist in the beautiful Italian language. It's unbelievable that Crisalide didn't qualify for the final. I think the entry suffered from being from a small country, and if it had represented Italy instead, it would have reached much higher results.
🇨🇿 Josef S. – This is my all time favourite from San Marino! Perfect song, perfectly sung, it's not in English, it is a mash up of different styles as it starts as a ballad and evolve into a little bit more uptempo song. And of course that performance is really iconic. It should have been in the final back then as I am still convinced it should be in the final TOP 10 at least. It was one of the best songs of Eurovision 2013. ❤
🇹🇷 🇫🇷 Egemen O. – I was quite deceived when this song couldn't make it through the final, to be honest. Not due to my little sympathy towards this little abandoned country, rather, due to the magnificence of the song and the performance on stage. Moreover, it gets exacerbating when you recall that they could qualify next year with Maybe which is better than the disaster in 2012 but not better than this. Despite the fact that she sang it bad, the song is really good, and it is a shame that it didn't qualify.
🇨🇴 🇫🇮 Alvaro S. – I remember I was impressed to see Valentina Monetta sending such a different song from her first participation. This has nothing to be with her Social Network song which was basically a joke. And it is actually a very good song sung in Italian. Probably one of her best entries in Eurovision. It deserved to be San Marino's first qualification and why not a Top 10 in the final? I love Maybe too.
🇬🇧 Michael O. – I really do like Valentina, but she comes to Eurovision with such average songs. I just can't stand the way the song changes pace in the middle. I said at the time this wouldn't qualify and I was right.
Enjoy Valentina Monetta's performance from the 2013 Eurovision Song Contest in the embedded video. Below the video, you can read more about her.
Valentina Monetta – a mini biography
Valentina Monetta was born on the 1st of March 1975 to a Sammarinese mother and Italian father. She started singing and playing the piano at an early age. Her singing career began in 1995 singing in various bands.
She tried for Eurovision 6 times in 2008, 2012, 2013, 2014, 2015 and 2017. Over the years she has represented her country 4 times. She released an album named La storia di Valentina Monetta including multiple versions of Crisalide (Vola). 3 albums and several singles including her Eurovision songs in her discography has so far been released.
Four Eurovision participations by Valentina Montetta
2012: The Social Network Song finished 14th in the semi-final and as such didn't reach the final
2013: Crisalide (Vola) finished 11th in the semi-final and as such didn't reach the final
2014: Maybe reached the final where it finished 24th
2017: Spirit Of The Night finished 18th in the semi-final and as such didn't reach the final. This was a duet with Jimmie Wilson.