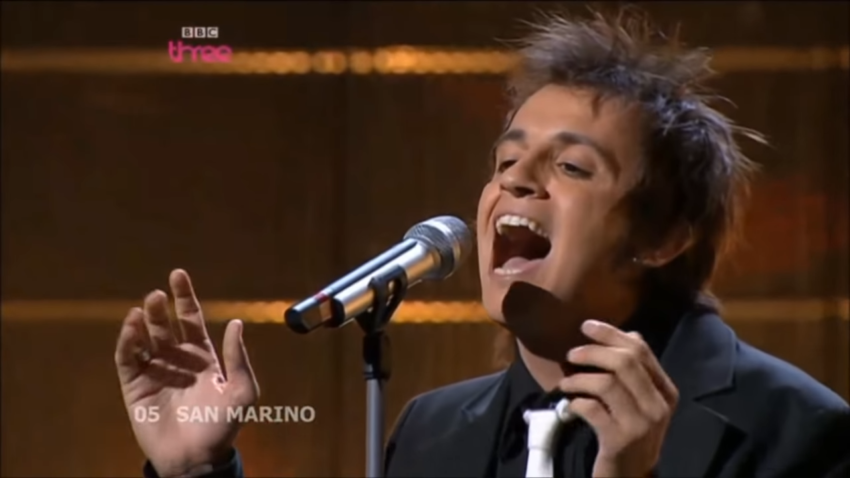 Miodio represented San Marino in 2008 with the song 'Complice'. The song is one of only two Sammarinese entries sung in Italian. Miodio ended up in last place in the semi-final. Regardless of this result, fans still remember the first San Marino attempt in Eurovision.
San Marino made their debut at the 2008 Eurovision Song Contest held in Belgrade, Serbia.
In March 2008 broadcaster  SMRTV presented Miodio as their very first representatives for the Eurovision Song Contest. The band was internally selected among 50 other artists who submitted songs. These 50 candidates included Valentina Monetta (San Marino 2012, 2013, 2014 and 2017), Jalisse (Italy 1997) and Elnur Hüseynov (Azerbaijan 2008 and 2015).
For the Eurovision Song Contest, the band performed Complice wearing black suits. They were accompanied on stage by a dancer. The choreography was aimed to give an emotional impact to the song. Unfortunately it didn't work. The band did not get a good result and failed to qualify for the final getting only 5 points in their semi-final. After this cold reception, San Marino did not return to Eurovision again until 2011.
Complice is written by band members Francesco Sancisi and Nicola Della Valle.
Complice – opinions from fans
In order to find out what Eurovision fans today think of this San Marino entry from 2008, we asked our Eurovision Fan Panel. It includes team members as well as fans from all over the world.
🇬🇷 🇬🇧 Theo: Fairly emotive melody, an atmospheric sound and, despite the evident nerves, not a bad vocal performance overall. Staging-wise, I am not sure of the female dancer's necessity. I am tempted to say that the song might have been ahead of its time stylistically and that, nowadays, it might have done much better or, in any case, at least not come last in the semi-final stage as it did back in 2008.
🇬🇧 Steve P. – As a huge fan of Italian music who had been deprived of an Italian entry for 14 years, I was delighted when San Marino announced their participation. I was hoping for a more Italian sound and it must have been tempting for the San Marinese to play safe and opt for an Italian style big ballad. Perhaps wanting to have their own identity, they sent a fine rock ballad. The melodic rock sound is complimented by a strong orchestral arrangement that should have made the final. Could have done without the dancer, though!
🇵🇱 🇯🇪 Pawel J. – For me, 2008 was the year of only a few good songs and "Complice isn't one of them (normally I love San Marino's entries). It's kind of the same from the beginning to the end – the lyrics doesn't really mean much, and I guess it could've been arranged more "in a rock style"- maybe then it would do better than 19th in the semi-final. Regardless of all, then I admit, it is still one of my 2008 "guilty pleasures".
🇫🇮 🇨🇴 Álvaro S. – I like to call San Marino in Eurovision "the biggest guilty pleasure provider". There is something about San Marino that makes me want to rooth for them. However, I genuinely love Complice. To this day it is one of my favourite songs. Miodio deserved to be in the final. I like to speculate that they could have done better with the current voting system.
🇸🇪  Sara T. – In my opinion, Complice is a hidden gem. I was very sad when this Sammarinese debut entry didn't qualify for the final. It's a genre that unfortunately is quite rare in Eurovision, and judging by the song's result, so are its fans. When I listen to this song, I am transported to another world, and it makes me feel sadness and emptiness – which I highly enjoy! This song reminds me of Kent, one of my favourite Swedish bands. I sincerely hope there will be more songs like this in Eurovision in the future.
🇬🇧 Michael O. – Usually if a song is sung in Italian it can do no wrong, but this is a very low key understated number that really doesn't have much to draw you in. Considering it was a debut from a very tiny country it was a passable entry but is dwarfed by every single entry Italy has sent to Eurovision.
🇩🇰 Charlotte J. – San Marino debuted with a strong entry which, in my opinion, should have qualified. It's a catchy pop-rock entry, which I like. The lead singer is quite charismatic, and the song is in Italian, which is one of the most beautiful languages one can sing in. I like that Italy so often stick to their own language, and it's a shame that San Marino only used it twice.
🇳🇴  Steinar M. – This is actually my BIG favourite from San Marino. BY FAR! Most of their entries have been quite cheesy / cheap 70s disco / funk. With 2019 being the bottom of the barrel for me. This however is a great song, I think. A bit indie rock to this, a bit Coldplay. Sounds way more professional and more "serious" than most of their entries. I like the vibe of this, great melodic track. With juries more involved, this could have done better.
🇹🇷 Güneç G. – This entry gives me so much emotions. It's pretty modern yet so romantic. I don't understand the lyrics, but the way it's performed captures me. I still have no clue why it didn't pass the semi- final.
Enjoy Miodio's performance from the 2008 Eurovision Song Contest in the embedded video. Below the video, you can read more about Miodio.
A mini Biography to Miodio
Miodio is an Italian/ Sammarinese band. The band is composed by Nicola Della Valle, Paolo Macina, Andrea Marco Pollice, Francesco Sancisi and Alessandro Gobbi.  Miodio was founded in 2002.  They recorded a mini-album with five tracks before they signed a record contract with Opera Prima.
Before Eurovision, Miodio won the 17th edition of San Marino Festival. They also received the 2006 'Viva Music' and 'Best Original Song' awards at the Arts Festival in Bologna.  After their Eurovision participation, they made the top 10 in the online section of the 59th Sanremo Festival with their song "Evoluzione genetica".  In 2010, they participated in the Festival della canzone italiana in Italy.  In 2011 they released their second and-to date- last album Avantgarde.