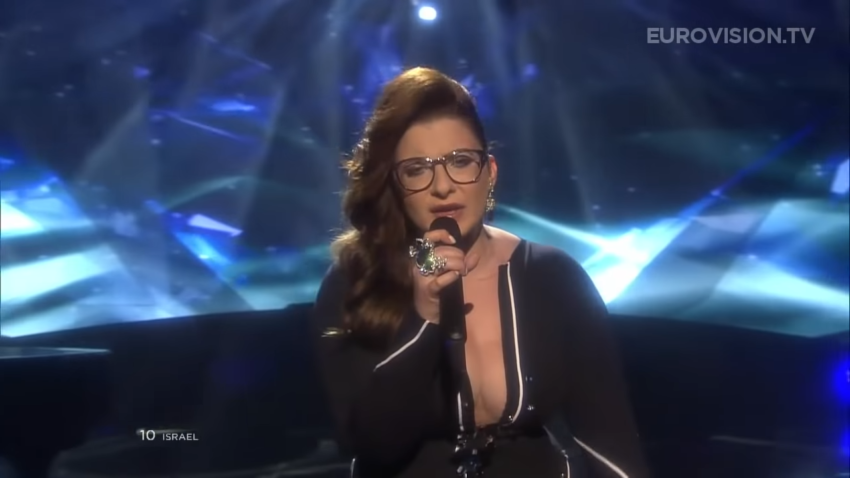 Israel had failed to reach the final the two years before, and unfortunately with Moran Mazor in 2013 it became third year in a row. Today, Eurovision fans disagree whether her entry 'Rak Bishvilo' was strong or boring. That might explain why she finished 14th in the semi-final.

The Israeli broadcaster IBA organized a national selection named Kdam Eurovision 2013 to select their entry for the Eurovision Song Contest. The selection process consisted of three semi finals, a second chance round and a final. A total of 30 entries competed, 10 entries each in three semi finals. The first 3 songs in each semi final qualified to go directly to the final. The three 4th songs were announced eligible to appear on the second chance round.
On the 7th of March 2013, the national final took place. 10 qualifiers competed and Moran Mazor received the total top points from the jury and the televotes. Thereby she was announced as the representative for Israel with her power ballad Rak Bishvilo (Only for him). The jury consisted of Ilanit (1973 and 1977 Israeli Eurovision entrant), Moshe Datz (1991 Israeli Eurovision entrant), Dafna Dekel (1992 Israeli Eurovision entrant), Uri Paster (theatre and cinema director), Eldad Shrem (composer of the Israeli Eurovision Song Contest 1977 entry), Sharon Haziz (singer and actress) and Svika Pick (singer and composer of the Israeli Eurovision Song Contest 1998 and 2002 entries).
The 2013 edition of Eurovision Song Contest was organised in Malmö, Sweden. The date of the first semi final was coinciding a national holiday of Israel. For that reason, the Israeli delegation requested EBU to compete in the second semi final. After EBU's approval, Moran competed in the second semi-final with her courageous costume and power ballad. Despite a strong vocal performance, she received 40 points which was not enough to carry her to the final.
Rak Bishvilo – opinions from fans
In order to find out what Eurovision fans today think of this Israeli entry from 2013, we asked our Eurovision Fan Panel. It includes team members as well as fans from all over the world.
🇷🇸 Miljan T. – 2013 was a weird year overall and I had all forgotten about Israel, until my boyfriend re-introduced me to it. It's that kind of love ballad which is so strong that you feel it pressing on your chest and you can't breathe because it's just so beautiful. The vocal performance both of the singer and the backing vocals are so magnificent that it's still a mystery to me how it didn't qualify.
🇳🇴 Steinar M. – A very ordinary ballad in my opinion. A typical power ballad. Done so many times before in Eurovision. Dated, boring and forgettable. One of the least impressing Israeli entries, I think. BUT I should add that their entry the year before – "Time" (Izabo) is one of the best Eurovision-entries ever
🇩🇰 Charlotte J. – I am sorry, but I find this extremely boring. I really like that for many ordinary women she is easy to connect to. Wearing glasses and dressed in a tight dress despite not being slim, there's no trying to live up to something she isn't. She is herself and I really appreciate that. Just a shame I can't feel the song. Near the end, it lives up a little bit, but it's too late for me. I am half asleep.
🇮🇱 Adi S. – She is a good singer and the song is ok, but she went off key and her styling was horrendous. Another miss before we started getting it right.
🇬🇧 Mhairi O. – I know that this is a fan favourite however I don't like it that much. She has a great voice but for me it's not enough to save the song.
🇹🇷 Gunec G. – I love hearing power ballads from strong voices. Moran is surely a very good singer. And the song sounds very touching. However many Eurovision fans don't like ballads in Eurovision. It's really a shame this did not make it to the final.
🇪🇸 Quique B. – The song is not bad, but it reminds me of other songs from her country better than this one. She sing well but her looking (I'm afraid deliberate) distracts you from the song. When your eyes gets adapted to her glasses and awful dress, the three minutes have passed and the song is finishing.
🇨🇴 🇫🇮 Alvaro S. – I think that after sending two powerful ballads in 2013 and the next year Israel had no appetite to send more songs in Hebrew that would not be as appreciated as they should be by the fans and rather play safe going full pop. Such a shame
🇬🇧 Michael O. Not sure what to make of this one really. Sadly it screamed non qualifier at the time, and Morans outfit was hideous, so she really wasn't making any effort to sell the song. She looks terrific nowadays and she's a great singer, so not quite sure what was going on in 2013.
Enjoy Moran Mazor's performance from the 2013 Eurovision Song Contest in the embedded video. Below the video, you can read more about her.
Moran Mazor – a mini biography
Moran Mazor was born on the 17th of May 1991 to a Jewish family of Georgian descent. In an interview she told that her parents migrated from Georgia to Israel in the early 1970's. She has had classical piano education from the age of 6 till the age of 18. Moran has taken part in many events as a pianist and a singer after she was discovered by a manager while she was in conservatory.
At the age of 17, she decided to study Pharmacology but eventually she joined the Israeli Air Forces. After finishing her military duty, she participated and won the first season of Israeli reality show Eyal Golan is Calling You in 2011.
Her Eurovision adventure in 2013 resulted in a 4th place in the semi-final and as such didn't qualify for the final. Israeli broadcaster IBA however released a documentary about her shortly afterwards. It's titled A Girl with Glasses. Moran also sang the soundtrack for a Turkish Series Istanbullu Gelin, which was very popular in Israel.
She released her latest single רוח באה הימה (The Wind Comes To The Sea), a soft ballad, in 2020.