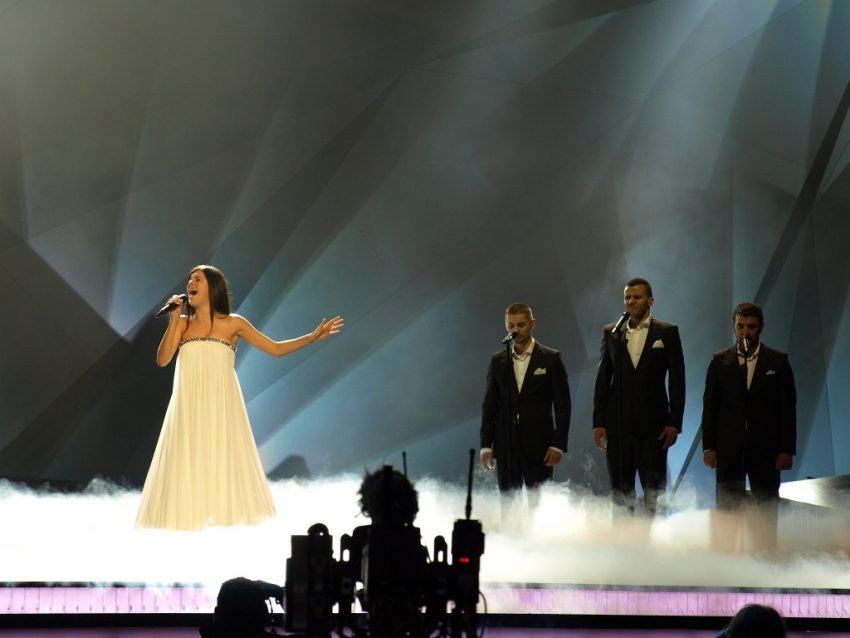 It was third time lucky for Birgit Õigemeel when she finally was given the chance to represent Estonia at the Eurovision Song Contest. The 58th edition of the contest delivered a strong final where Estonia finished in a rather disappointing 20th place.
Birgit Õigemeel entered the Estonian selection show Eesti Laul with her ballad Et Uus Saaks Alguse (So there can be a new beginning). Performing in the second semi final Birgit advanced to the final followed the superfinal where she competed with Eesti Laul's second place participant in a final vote to determine the winner. The results were close but Birgit clinched the win with 51.1% of the vote.
At the Eurovision Song Contest held in Malmö Birgit was the 7th participant to perform. The first part of her performance was delivered in black and white breaking into colour further into the song, Birgit wore an elegant floaty white dress which disguised her baby bump. Despite giving a solid vocal performance Birgit only received 19 points which placed her in 20th place
Et Uus Saaks Alguse – Opinions from fans
In order to find out what Eurovision fans today think of this Estonian entry from 2013, we asked our Eurovision Fan Panel. It includes team members as well as fans from all over the world.
William S. – Sweet Birgit, heavily pregnant and still giving a great vocal performance all while walking about the stage and even taking the catwalk to the satellite stage for the end. I applaud her for her commitment. The song is a sleep, lullaby ballad and sometimes when done right they can really capture my heart. Estonia, you done that to me this year. It's one of my favourite entries of the decade.
🇪🇸 Mária P. – This is one of my favourite Estonian entries, a lovely and sweet melody, nicely sung by the also sweet Birgit. And it's always a pleasure to hear Estonian entries sung in their beautiful language. It was a joy to see this entry qualifying for the final, just I think it deserved a better final placing.
Charlotte J.- I usually don't like ballads. I usually don't like hearing the Estonian language sung either. But I completely forget what is usual here. This is sweet, well performed and the language has never sounded more beautiful than this. Finishing in 20th place is too low. I would place it somewhere 5th – 10th.
Ashleigh K. – I'm not usually a lover of ballads and though I overlooked this song when I first watched the contest due to the high quality of songs it has since become one of my favourites from that year. Birgit seems sweet and her performance was very charming and endearing. Eet Uus Saak Alguse isn't what I would consider a winning song but I would have liked to have seen it scored much better perhaps somewhere mid-table.
🇦🇺 Michael R. – This is such a pleasant song. It's soothing to listen to and Birgit delivers a flawless performance including nailing the key change.
Liza P. – This is one of those songs that I find very sweet and innocent – but also one that I have forgotten 5 minutes after I heard it.
Birgit looks very sweet on stage and her voice is good and strong and I like that it is song in Estonian.
I also like the start in black and white. However, the dress looks like the easiest sewing job in the world and probably still costs more than my food budget in a year.
Richard C. – Birgit looks absolutely stunning in white and fills the stage with her light and airy vocals. The beauty of the Estonian language and heartfelt lyrics are on show for the audience to enjoy. The whole performance somewhat lacks impact and it's quite linear on first listen. Mediocre at best. To summarise its a nice pleasant song.
Frank S. – Yes, this is one of those middle of road songs at Eurovision that are neither too boring nor exciting, however, bring a smile to your face when you listen to it. It only came 10th in the semi-final and I was surprised to see it qualify. Not my favourite, but as said, one of the more middle of the road songs.
🇬🇧 Michael O. – I was quite pleased this qualified but was nowhere near as good as the previous or following years entry. In the end in fact was quite dreary.
Alvaro S. – I remember I did not like this song when I first listened to it, but the performance of Birgit in Malmö got to me. This and Anouk's Birds are two performances from this year that demonstrates that less can be more and that you don't need kitsch to entertain. Extra bonus points for singing in Estonian and the feeling she puts into it.
You can relive Birgit's performance at the 2013 Eurovision Song Contest by watching this embedded video. Below it you can read more about Birgit.
A mini biography of Birgit Õigemeel
Birgit Õigemeel known simply as Birgit was born in Kohila, Estonia in 1988. Growing up she was a member of a children's choir as well as learning to play the violin. But it wasn't until 2007 when she got her first big break. She competed and won Eesti Stsib Superstaari (Estonia is Searching for a Superstar) and the same year performed in Italy's Golden Olive culture festival becoming the first non-Italian artist to receive the Golden Olive Branch Award, her first album was released the following year.
Prior to being selected to represent Estonia in Sweden, Birgit had attempted to enter the contest twice (2008 & 2012) and was a part of the interval performance as a choir member during the 2002 Eurovision Song Contest which was held in Tallinn. After participating at the contest in Malmö, Sweden in 2013, while pregnant Birgit gave birth to her son that same year with a daughter following a few years later. In addition to making music, Birgit also played several theatre roles including Maria Von Trapp in 'The Sound Of Music' and Sophie in the Estonian production of Mama Mia.
Join the Fan Panel
Do you want to join our Fan Panel? We'll ask you for your opinion on a former Eurovision entry or a Eurovision related topic approximately once a week. Your opinions will be used in articles like this.
Send us a message on Facebook, and we'll get back to you.