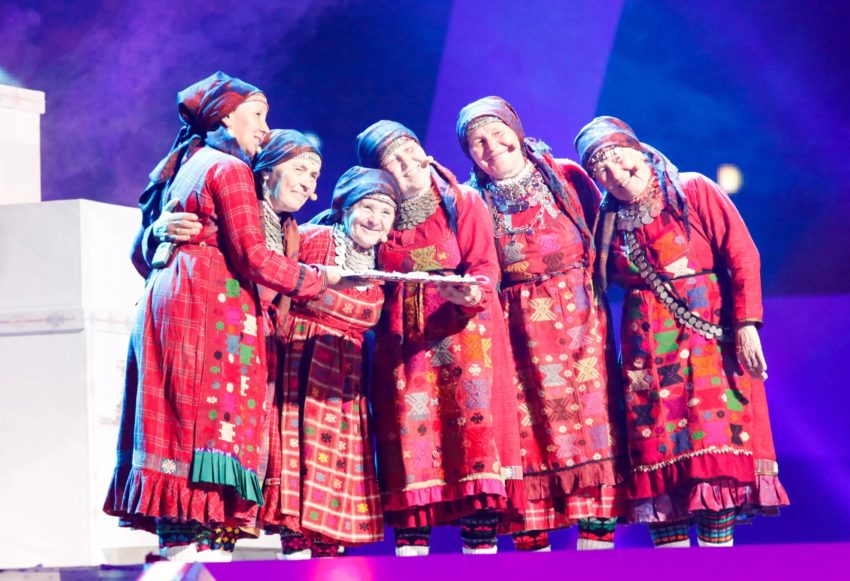 In 2012, Buranovskiye Babushki, who are affectionately known by the Eurovision fans as "the grannies", represented Russia in Eurovision. They brought back home an impressive result. Fans still are in love with the charming personalities of the grannies. However, not all fans are delighted with their song.
In 2012 RTR, the Russia broadcaster organised Evrovidenie 2012 to select their Eurovision representative. This was the last time Russia has organised a national selection for Eurovision to this day. Twenty-five entries performed in the Final on March 7, 2012. A combination of votes from the public and a jury panel decided the winner.
In the end Buranovskiye Babushki, a folk group of elderly women who performed in traditional clothes, won. Their victory came as a surprise to many considering how competitive the Russian selection was. Eurovision winner Dima Bilan (Russia 2018) together with Julia Volkova (Russia 2003) came in second place. Polina Smolova (Belarus 2006) also participated.
Buranovskiye Babushki has eight members. However, only six members of the group could take part in Eurovision due to the rules limiting the number of people performing per act. In the Eurovision performance, they wore their traditional clothes and sang in front of a backdrop screen displaying disco balls and next to a stove. In the middle of their performance one of the grannies took the cookies they were "baking" out of the stove and showed them to the audience.
They won their semi-final with 259 points. In the final, they ended up in second place with 332 points.
Olga Tuktaryova and Mary Susan Applegate wrote Party for Everybody. The lyrics of Party for Everybody are in Udmurt language with a few lines in English.
Party for Everybody – opinions from fans
In order to find out what Eurovision fans today think of this Russian entry from 2012, we asked our Eurovision Fan Panel. It includes team members as well as fans from all over the world.
🇩🇰 Charlotte J. – No, no and no again. This is one of the most annoying Eurovision songs ever. I will give them a point for entertaining value, but really, the song is horrible.
🇪🇸 Mária P. – For me it's a very pleasant entry as a whole. The grannies are so cute and tender, and the song lively and catchy with a nice beat. I also love the folk touch and the Udmurt language, as I always like that an entry has some spirit from the country they are representing. It's a truly memorable Eurovision song, and I would have liked to see them winning.
🇬🇧 Michael O. – Simply awful and if this had won, the contest would have been treated as a bigger joke than it normally is, by the general public.
🇷🇴 Mihai D. – Russia always comes to the Eurovision Song Contest with valuable songs, good performers and quality shows. We cannot deny this. On the other hand, Russia has added another pole of the "regional voting game." The "grandmothers" who make pies, sing and dance (alluding to the title of an old Soviet comedy in the film Everyone laughs, sings and dances). I said, they are cute, they are funny to see in an ordinary TV show, but they are not of the calibre of Eurovision. In my opinion, choosing this entry in 2012 was an unfortunate choice. Or an uninspired choice. Proof that Russia did not even win with this song.
🇨🇴 🇫🇮 Álvaro S. – The fact that this was "the best song of Eurovision 2012" only surpassed by Loreen's Euphora is like a bad joke for me. The grannies are sweet but this is not the act I want to listen in the biggest music competition in the world. The joke went too far.
🇮🇱 Adi S. – This song has such a fun concept! I love it and would like to see more diversity in participants age. Most are obviously young and sometimes REALLY old people get to be successful too, but the group of 45-65 are too old to be attractive and too young to be a gimmick, so they rarely do well and that's a shame.
🇬🇧 Kat H. – The Russian Babushkas brought an element of fun to the competition. While I'm glad they did well, there wasn't a chance in hell that they would beat Loreen and their lowly jury position of 11th cemented that. I'm sadly not a massive fan of the song, but I enjoy the stage presentation and fun sentiment.
🇨🇿 Josef S. – This is an interesting case actually. A perfect party and fun song with likeable artists. You cannot simply hate those old grannies, it's cute. And then you can be more tolerant also that they are not completely in tune. It doesn't matter for an entry like Party for everybody. I really love it! Oh and I forgot how I admire Buranovskiye Babushki for their bravery to perform on such a big Eurovision stage!
🇩🇪 Andrew G. – I never got the hype surrounding Russia 2012. It goes down as one of my least favourite entries ever. Now I love trash entries but this is playing on the cuteness of the grannies on a Euro dance Disco baking show. But saying that's what got them so many votes. The backing track is 90s and as they sing boom boom all the way. And the vocals are weak for a runner-up. This song did not have everybody partying.
🇩🇰 Liza P. – This is not a party for me, and I have thrown away the invitation. I have never been enthusiastic about unserious entries in Eurovision. And I consider Russia 2012 unserious. Sure the grannies are cute, but for me there is nothing musically pretty about the Russian matryoshka dolls waddling around the Eurovision stage mumbling their song. It's just annoying and not what I consider a real song. I don't think they deserved to finish 2nd, they shouldn't even have qualified from the semifinal.
🇹🇷 Günec N. – Regardless how adorable I find those grannies, this song, in my humble opinion, is not suitable for a big TV show like Eurovision Song Contest. So overrated… It's more suitable for local festivals for fun…
Enjoy Buranovskiye Babushki's performance from the 2012 Eurovision Song Contest in the embedded video. Below the video, you can read more about them.
Buranovskiye Babushki – a mini biography
Buranovskiye Babushki meaning "Buranovo Grannies" are a Russian folk group from the village of Buranovo, Udmurtia. They received media attention in 2008 when a news report about them was shown in the news programme on Russian TV. They were making covers of popular songs by Aquarium, Kino, The Beatles, Queen, and Shocking Blue in Udmurt language.
The eight ladies band tried to represent Russia for the first time in 2010 with the song Dlinnaja-dlinnaja beresta i kak sdelat' iz nee ajšon. They finished in third place. In 2012, they tried again to represent Russia. This time they won and represented the country in Baku with their song Party for Everybody. Party for Everybody ended in second place in the Grand Final only behind Eurovision hit Euphoria by Loreen.
The members of Buranovskiye Babushki said that one of their motivations to participate was to raise money to build a church in their village. Their Eurovision participation helped this purpose and also made their village get attention. Sadly, Natalya Pugachyova a member of the group passed away in 2019 at the age of 83.