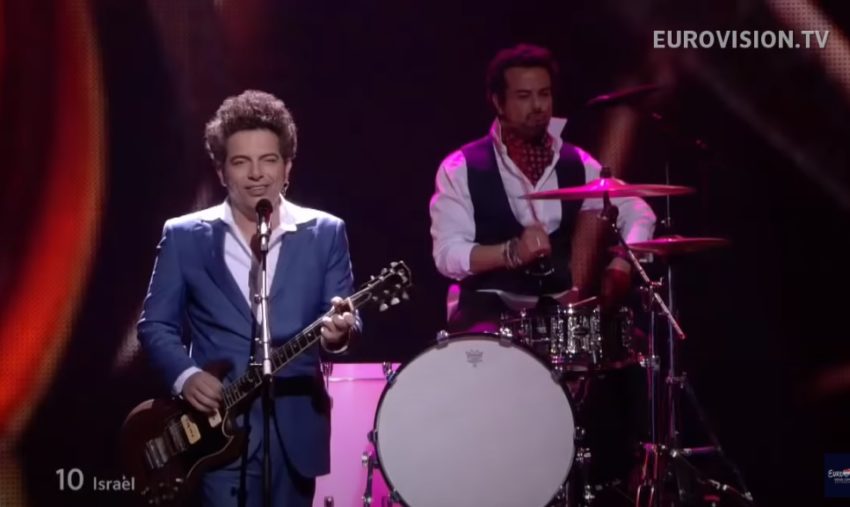 Over the years, Israel have brought quite some fun and entertaining entries to the Eurovision Song Contest. Their 2012 entry 'Time' by Izabo is one of them. However, Eurovision fans are really mixed in their opinions about this entry.
In 2012, Israel was planning to withdraw from the Eurovision Song Contest because the date of the contest was on the same day as the Shavuot, an Israeli holiday on the 26th of May. On 7th of August 2011, the Israeli broadcaster IBA confirmed their participation. Due to this scheduling problem, instead of a national final, a special committee selected Izabo with the song Time out of 5 shortlisted artists.
In Baku, the band competed in the first semi-final 10th in line with their 70s disco music inspired song spiced up with Midlle Eastern ethnic sounds. Eventually, they received 33 points and finished 13th. Thus, they couldn't make it to the grand final.
Time – opinions from fans
In order to find out what Eurovision fans today think of this Israeli entry from 2012, we asked our Eurovision Fan Panel. It includes team members as well as fans from all over the world.
🇮🇱 Adi S. – Unorthodox Eurovision entry but SO GOOD. Being Israeli I can tell you that this song is pretty typical for an Israeli rock song but I understand why it didn't do so well. I love it and think it's under-rated and special.
🇭🇺 Vangelis M. – Israel is one of the countries that I love most in the last decade. Almost every year I get addicted to their song. Eurovision would not be the same without this country. However, mistakes are for humans. This entry was definitely a big mistake compared to the diamonds that were sent other years by Israel to the contest. I remember this song. I did not like it as a kid back then. I do not like it even now. I cannot get the vibe.
🇹🇷 Gunec G. – I loved the studio version of this song. The seventies disco feeling mixed with middle eastern ethnic sounds captured my heart. However, on stage it was a disappointment. The band didn't seem to be interested to sell the song on stage. But I still love the song because it's positive and catchy.
🇳🇴 Steinar M. – One of the VERY best entries ever! Just a perfect brilliant feel good song. Wonderful mix of indie, pop, rock and britpop. JUST my kind of music. Great catchy melody, excellent flow. Just perfect in all ways! We need more music like that in Eurovision. My no. 2 best ever Eurovision entry, Brilliant!
🇹🇷 🇫🇷 Egemen O. – Israel has sent many underestimated entries to the contest such as Milim in 2010, Light A Candle in 2002, The Fire in Your Eyes in 2008, Golden Boy in 2015 and so on and so forth. When it comes to Time, well, its tune is from the 70s and it competed in Eurovision just nine years ago. Considering that, now I get to understand why my psychologist advised me to leave the past behind.
🇩🇰 Charlotte J. – I had totally forgotten this entry. It starts out extremely catchy, and I am hooked from the beginning. Unfortunately, after a minute, I really feel like turning it off. Just as good as the verses are, just as boring is the chorus. Damn this is bad – and what a shame as it started out well. Sorry Israel.
🇬🇧 Aaron S. – This is a nice entry which should have qualified for the final even in such a strong semi-final, I like the combination of both English and Hebrew, and I'm glad they kept Hebrew in the song for the contest, as it is much better than the version fully in English. I feel the song is catchy and memorable, I like it.
🇬🇧 Michael O. – Two positives about this song, it wasn't a typical Israeli 'dancey dancey' song and mad woman in the back was a highlight. However, the song is awful.
🇫🇮 🇨🇴 Alvaro S. – This is the type of songs that you love it or hate it. In my case though I don't hate it, I cringe at Izabo's performance. It is not the absolute worse song from Israel (cof, cof Push The Button, cof, cof Sameach) but it is close. Although it is not a joke act, there are some elements from their performance that does not make me think like they wanted to be taken as a serious act.
🇨🇿 Josef S. – Well, this is a song that quite irritates me. Especially the voice and moves of the male lead singer, it's really meh. In general the song is really really bad. Maybe a little bit catchy at the same time, but definitely not good enough for Eurovision.
Enjoy Izabo's performance from the 2012 Eurovision Song Contest in the embedded video. Below the video, you can read more about them.
Izabo – a mini biography
The Israeli band Izabo was founded in Petah Tikva in 1989. The founding group consisted of Ran Shem Tov, Shiri Hadar, Nir Graf and Tamir Muskat. Their debut album Movie Maker was released in 1994. Before their debut album, they had released three singles in 1993: Beady, Here She Comes and Movie Maker. 
Up until their Eurovision participation in 2012 with Time, the band had released three albums and seven singles. Their Eurovision participation was not exactly satisfying failing to reach the final, but this did not hold them back in their musical works. Since 2016, the group (Nir Mantzur and Jonathan Levy) are continiuing their musical career under the name Cherie and Renno. Cherie and Renno released a self titled album in 2018.