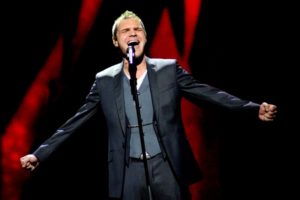 On 3 March 2012, ten acts performed in the Eesti Laul that year to see who would represent Estonia at Eurovision. A sing off super duo final between Lenna, ex of Vanilla Ninja resulted in Ott Lepland being the winner.
Ott came to Baku with the song Kuula, a song he co-wrote with Aapo Ilves. During rehearsals, Ott played around with different arrangements of the song until he felt the vocals were right.
Semi final 2 took place on 24 May with Ott performing in 14th place out of 18 entries. He placed 4th with 100 points and headed to the 26 May final.
Here, he performed in 11th place, and received 120 points receiving, his highest score, 10 points, from France, Slovakia, Iceland and Finland. This was enough for him to finish in 6th place.
Kuula – opinions from fans
In order to find out what Eurovision fans today think of this Estonian entry from 2012, we asked our Eurovision Fan Panel. It includes team members as well as fans from all over the world.
Michael O. – This is a really good song and Ott performed this so well at Eurovision, what a pity he never released the Eurovision version on CD. This did really well in the year of Euphoria, but could have won in other years. A great entry.
 Sara T. – Yes, finally! My 2nd favourite Eurovision song of all time. Kuula is a true masterpiece – so simple and yet so powerful. I love the long, shivering notes, the emotional strings and the beautiful lyrics. Ott has an incredible voice that fits perfectly for this song. Back in 2012, Euphoria was of course my favourite song, but as the years have gone by, Kuula has become a more timeless song. Kuula</em > is flawless and I never tire of listening to it.
Charlotte J. – I really like this one. Though it's just on the tip of becoming boring in parts, it doesn't cross that line. Vocally Ott is amazing and he performs the song with passion. 7/10 for me. A 6th place isn't too much off.
Josef S. – Kuula is a true Estonian ballad, a masterpiece full of emotions. One of the best songs Estonia ever sent to Eurovision. And Ott looks really good so a perfect combination.
Michael R. – Estonia certainly punches above its weight at Eurovision and this is one of their absolute best. It's soft, gentle and emotional and the very handsome Ott delivers each note with pure emotion. I also appreciate the fact it is 100% in Estonian yet has international appeal.
 Olivier R. – Exactly what I love with Eurovision. A singer and his voice, and that's it ! (not to mention the use of the national language) .Kuula was the very good surprise of this edition and definitely stood out amidst the other entries and their gimmicks. Just plain beautiful and moving.
Alvaro S. – I did not like this song back in 2012. I considered Lepland emotional/dramatic performance did not look natural. I cannot deny that he has a beautiful voice and that the chorus is powerful. I still find the song too repetitive.
Gunec Y. – Ott has performed the song with his best on stage. That's what earned him the 6th place. I think the song is nice but nothing very special, maybe due to the minimalist stage act
Mhairi O. – Kuula is the best song Estonia has ever sent. It's a great song on record and it's even better live. It's a shame Ott was 2012 if only he had waited another year he might have won.
Ott Lepland – a brief biography
Ott was born on 17 May 1987 in Tallinn, Estonia. By the time he was nine years old he had released four children's albums, before playing the role of Troy Bolton in Estonia's version of High School Musical .
Two years prior to his Eurovision entry in 2012, Ott won Estonia's Pop Idol and his career began to take off.
Finishing 6th at Eurovision with Kuula his entry has become extremely successful at home, where it still enters the Pop charts today.
Ott has since released nearly twenty singles, and three albums, all of which has performed reasonably well in his home land.