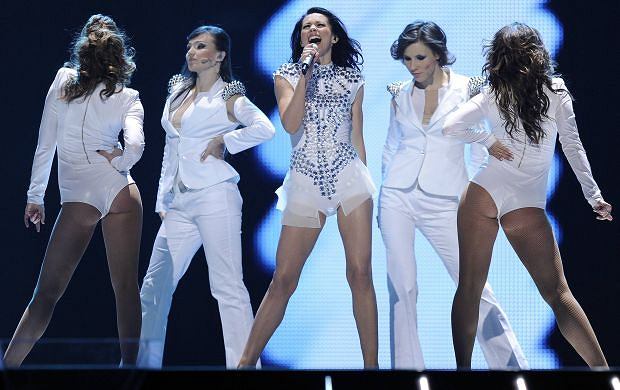 In 2011 one country was drawn in the semi final, where they could choose where they would appear in the running order. Poland was that country and the Head of Delegation decided they would like to perform first. Thus Magdalena Tul with her song 'Jestem', opened the Eurovision Song Contest 2011.
On 14 February, Magdalena also performed first at the Krajowe Eliiminacje 2011, the qualifying show to choose Poland's entry that year. A public vote unanimously chose Magdalena and her song Jestem, with more than 29000 votes over her nearest rival, Anna Gogola. Magdalena recorded the song in English with the title, First Class Ticket To Heaven.
On May 10, all in white Magdalena and her five backing singers and dancers confidently opened the Eurovision Song Contest, only to be rewarded with 18 points, sadly missing the final and indeed finishing in last place in the first semi final.
Jestem – opinions from fans
In order to find out what Eurovision fans today think of this Polish entry from 2011, we asked our Eurovision Fan Panel. It includes team members as well as fans from all over the world.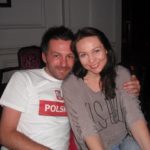 Pawel J. – This song will always have a special place in my heart for different reasons. First – Magdalena Tul won the Polish preselections on Valentine's Day 2011. Second- the contest in Düsseldorf was my very first one live and my home country was number one on stage in the first semi. Despite the final result I love this song and it will remain one of my all time favourites. It was an honour to host Magdalena during her visit to Jersey as the star of our Eurobash in May 2012.
Mhairi O. – I think it's very catchy and there is no doubt that it is a good song.Maybe if it was sung in English it might have qualified though I'm sure being first didn't help. I'd love to see Magdalena return one day.
Quique B. – I don't like this song. Is the kind of song that we can see every year in the contest since semi-finals arrived at least twenty times per year. Sounds like if a computer would have composed it. I don't like anything in it. For not being cruel I would say that the girl is pretty and sings in Polish. Sorry but that kind of songs hurt very much my love for Eurovision.
Antonio P. – I remember that i liked this song when it come out. You grow up and sometimes wonder 'how on earth could I have been listening to this'. It's boring, I wonder, if this going to be a pop-disco song, wheres the feeling, where are the passion. Now it's feels that she's trying, and wondering 'what am i doing'. Still wonder what the jury was thinking, letting this one go to the final, when you have better song like Daria Kinzer (Croatia) and Stella Mwangi (Norway). It's not so fun to know that you were chosen by a jury instead of the people.
Ashleigh K. – I didn't watch the semi finals back then so this is my first time watching this performance. I liked the costumes and the choreography, the girls all looked good together and I LOVE that this song was in Polish, I'd like to see more Polish songs at ESC. I like the song too but for me, it isn't strong enough to be a serious contender. The verses build up power but this is lost in the chorus.
Alvaro S. – I like the choreography and how Magdalena Tul interacts with her dances through the performance. In a less competitive year this song would have had better chances of qualifying to the Grand Final. The high notes were on point but maybe the ending of the song looked a little bit chaotic.
Miljan T. – I remember this being a train wreck, but it's not… it's just… very low energy. I had to check the studio version to see if something got lost in the translation to the stage and live vocals – no, everything's there, but it just doesn't work live. Songs with low singing parts almost never work. Too bad, she actually was not that bad as I remember.
Charlotte J. – An extremely catchy pop song and well sung. So why didn't this qualify for the final? Would it have done better if sung in English? No, I don't actually think the langauge would have made a difference. While I really like the song, I am not impressed by the performance. It doesn't do the song justice. That's probably what brought it down.
Michael O. – All those people who insist songs should be sung in their native language should ponder if the English version of this had been performed would it have reached the final. This was lost opening up this semi final which is a real shame as Magdalena is a terrific performer. This is one of the worst performances I've seen her give, watching all her others on youtube. Not sure what went wrong, but she did not deserve last place.
Below you can relive Magdalena's performance of Jestem from Eurovision semi final one, although check out her National final appearance on YouTube if you can.
Magdalena Tul – a mini biography
Born in 1980, Magdalena started her career in stage shows like Cats and Grease. She was very popular in Poland by the time she was chosen for the Eurovision Song Contest.
Her appearance at the Polish National Final was very impressive, and she lost a lot of that impact at the actual Eurovision.
Picking herself up from defeat, she released the critically acclaimed album Brave in 2014 which contained several singles she had released over the subsequent years, with highly inventive promo videos.
A second, and another diverse album, called Mindfulness was also released, with the last single, Move Forward appearing in 2019.