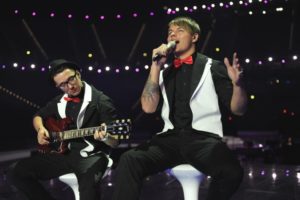 Latvia, unfortunately have not had great success at Eurovision, and after failing to qualify two years in a row, the country sent one of their upcoming biggest bands, Musiqq to give it a go in 2011 with 'Angel In Disguise'.
On 26 February 2011, Latvia held the Eirodziesma 2011 final, having already hosted two heats and a second chance edition. Eleven acts took part in the final, with Musiqq performing eighth. A 50/50 split between jury and public vote, sent three acts to what was called a super final. However in the super final, all three acts finished in the same position as they were voted in the 50/50 split with Musiqq heading to Düsseldorf with the song, Angel In Disguise.
The band performed in 17th position in semi final 2, landing in 17th place of 19 entries, meaning they failed to reach the final.
Angel In Disguise – opinion from fans
In order to find out what Eurovision fans today think of this Latvian entry from 2011, we asked our Eurovision Fan Panel. It includes team members as well as fans from all over the world.
Charlotte J. – It's a bit cheesy, but it's catchy, fun, enjoyable and well performed with a sparkle in the eye. I like it. It's nowhere near a winner for me, but I enjoy it a lot.
Ashleigh K. – Angel In Disguise is a pretty good pop song. It was sang well though I did find the lead singers constantly waving his arms around a little distracting. I'm not sure why this song didn't qualify, perhaps it was too middle of the road? But it's a good song and it deserved a place.
Alvaro S. – For a moment I did not know why I did not remember this Latvian entry then it was like an "oh it's them" moment. The studio version was much better than their live performance. The chorus is catchy but that is all. The lead singer seems like he does not know where to move when he stood and when he is joined by the rapper (who at least was more confident) I cringe.
🇱🇹 Konstancija S. – In my opinion, this song of Latvia was really weak. The singer didn't show his best. Back-vocals also didn't sing well. There was a lack of the show- the lights were boring, as well as choreography. But I think that the song was great. Just needed a little bit of work in singing, dancing, as well as the show elements.
🇳🇱 🇩🇰 Wouter V. – Angel In Disguise is top shelf catchy kitsch. Even though I am not particularly keen on any aspects of the song, I still find myself sort of singing along to it – until the rap part kicks in…
Amira M. – What I can say for this song is that the lighting is placed in the background which is good as it doesn't blind the singers and the audience. In my opinion only the singer was being heard, the back vocalists were not. The singer lacked in diction but the song has a good rhythm. I like the song overall.
John E. – I want to like this song but I find it hard to connect with. The opening and the initial melody grabbed my attention but I didn't feel any real build just a nice sing along song. I don't think the rap part added to the song at all. Having just listened to it again I do remember the song but for me it just wasn't distinctive enough.
🇨🇿 Josef Š. – Even though Angel In Disguise may sound catchy for the first time, it is a song I don't like at all. Especially the rap part is very bad. The song sounds very average and maybe even a little bit outdated, as well as the backing vocalists, who don't go really well with the lead vocalists. The only positive thing is that the singer is quite cute.
 Stine F. – Ok, so I must admit that this song is catchy in its own way, and the melody kind of sticks in your head. It's singable! But that's also where it ends. It is just too simple, and the rap part of the song is an old trick that doesn't always work – and certainly not here. I do however feel that they would have deserved to qualify for the final. Now, please tell me how to get this song out of my head!
Michael O. – At the time I thought this might have qualified to the final. It's a catchy song and the backing singers were really into it. However starting your song with your back to the audience is a no-no so it had to stay in the semis. Still it's one of Latvia's better entries from that period.
Below you can watch Musiqq performing in the second semi final if Eurovision 2011 and read a mini biography after the video.
Musiqq – a brief biography
Musiqq are a duo comprised of Marats Ogļezņevs and Emīls Balceris. Formed in 2009 they released their first album, Šī ir tikai mūzika in 2010 which featured their first two singles Climate Control and Abrakadabra.
The following year they represented Latvia at Eurovision with Angel In Disguise and started winning awards in Latvia for their musical output. It wasn't until 2014 that their Eurovision entry was released on an album, this time, Vēl viena mūzika.
Since then the duo have continued to release albums, and their 10th one, appropriately called 10, arrived in 2019.🇨🇿