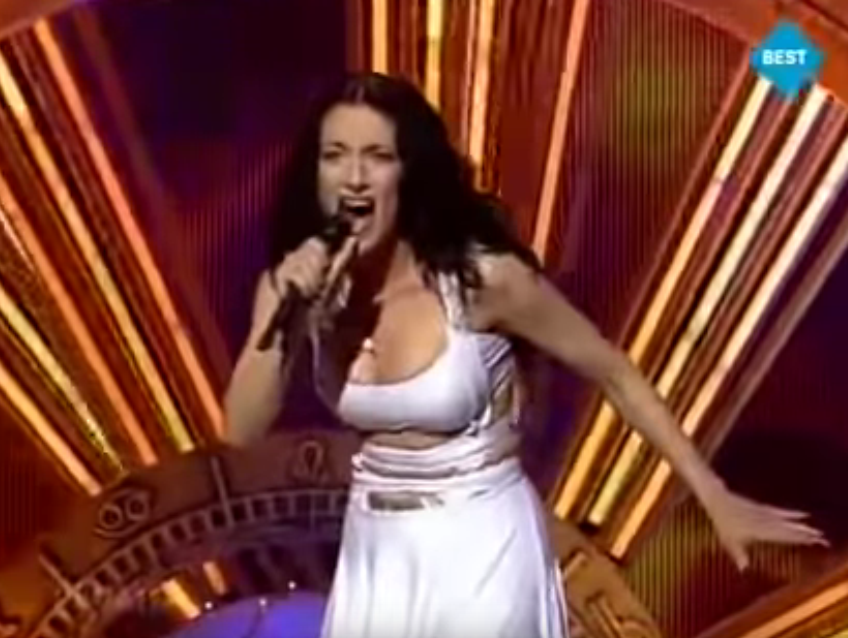 In 1999, the Eurovision Song Contest took place in Jerusalem. Doris Dragović represented the country with a very appropriate song for the occasion. The chosen song, 'Marija Magdalena' (Mary Magdalene) gave one of the best results for the country. However, Doris' performance was not free from controversy.
In March 1999, Dora, the Croatian national for Eurovision took place. Doris Dragović won both the televote and the jury vote and represented Croatia in Jerusalem. Doris Dragović was no stranger to the Eurovision Song Contest. Previously, she represented Yugoslavia in 1986.
For the 1999 Eurovision Song Contest, Doris Dragović sung along with a backing singer. She wore a white gown and a cloak.  Later on her performance, she removed the gown revealing a bodice.
On the night of the Final, Croatia received 118 points, ending in 4th place. Doris Dragović gave Croatia one of their best results as an independent country, tied with Maja Blagdan who also came in 4th. Nevertheless, Doris Dragović's performance was not free from controversy. Her song used vocals by a male singer not onstage which broke the Eurovision rules on backing vocals. As a result, Croatia received a penalisation.
Marija Magdalena is written by Vjekoslava Huljić.
Marija Magdalena – opinions from fans
In order to find out what Eurovision fans today think of this Croatian entry from 1999, we asked our Eurovision Fan Panel. It includes team members as well as fans from all over the world.
🇨🇴 José M. – In 1999, Doris Dragović showed a more than elegant staging and how to perform, perhaps thanks to her long career back then. Marija Magdalena moved from a classic style but also bringing a contemporary touch, ahead of the subtle sensuality of the performer. Certainly, the powerful voice of Doris highlights, giving a glorious ending to a worthy decade for Croatia.
🇩🇰 Charlotte J. – A conflict between Google (YouTube) and Koda unfortunately results in quite a lot of music being blocked for Danes. It's mainly Scandinavian and Balkan music. Croatia 1999 is one of them! I remember that I like this song, and that it was in my top 5 for 1999, but unfortunately, I am unable to listen to it at the moment.
🇮🇱 Adi S. –  Such a classic. Probably the best song from Croatia. The music is unique and powerful and she delivers it perfectly. Goosebumps.
🇨🇴 🇫🇮 Álvaro S. – I love the stage presence of Doris Dragović in this song that evokes the power of a strong historical female power in a much better way that 2020's Azerbaijan intended to do in my opinion. Doris has a powerful voice and gave us a magnificent interpretation. A song that never gets old.
🇬🇧 Ashleigh K. – There aren't many songs from the nineties that have aged as well as this. I can see Mary Magdalena being performed in 2021 and it not sounding dated or out of place. I can't comment on whether it deserved it's placing as I was too young to watch Eurovision in 1999 but what I can say is that it's a great song would like to see Croatia get back into the grand final.
🇮🇪 John D. – As Doris Dragović had my favourite entry in 1986 with Zeljo Moya I was looking forward to Maria Magdalena in 1999 and it didn't disappoint. It was a deserved 4th place even though it had a poor spot in the running order. It remains a firm fan favourite and a timeless club classic.
🇬🇧 Michael O. – This was a bit more like it from Doris. What absurdity to dock Croatia a third of its points the following year, why didn't Doris just have more backing vocalists on stage, whatever Eurovision at it's best.
🇷🇸 Miljan T. – Croatia 1999 is one of the reasons I started watching Eurovision again after stopping with the dissolution of Yugoslavia in 1992. I learned of the song by accident and loved it from the start. Doris had already been a legend in old Yugoslavia and her vocals are just flawless. The presentation in Israel was by today's standards not as engaging, but it was a very well deserved 4th place anyway. Till this day, this is by far my favourite entry from Croatia.
🇨🇿 Josef S. – If we all make some lists of TOP entries from each country, this one would be on Top or close to the top in Croatia. I like how Croatia stayed faithful to its national language even when it wasn't obliged. On top of that Doris Dragović is very good singer which also adds another plus points to Marija Magdalena. Bravo, Croatia!
🇨🇴 William P. – This is a very interesting song as it merges traditional with modern rhythms (for its time). I love the strength that it shows and the voice of the singer. In terms of the performance, I think that the song had the potential to have a more fluid staging.
Enjoy Doris Dragović's performance from the 1999 Eurovision Song Contest in the embedded video. Below the video, you can read more about Doris Dragović.
A mini Biography to Doris Dragović
Dorotea "Doris" Budimir, better known as Doris Dragović was born in Split, Croatia.  She represented Yugoslavia in the Eurovision Song Contest 1986 with the song Željo Moja.  In 1999, she came back to Eurovision, this time representing Croatia.
She has a rich career with 16 albums as a pop, rock singer.  After a long break, she returned to the stage in October 2012 with a concert in Zagreb.  She sold out and have been active since then. Her latest album being Koncert u Lisinskom from 2014. Her latest single Brod za nabolje was released in 2019.