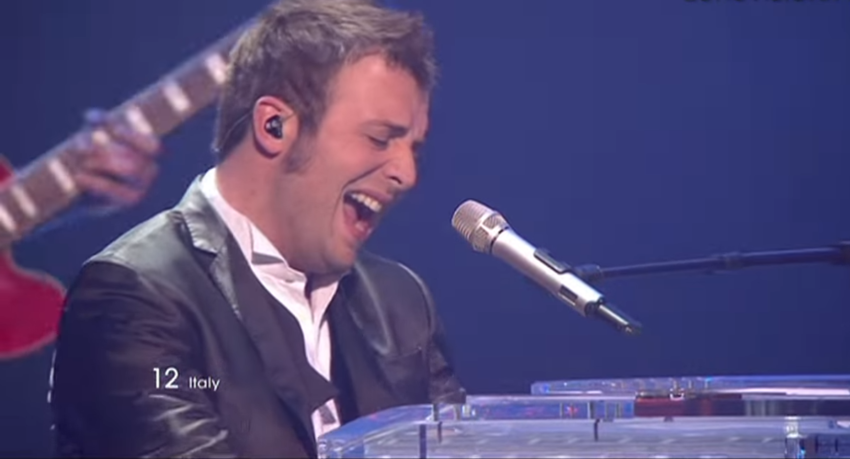 2011 marked the return of Italy to the Eurovision Song Contest. Raphael Gualazzi had the honour to represent Italy for the first time after a 14 years absence. He did not fail to deliver and came in second place. The difference between jury and the televote result was notable however.
In December 2010, it was announced that Italy would return to the Eurovision Song Contest. RAI, the Italian Broadcaster chose the Sanremo festival to select their representative. Raphael Gualazzi participated in the Giovanni category (New Generation) with the song Follia d'amore. 
At the Eurovision Song Contest, he performed the song half in English under the title Madness of Love.
Madness of Love came first by the Jury Vote but it ended in 11th place by the televote. Overall, Italy finished in second place with 189 points. Since their return to the Eurovision Song Contest, Italy has ended in second place twice, and has been in top 10 several times.
Follia d'amore/ Madness of Love is written by Raphael Gualazzi himself.
Madness Of Love – opinions from fans
In order to find out what Eurovision fans today think of this Italian entry from 2011, we asked our Eurovision Fan Panel. It includes team members as well as fans from all over the world.
🇮🇪 Conor K. – For us Eurovision Fans, we got the best Christmas present in December 2010: Confirmation of Italy returning to Eurovision after a 13 year absence! Yes, we had learned to forgive them for letting Toto host in 1991!
As in 1997 the 1st prize in Sanremo was a ticket to represent Italy in Eurovision. While many didn't originally warm to the jazzy charms of the Madness Of Love, the juries felt differently. While I for one was team Azerbaijan, I would not have minded an Italian victory. But the best victory of all was that Italy was back for good 🙂
🇬🇷 🇬🇧 Theo – Some people were surprised when this came second; I wasn't as I had singled it out as a favourite early on. This is Italy doing its thing and not being too preoccupied with trends. I like the live band essence. Raphael Gualazzi's deliberately coarse notes can feel a bit cringey, though I will not dwell on it. Presentation-wise, the backdrop showing Raphael's fingers playing on the piano keys is a clever constant reminder of his virtuosity, which would otherwise had been lost in the longer camera shots.
🇮🇹 Maurizio A. – About this song. I really don't know what to say about it. It's a retrò song; nothing exceptional, but a nice song that I have forgotten long ago. About the singer. Raphael hasn't yet become popular after lots of years; probably due to his musical choices. His voice is nothing peculiar.
🇳🇱 Eric O. – This was the best comeback of a Eurovision country ever! I think it should have won the contest in 2011, as it was a much better song and performance than Azerbeijan's winning song. Of all of Italy's entries since then, I think Grande Amore and Fai Rumore were my personal favourites, but at least this one started a whole range of wonderful Eurovision songs that all justify a Big Five and Grand Final position.
🇩🇰 Charlotte- I'm not into jazz, and as such, I should now continue saying that I really don't like this one… But, I am not going to do that. I love it – just like I love Germany 2007! It's fresh, enjoyable – and a bit crazy too. I am constantly intrigued, waiting for what will come next. Love it.
🇬🇧 Steve P. – When Italy announced its return to the contest, I don't suppose many were expecting them to send something like this, jaaaaazz! Fresh from his triumph at the Sanremo Festival, where he won the newcomers section, Raphael coped well with one of the more vocally demanding songs of the night. He was well rewarded at the end with what, for many (this reviewer included, sorry Raphael) was an unexpected second place.
🇫🇮 🇨🇴 Alvaro S.- I think Italy's 2011 is the best proof of why we need a Jury Vote. The Jury vote is there to see what the audience may not see. The technique, the originality, the artistic value of the song. In other words, some of the things that the audience may ignore because fans can be easily impressed by the show as a whole. Both voting systems compliment each other. In my case Italy was not my winner but the more I listen to this song I see why it came in first place by the jury. An amazing back into business for the most successful member of the Big 5.
🇬🇧 Michael O. – Now normally I like Italy's entries but this return to the contest was so jury biased, it totally ruined the 2011 contest which was full of potential winners. This is probably my least fave Italian entry of all time and ultimately the most undeserved second placer of all time. Madness? – indeed it was.
🇦🇺 Michael R. – I hated this at the time, thought it should've come last, but have grown to like it a bit more over the years. It was a dignified return, but I think it's popularity with the jury had very little to do with the song and more of a desire to encourage Italy to stay in the contest.
🇨🇿 Josef Š. – Italy is back, what an enthusiasm it brought in 2011. And maybe that is something that helped this entry. Its jazzy style is special and something the juries should be rooting for and they did. It is not a song I like a lot and maybe also not a song for a common TV viewer, but the situation around Italy's comeback helped them achieve such a good result.
Enjoy Raphael Gualazzi's performance from the 2011 Eurovision Song Contest in the embedded video. Below the video, you can read more about Raphael Gualazzi.
A mini Biography to Raphael Gualazzi
Raphael Gualazzi is a jazz and blues singer and pianist. He was born in Urbino, Italy. The right to represent Italy at the Eurovision Song Contest was won in the Sanremo Festival in 2011. Afterwards, he has participated several times in this famous Italian festival with viewers from all over the world. In 2014 he came in second place with the song Liberi o No.  He collaborated with The Bloody Beetroots for this song. At the 2020 Sanremo 2020 Festival, Raphael took part once again – this time with the song Carioca.
In 2020, he released the album Ho Un Piano (I have a piano) which includes his latest Sanremo entry, Carioca. For Raphael, the year 2020 was dedicated promoting this new album.