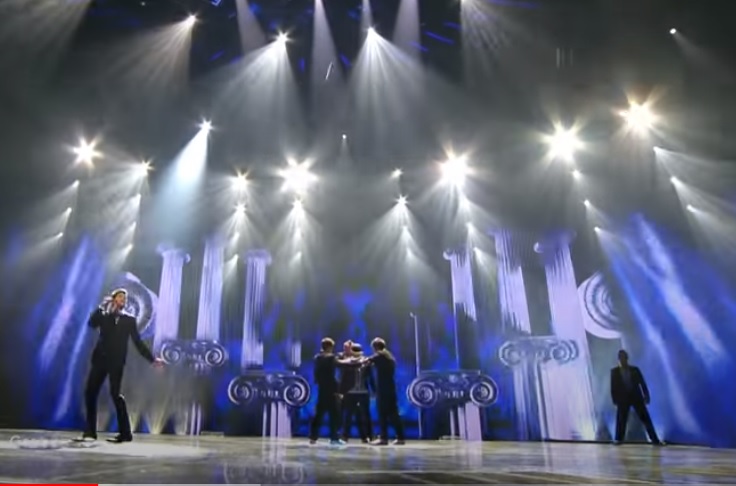 They won the semi-final, and finished 7th in the final. The Greek 2011 entry 'Watch My Dance' did fairly good at the Eurovision Song Contest. Nine years later, not all Eurovision fans are equally impressed though.

In 2011 the Greek broadcaster ERT decided to hold a TV show to choose their representative for the 2011 Eurovision Song Contest. Shortly after the six acts were announced by the broadcaster, criticisms towards ERT arose from some artists and record companies, claiming that the selection process and the rules were not announced properly. Artists Giannis Savidakis (Cyprus 1989) and Theoaris Ioanidis also claimed that their submissions were cut without prior notice. The quality of the show was also criticised by journalists.
The show took place on the 2nd of March 2011 with 6 competing acts. Kokkina Halia, Valanto Trifonos, Group Trimitonio, Antigoni Psihrami, Loucas Yiorkas feat. Stereo Mike and Nikki Ponte were the artists to compete for the right to represent Greece in Eurovision Song Contest 2011. Eventually, Loucas Yiorkas and Stereo Mike's team won with a total of 22 points from the jury and the televotes with their mid tempo ethno-pop song Watch My Dance written by Giannis Christodoulopoulos and Eleana Vrahali.
In 2011, Germany hosted the Eurovision Song Contest in Düsseldorf. Loukas Yiorkas and Stereo Mike won the first Semi Final on the 10th of May 2011 with 133 points for Greece. On the Grand Final night, 14th of May 2011, after an epic performance of Watch My Dance, they received 120 points which led them to a 7th place.
Watch My Dance – Opinions from fans
In order to find out what Eurovision fans today think of this Greek entry from 2011, we asked our Eurovision Fan Panel. It includes team members as well as fans from all over the world.
🇹🇷 Gunec G. – The song is nothing like the previous Eurovision songs. The rap performance of stereo Mike and Loucas's performance was more than remarkable. And the sirtaki part of the performance literally blew me away. Actually I find it really underrated though. And I must say, I think Loucas is the most good looking guy to grace the Eurovision stage.
🇬🇷 Kostas C. – At the Greek final that year, I was in favour for another song. So I was disappointed, that my favourite song was beaten from Watch My Dance. To be honest, I never liked the song itself. I admit that the stage appearance was fascinating and when I saw it, I knew it will do well. But the song is not my cup of tea. Neither the song nor the singer made later a success in Greece. Maybe this means a lot.
🇧🇪 Enis H. – Personally one of my least favourite Greek entries, I dislike the strange out of tune rap part a lot and the rest of the song isn't great either.
🇵🇱 🇯🇪 Pawel J, – To be honest it wasn't on the list of my favourite songs before the contest in Düsseldorf. And then the semi final happened… Such a powerful voice and lots of energy coming from the stage – I was blown away by the performance and surprised it actually didn't win – I much prefer it to the winner that year.
🇦🇺 Michael R. – I really didn't like this at the time, but I actually really like this now. It's a good fusion of the old and new and it's distinctly Greek in every way. Composition, lyrics and staging. I can see why this did so well.
🇩🇰 Charlotte J. – This song doesn't appeal to me. I don't feel it in any way, and in particular, I don't connect to Loucas. Just look at the moment where he opens his jacket and tries to dance. Where's the energy? Where's the passion? It's like he was either too tired, or he couldn't be bothered. If I get the feeling that the singer isn't engaged in the song, why should I be?
🇹🇷 🇫🇷 Egemen O. – For me, Watch My Dance has always been an extraordinary entry regarding the mixture of rap and traditional Greek music. I remember my reaction in 2011 in which I questioned if Greeks had a taste for music. To me, this song had been like putting some Algerian sauce on an ice cream for the several upcoming years. However, now I can finally appreciate this marginality and I really like it. In my opinion, the rap part represents a revolt and the chorus represents a reproval. Like the last and the biggest fight of a relationship.
🇨🇴 🇫🇮 Alvaro S. – My first impression to this song when I first listened was of confusion after this combination of traditional sounds with the rapping, in particular at the beginning of the song. However, the more I listened to it the more I started liking this combination. On the other hand, the dancers freelancing on stage still look weird to me.
Enjoy Loukas Yiorkas and Stereo Mike's performance from the 2011 Eurovision Song Contest in the embedded video. Below the video, you can read more about them.
A mini biography to Loucas Yiorkas and Stereo Mike
Cypriot artist Loucas Yiorkas was born in Aradippou, Cyprus on the 18th of October 1986. He is the winner of X Factor Greece's first season. He released his first EP album Mazi in 2009. His first single Tha Peso Tha Sikotho was released next year in 2010. He recently released his last single Mona Liza in 2020. He also studied biology at the University of Pathras in Greece.
Greek hip hop star Mihalis Exarchos aka. Stereo Mike was born in 1978 in Piraeus Greece. He is the first Greek artist to receive an MTV EMA Award. At the age of 18, he went to the United Kingdom for his musical education and career. His professional musical career has been active since 2004, starting with his debut album Satirical Nomads and his debut single O Allos Babis which contains anti-racist lyrics.