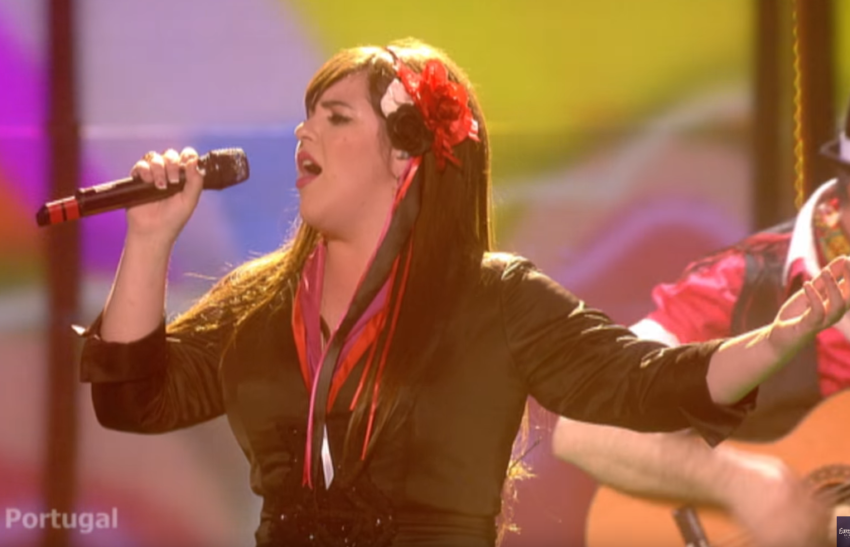 Flor-De-Lis achieved a 15th place in the Eurovision Song Final in 2009. Fans however still remember this song for its traditional sound and colourful performance performed in Portuguese.
In January 2009, the Grand Final of 'Festival da Canção' took place.The band Flor-De-Lis won this Portuguese national final. Thereby, they had the honour to succeed, fan favourite Vânia Fernandes, and represent their country in the Eurovision Song Contest in Moscow.
For the 2009 Eurovision Song Contest Flor-De-Lis sung their song Todas As Ruas do Amor (All the streets of love). They got 70 points in the semi-final, ending in 8th place. This was Portugal's second year in a row that they qualified for the final following four years where they were left out. In the grand final, Flor-De-Lis ended in 15th place with 57 points.
Todas As Ruas do Amor is a love song containing romantic metaphors. In the lyrics, the singer compares her love interest with the beauty of nature. The song is composed by Paulo Pereira and Pedro Marques.
Todas as Ruas do Amor- opinions from fans
In order to find out what Eurovision fans today think of this Portuguese entry from 2009, we asked our Eurovision Fan Panel. It includes team members as well as fans from all over the world.
🇵🇹 Enio P. – Todas As Ruas do Amor (all the streets of love) is a joyful uptempo entry from Portugal. The first time I heard it, it reminded me instantly of O Meu Coração Não Tem Cor from 1996 – the folkloric theme (the traditional musical instruments, the outfits and the national colours). Despite the childish encenation (colours and drawings) it always makes me proud to see acts that truly represent their country's culture in Eurovision!
🇨🇿 Josef S. – I remember this colourful performance and its folky mood. As a musician I really like this kind of songs. Flor-de-lis may not be the best singer, but it is very authentical and that's where she gains the plus points. There are songs I don't remember even after few years, but this one is still on my list of favourite entries from Portugal. The Portuguese language is only a cream on the top. Perfect!
🇬🇧 Michael O. – To me, two long standing countries still generally don't have a clue what it takes to win Eurovision. One is Finland, the other is Portugal. However typical in a year where there were lots of good entries, Portugal send a song that would have been fine had it won. This was a colourful, bright, cheery performance and certainly one of Portugal's best ever entries.
🇨🇴 🇫🇮 Alvaro S. – The sound of this song is so sweet, calm and beautiful, it transports me to another place and time. I love the colourful atmosphere of the performance and the dresses. This is one of my favourite songs from Portugal from the early 00s. Simply precious!
🇬🇧  🇮🇪 William S. – We now know that Portugal can win the contest, yet back in the late 00's they were still seen as a country that had a rocky time at the contest. Between 2008-2010 they had somewhat of a renaissance with qualification and decent placings. Of those three entries this is my favourite. A light, airy song with slight ethnic influences and the staging was colourful and vibrant. Well done Portugal.
🇳🇱 Eric O. – This is a very catchy and happy song with good vocals and nice staging, that did do pretty well in 2009. However, it didn't reach the success of the 2008 entry Senhora Do Mar, which was really a great song and still is one of my favourite Portuguese entries, among Amar Pelos Dois.
🇬🇧 Ashleigh K. – This song is nice but too forgettable for me. Its the kind of the song that wouldn't hold my attention and this is when I'd go and get a drink or talk to whoever I'm watching the show with. The staging is sweet, it reminds me Loin d'ici which is a much better song.
🇵🇹 Linete A. – This Portuguese entry is very lively, colourful and very close to our popular music. It's a very happy song and the colours on the staging I feel are a bit overdone. The singer has a beautiful voice and it's quite a catchy song, but definitely not one of my favourite Portuguese entries. As always they sing in Portuguese and its a very 'Portuguese' song in every way even with the instruments that are used. Nice, but just not exactly what I like.
Enjoy Flor-De-Lis performance from the 2009 Eurovision Song Contest in the embedded video. Below the video, you can read more about Flor-De-Lis.
A mini Biography to Flor-De-Lis
Flor-De-Lis is a folk, fado and traditional music Portuguese band. The band started their music career in 2008. Daniela Varela is the lead singer with José Camacho playing the guitars, Vasco Corisco the bass and Pedro Marques the drums.  The sound of the band takes inspiration from the traditional music from Portugal but also from Latin American, African and Middle East sounds. Their album Signo Solar was released in 2010.
After Eurovision, the band has released several singles. They are still active with another single, Acontecer being released on 7th of July 2020.