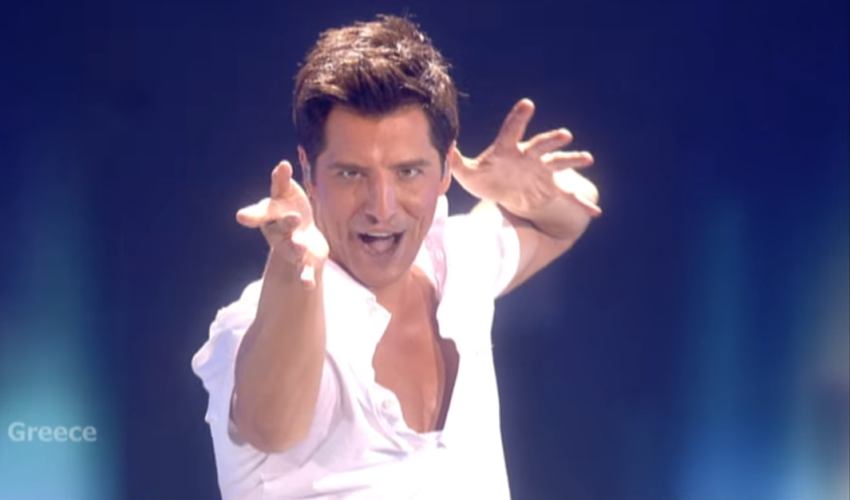 After his third place in 2004, Sakis returned for a second Eurovision participation five years later. Despite another good result, Eurovision fans are not all that enthusiastic about this 2009 entry.
Sakis Rouvas was internally selected for the 2009 Eurovision Song Contest. In fact, he was the very first act known for the contest as the Greek broadcaster ERT presented him already mid July 2008. A national final held in February 2009 selected the song. Sakis sang three songs in that selection. With 81% of the votes, the Greeks had spoken clearly: This Is Our Night was their song for the 2009 Eurovision Song Contest.
At the Eurovision Song Contest, Greece participated in the second semi-final. With a 4th place, Sakis sailed easily into the final. Accompanied by four dancers and a barely noticeable backing vocalist, he delivered an energetic performance using a podium for slides and jumps. Towards the end, the podium opened showing the Greek flag.
Greece finished in 7th place in the final. Their 120 points included the maximum 12 points from Albania, Bulgaria and Cyprus.
Behind the song This Is Our Night we find the songwriters Dimitris Kontopoulos, Craig Porteils and Cameron Giles-Webb.
This Is Our Night – opinions from fans
In order to find out what Eurovision fans today think of this Greek entry from 2009, we asked our Eurovision Fan Panel. It includes team members as well as fans from all over the world.
🇬🇷 Giannis A. – One of the greatest Greek pop singers Sakis Rouvas participated in 2009 with many hopes from the Greeks to bring the second victory for the country. Unfortunately, the result did not justify us, although the song became a great success in the country's radios. Seventh place was not bad, but it was definitely much lower than we all expected, although the audience voted fifth. Maybe the stage presentation needed something else to finish a bit higher. I still listen to the song.
🇩🇰 Charlotte J. – A catchy pop song delivered by a good looking man who reveals a sexy body and shows off his athletics skills – what's not to like?  😊 And indeed, I do like this one. It's a good pop song, easy to sing along to – and yes, he is candy for the eyes. This is, in my opinion, the best of his two entries, and also the one who aged best. This might as well have been a 2020 entry whereas Shake It from 2004 already sounds dated.
🇬🇧 Ashleigh K. – Do they not sell long T-shirts in Greece? The constant showing of the midrift is really distracting. This is one of the campest performances I have ever seen. I don't find this appealing at all. The song is cheesy (not in a good way), the choreography is atrocious. The only part I like is when he stands on the moving box. Greece have had far better entries.
🇨🇿 Josef Š. – This Is Our Night is one of my favourite Greek entries. I like the catchiness of the song, that dance and also the staging and good backing vocals. And that key change of course. Do I need to mention that Sakis Rouvas is also handsome? 😁
🇬🇧 Michael O. – If ever anyone could beat Sakis for loving himself, show me the act. Way over hyped, why anyone considered this a potential winner I'll never know.
🇹🇷 Güneç G. – Sakis stole my heart (and my friends') in 2004 with Shake It. But This Is Our Night did not fulfil our expectations from him in 2009. Yes, the performance is energetic and positive but the song is only average, in my opinion.
🇦🇺 Michael R. – I remember the hype around Sakis in 2009 (mostly due to his pop star status and 2004 result) but I've never found this song that remarkable and his 2004 effort is far superior. But the OTT staging does warrant a special mention, that levitating stapler with the Greek flag is iconic!
🇩🇪 Andrew G. – Sakis will always go down in Eurovision history as one of the great entertainers. As a host and representing Greece twice. I enjoy this performance for the high energy from start to finish. Three minutes of Eurovision bliss. Stomach popping and fireworks. And I love the Led floor with built-in flag at the end. And saying that the only thing that I would have liked to hear a little more is the Greek ethnic-sound. Like Sakis 2004 entry. And so many other amazing Greek contestant.
🇮🇪 John D. – A popular and charismatic Sakis Rouvas at his best. The song was well presented with heart pumping choreography, a giant stapler with a supermarket conveyor belt and containing a Greek flag. It probably needed these gimmicks as the lyrics were not saying anything profound and the chorus is quite repetitive. In a strong year this did well to finish in the top 10.
Alvaro S. – I have to admit that I am not a big fan of Mr. Sakis Rouvas or in general of these type of entries that are over the top on their stage antics and exploitation of the artist sex-appeal as the main point of interest. Even back in 2009 I think this song sounded like something a pop boy band from the 90s would sing. I much prefer Sakis 2004 entry.
🇬🇷 Kostas C. – He started his career at the beginning of the 90's and is still active. A real star in the country! His second attempt was not so unique as his first, in 2004. A good pop song but forgettable. Nothing to stand out. Even the stage appearance was quite poor. But he shined as a real super star. Therefore this good result in a very good year! Good performer, wrong song.
Enjoy Sakis Rouvas' performance from the 2009 Eurovision Song Contest in the embedded video. Below the video, you can read more about him.
Sakis Rouvas – a mini biography
Anastasios "Sakis" Rouvas was born in 1972, and his childhood wasn't easy. He took care of his younger brothers from an early age and held various jobs. Athletics and in particular pole vault was a hobby that brought him success. He won several medals on a national level, until he at the age of 18 deciding to pursue a musical career instead.
He began his career at the early 1990's being discovered soon after he moved to Athens. The success came instantly, which did make Sakis a target for the gossip reporters. Stories about his military dissertation attempt and an alleged suicide began to fill the media in the mid 1990's.
Over the years, Sakis has released more than 10 albums, worked as an actress and hosted several TV shows including the 2006 Eurovision Song Contest. Privately, he is married to model Katia Zygouli. The couple that has been together since 2003 has four children.