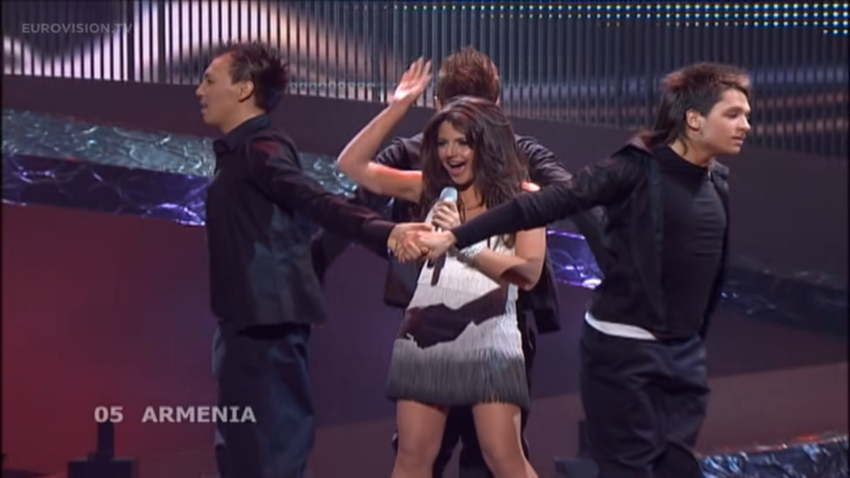 Armenia got of to a strong start at Eurovision in 2006 and 2007, finishing 8th on both occasions. They were sure they would do even better in 2008 when Sirusho represented them.
Sirusho was internally selected by Armenian Television (ARMTV) on 15 November, 2007, to represent Armenia at the Eurovision Song Contest 2008. On March 8, 2008, a National final was due to broadcast live, to pick the song, but due to 2008 Armenian presidential election protests, a state of emergency was declared and instead the show was recorded.
Sirusho performed four songs from which nearly 87 percent of the public chose the song, Qele, Qele.
In semi final 1 at Eurovision, held on May 20, 2008, in Belgrade, Serbia, Sirusho received maximum points from 5 countries and sailed into the final.
Four days later, Qele, Qele received 199 points, including maximum marks from Belgium, France, Greece, Poland, The Netherlands, Czech Republic, Georgia and Russia, placing Sirusho fourth out of 25 countries.
Qele,Qele – opinions from fans
In order to find out what Eurovision fans today think of this Armenian entry from 2008, we asked our Eurovision Fan Panel. It includes team members as well as fans from all over the world.
Alvaro S. – The girl can sing. This song has the best of both worlds: the choreography and the sound is a televote bait as it gets that has been replicated many times but at the same time Armenia's act was impeccable.
Melanie G. – I love Sirusho I remember hearing this 2008 Belgrade Eurovision and thinking wow love this has that uniqueness and thinking this should be a hit also listening to it again made me realise how much better music was back then… Going to put this on my play list.
Charlotte J. – This is fun, catchy and well performed. It's a bit too tacky for it to be a real top contender for me, but I do enjoy it a lot when it's on. Not one I would look up myself though.
Alexander S. – In 2008 Armenia chose its singer through internal selection. The song was called Qele, Qele, a great dance uptempo beat song, very catchy too. An outstanding performance and singer, which made Armenia reach number 4, unforgettable!!!!
Josef S. – To be honest, Qele Qele is my all time favourite Eurovision entry from Armenia. Sirusho is a queen and knows really well how to deliver a good ethno pop entry. And I am pretty sure that's also why it's still even today one of the most favourite Armenian entries among the Eurovision fans. I miss similar entries from Armenia at Eurovision. And I wish Azerbaijan would have sent something similar as well, but maybe they are just too afraid of that.
Michael O. – I'm not overly keen of the song, finding it quite ear piercing at the start and to me it doesn't have enough rhythm even although it's now considered a dance classic. I like Sirusho but find the song just OK.
Stine F. – In 2008 I loved this song, and I still find it catchy. Listening to it again now, however, the song feels a bit annoying to be honest. Her vocals are on point in the beginning, but when she starts dancing, she doesn't keep it up. A bit off, in my opinion. Nevertheless, I think this is Armenia's best contribution in ESC, and this is one of those songs you remember and can hum along to still after so many years.
Mhairi O. – It is an "ethno-bop". I wish Armenia would send more like this. Definitely one of the best songs they've ever sent.
Gunec G. – All shouting and very very much repetitive. Tiring to listen to. I simply don't like it.
Enjoy Sirusho's performance from the 2008 Eurovision Song Contest in the embedded video. Below the video, you can read more about her.
Sirusho – a brief biography
Sirusho was born in Yerevan on 7 January 1987. Sirusho began singing in public, at the age of 7, but had to wait till the ripe old age of 13 before releasing her first self named album.
Her second album, Sheram, five years later, saw her win Female Artist and album of the year, in Armenia, a feat she repeated for the next four years.
In 2008 she gave Armenia its best placing to date at Eurovision with the song Qele Qele. She tried unsuccessfully to represent Armenia again in 2010, but the album that followed, Havatum Em, was a bigger success, producing four hit singles.
Sirusho married Levon, the son of president, Robert Kocharyan, on 6 June, 2009, and they have 2 children. She released her latest song, Yare Marcun Yara Kuta in 2020.