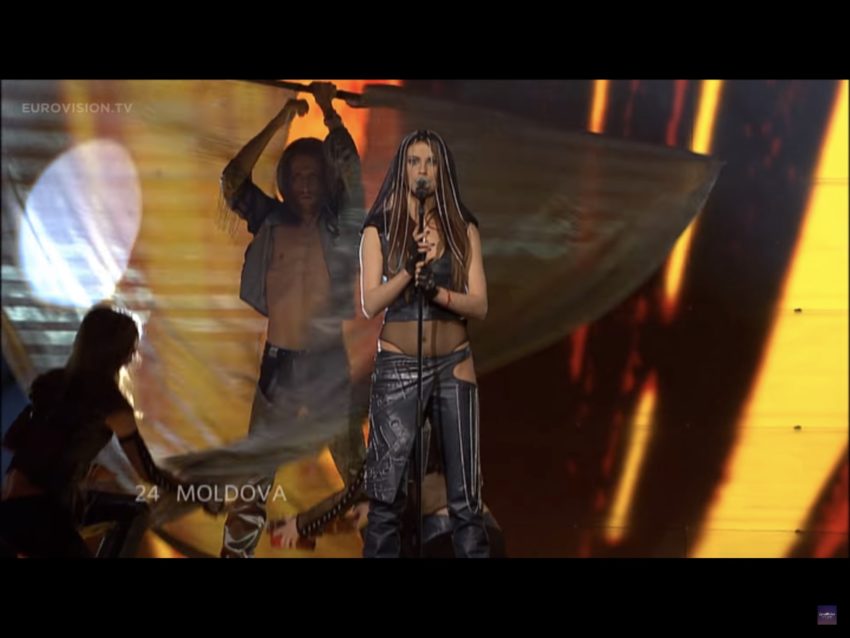 Lack of funds almost saw the withdrawal of Moldova from the Eurovision Song Contest 2007. In the end though, a jury panel sent Natalia Barbu to Helsinki with the song, 'Fight'.
Moldovan Television (TRM) requested artists to submit potential entries. After receiving 34 songs,a panel whittled them down to a selected few. Prior entrants, Zdob şi Zdub came second with Space Cowboys, but they were no match for Natalia Barbu with Fight.
Natalia performed 9th at the 2007 semi final, and was announced as the last qualifier to the final. As a result, Natalia closed the Eurovision Song Contest 2007 on May 12. She received 109 points, including 12 from Romania, leaving her in 10th position, ironically the same position she finished in the semi final.
Fight – opinion from fans
In order to find out what Eurovision fans today think of this Moldovan entry from 2007, we asked our Eurovision Fan Panel. It includes team members as well as fans from all over the world.
Michael O. – To me this is one of Moldova's best entries, although the lyrics are a little odd. I love the violin and felt this was a pretty modern entry from Moldova. It was well performed and in a contest of generally poor songs in 2007, I was glad it finished Top 10.
Milosav T. – Originally, I liked it, but I was somewhat disappointed by the live performance. She can sing, and the high note was amazing, but her English pronunciation left a lot to be desired. The "choreography" was a typical one for the era, but it sucked. Just frantic flag and scarf waving without any purpose doesn't really make a performance. Also, how come she "plays" the violin just in the beginning, and then just gives it to the backup dancer later and never plays it again? The tacky outfits didn't help either… In conclusion, a decent song ruined by poor visual performance.
Charlotte J. – Moldova has never been afraid of standing out with something completely different. I like the rock sound and her Ruslana-kind-of attitude and the chorus is quite strong. The verses however… they are boring and uninspiring to me.
 Steinar M. – This song BOTH came 10th in the semi AND the final….quite special. I think 2007 was a great ESC-year (with a horrid top 2!), and one thing I really liked was that there were so many rock songs. An obvious Lordi-effect! Sadly, many great rock songs failed to pass the semis: Andorra, Czech Rep, Iceland, Croatia etc. This one narrowly made it though. Moldova had some great entries back then (not that great now), and this is no exception. A powerful, strong and punky rock anthem, with a great sonorous melodious feel. I would personally have preferred some more guitars in the production, and less strings. But still a great song. Not among my biggest favourites of 2007, but a very good song.
Mária P. – Everything about this entry attracts attention: the staging, the clothing, the performance, the strength. It stood out, many people liked it and I understand that it got in the top 10. But to be honest, the melody doesn't appeal to me and it's not in my personal top 10 of the year 2007.
Gunec G. – One of the highlights of 2007 for me. Her costume, the dancers, the tune that evokes a rebellion act towards love, the violins, I love everything about it.
 Craig M. – This song was cheesy then, and still has a cheesy sound 13 years later. I don't mind watching it when it comes on, but Moldova 2007 is on my "too cheesy for me" list
  Alvaro S. – An intro rather long for Eurovision standards. This is a likeable song. I can imagine it as a good soundtrack for a video game. Lordi really have an impact on the acts that participated the following year and I like it in general. The only thing that could have improved in this act was the supporting dancers raising these flags. They were unnecessary and actually I found them distracting.
Josef S. – It was in 2007 with Fight when I first saw Natalia Barbu and I love her since then. She is a good singer and a powerful one. The violins in Fire are exactly what fits the song so well. The song may be too Eurovision-stereotype, but it is exactly the type of songs I love. Plus the rocky sound and the key change… So many good things in one Eurovision performance.
You can watch the Moldovan entry 2007, Fight, below and read a bit about Natalia after the video.
Natalia Barbu – a brief biography
Natalia Barbu was born on 22 August 1979 in Bălți, in what was then, the Soviet Union. Bălți is Moldova's second largest city.
Natalia was a member of a jazz ensemble called Trigon, before submitting the song Fight as Moldova's Eurovision entry.
She works mainly in neighbouring, Romania, where her song, Îngerul meu was a major success.
Natalia got married in 2011 to a millionaire which meant that she didn't need to work so hard on her career. Nevertheless the following year she released the song I Said It's Sad. She entered the Romanian selection in 2013 with Confession, but placed 13th out of 16 in her semi final.
In 2020 she released her latest song, Lubeste-Ma Azi, and performed a half hour concert at the Moldovan 2020 National final.