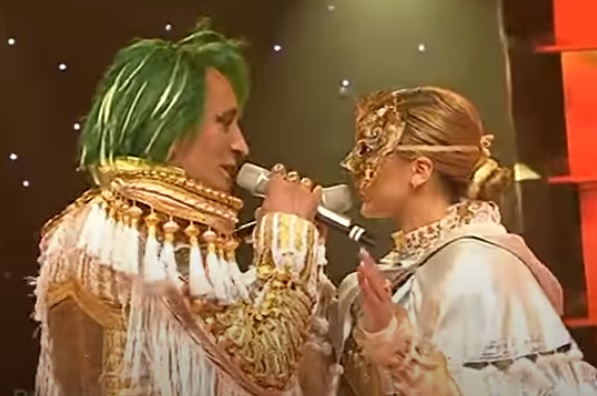 The Polish group Ich Troje graced the Eurovision stage twice: First in 2003 in Riga and second in 2006 in Athens. The result the second time round was not satisfying, and asking fans, it's also clear that they prefer the 2003 entry.
Polish broadcaster TVP opened submissions for Eurovision 2006 from the 11th of November till the 10th of December 2005. Out of 112 submissions, 15 entries were shortlisted by an eleven-member selection committee and they were announced on the 20th of December 2005.
Piosenka dla Europy 2006 organised by the Polish broadcaster TVP took place on the 28th of January 2006 at the TVP studios in Warsaw with the 15 pre-selected entries, At the end of the night, the winner was determined by an eight-member jury and public televote. It was Follow My Heart by Ich Troje ft. Real McCoy.
The group took the Eurovision stage as 12th in running order at the night of the semi final. The vocalists Michał Wiśniewski and Anna Świątczak had a real life romance at the time, and Świątczak was pregnant with their baby. They were joined by Magda Femme and Justyna Majkowska along with rap artist Real McCoy thus completed the limit of 6 artist on stage rule. Additionally, Wiśniewski died his hair green this time rather than his usual red hair. During the performance of the uptempo song spiced up by Real McCoy's Rap performance, the vocalists showed the audience their love and affection to each other and their happiness for their upcoming baby. Eventually, Poland received 70 points thus lost the chance to take the stage on the grand final night.
Follow My Heart – Opinions from fans
In order to find out what Eurovision fans today think of this Polish entry from 2006, we asked our Eurovision Fan Panel. It includes team members as well as fans from all over the world.
🇩🇰 Charlotte J. – This is not the best Ich Troje song at Eurovision. While their 2003 entry stood out and had it's charm, this unfortunately doesn't. This is just not good. I don't find myself entertained, and I just want to skip it and get on to the next song. After this, I will probably put on their 2003 song – just to be reminded that this band actually did make songs, I like.
🇵🇱 🇯🇪 Pawel J. – That was the second time when Ich Troje represented Poland in Eurovision. After the 7th place in 2003- this time the mix of three languages didn't exactly work. It was a little bit too messy and the fact that Michal (the lead singer) tried to show too much of his private life during the performance didn't make much sense for people outside Poland – apart from his wife being visibly pregnant. Not the best Polish entry – I wasn't surprised at all when they just missed the final in Athens.
🇮🇪 John D. – Another clear example of where Will Farrell got material for his film. This is just naff. The rap is very out of place but then so is everything else. The male singer with the gravelly voice is not pleasant to listen to. I did however like the other entry this group had which I believe received 12 points from Germany.
🇳🇱 🇩🇰 Wouter V. – After loving their entry from 2003 I really had my hopes up for Ich Troje in '06. My disappointment turned out to be as high as those hopes. On a slightly unrelated topic, we had so much fun singing Keine Grenzen during a thorough luggage and passport inspection on the border to Poland, on our bus trip to Riga.
🇹🇷 Gunec G. – This one is so cosmopolite. Rap mixed with Broadway musical sounds very complex and messy. I actually like the late 90's early 2000's feeling of the rap part. It's energetic. The vocal duo look nice on stage but the song is comlex enough.
🇨🇴 🇫🇮 Alvaro S. – I think this choreography did not age well. Poland did not get the "less is more" message. The whole scenario looks overcharged with the masks and the extravagant dresses. Now, the song is not bad but I would fire the rapper immediately. It made the song sound ridiculous. I mean "toma mi gasolina"??? Does he think he is Polish Daddy Yankee?
🇬🇧 Mhairi O. – I don't what it is but there is something about the song that I don't like. I think 2006 was a really good year with great songs and for me Poland was not one of them.
🇳🇱 Eric O. – The recorded version of this song is much better than the live performance at the semi-final, especially due to the bad English of the singers, but I still think it's unfortunate that they got the 11th place and missed the Grand Final, as Lithuanias 'We are the winners' would have been my choice of being eliminated in favour of Poland.
🇬🇧 Michael O. – Ich Troje had done better than expected previously at Eurovision and with the real McCoy on board, this should have been something else. I fooled myself into thinking it was OK because of the act, but really it wasn't anything special, and was a big step down from The Real McCoy's hit Another Night.
🇭🇺 Vangelis M. – Poland back in 2006 was not that bad. Regarding the song, it's a song that would have passed to the grand final. The black sheep of the situation was the staging and the costumes. Both of them are creating noise without reason. You can not even concentrate to the song with all this noise around on stage.
Enjoy Ich Troje's performance from the 2006 Eurovision Song Contest in the embedded video. Below the video, you can read more about them.
A Mini Biography to Ich Troje and Real McCoy
Ich Troje was founded in 1996 by songwriter Michał Wiśniewski and composer Jacek Łągwa. They have enjoyed musical success starting from 2000. The former members of the group are Magdalena Pokora (a.k.a. Magda Femme, 1996–2000), Justyna Majkowska (2000–2003), Elli Mücke (2003) and Ania Wisniewska (2003–2010). The groups last lead singer is the Norwegian singer Jeanette Vik since 2010. They have released many studio and compilation albums throughout their musical journey.
Olaf Jeglitza known professionally as O-Jay is a German rapper best known as the frontman of the '90s Eurodance and Pop music Project  Real McCoy (also known as M.C. Sar & the Real McCoy). He was born on the 15th of February 1965 in Berlin. He started his career as a photgrapher. He literally started his musical adventure in 1984 working with DJ Frank Hassas (a.k.a. Quickmix). He made his music in different groups throughout his career. His has released numereous singles and albums with his groups and currently he is continiuing his career as a producer.