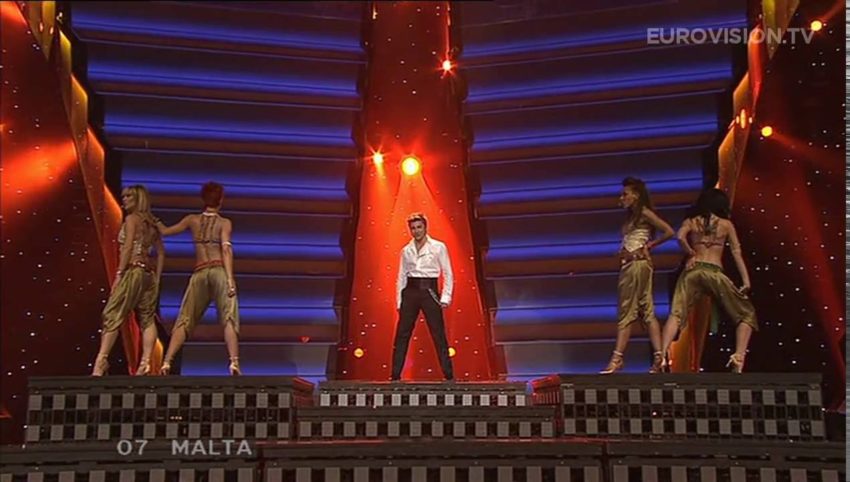 After 'Another Summer Night' does so well at Eurovision 2001, by placing ninth for Malta, when your National broadcaster (PBS)  comes calling in 2006 to ask you to represent them again, of course you're going to say 'I Do'.
Well that may not entirely be the case, as in 2006, Fabrizio Faniello had to compete in the Malta Song For Europe, against another 17 contestants on February 4.
The show took place from the Mediterranean Conference Centre in Valletta, with the public choosing the winner. With a total of 7729 votes, Fabrizio beat next years contestant Olivia Lewis by 106 points, and ended up heading to Athens, Greece, with the song, I Do.
Alas only the public in Albania felt the song deserved any points, and poor Fabrizio ended up in last place with just one point.
I Do – opinions from fans
In order to find out what Eurovision fans today think of this Maltrse entry from 2006, we asked our Eurovision Fan Panel. It includes team members as well as fans from all over the world.
Michael O. – While perhaps not being the most original song ever, I Do was still a catchy little pop song, that was easy to sing along to, yet Europe's public were unable to remember it, during the voting. A shame it only gained one point as it deserved better than that.
Enis H. – Malta is one of my least favorite countries in eurovision, but this entry was really good in my eyes. Some fun europop from the 2000s. I really like the beat of the song. Although I like the song though i prefer his 2001 entry.
Charlotte J. – I have never forgiven Malta for not sending Fabrizio to Eurovision again since 2006. He won my heart back in 2001, but unfortunately I didn't go to Eurovision with accreditation before 2003 – and in 2006, things had been screwed up in the British delegation, which meant that I and many others suddenly stood in Athens and was denied accreditation (I was working for a British media back then). Due to my long blonde hair, I still got into a few parties, but unfortunately didn't manage to meet Fabrizio… The song? Oh, I love it. It's not as strong as Another Summer Night from 2001, but both songs deserved more than they got. In 2001, he should have been in top 5, and in 2006, he should have been in top 10.
Enio P. – I always tend to appreciate songs performed by an artist that composes it, so well done Fabrizio! I personally prefer Another Summer Night although I Do is a light pop song with a feel good vibe but it didn't make a positive impact on me! Let's face it, with Lordi on the competition all the other entries lost their interest.
Günec G. – A typical summer hit from Fabrizio Faniello. I like this kind of positive energy on stage. Can't ignore Fabrizio's charisma.
Alvaro S. – I am sorry that Fabrizio did not get so much love in 2006 but looking in retrospective this song looks unoriginal. It has a similar structure that many other entries we have listened in the last two decades. So basically this formula was overused and Fabrizio's performance looks also too much prefabricated.
Aaron S. – I Do is a nice song, it has a good up-tempo vibe, while I don't think it should have come close to winning, it deserved much better than last place, it was another nice entry from Fabrizio Faniello to follow on from his entry in 2001.
Christopher D. – One would probably expect me to be biased being a Maltese citizen. Unfortunatley I Do by Fabrizio Faniello is one of the Maltese entries I really hate. I always thought this entry was very poor, repetitive and almost childish, especially compared to Another Summer Night. And I was proven right by the votes on the night. One Maltese entry I try to forget and ignore.
Jānis O. – 0 points for Malta! I don' t like this act. How it got into the final? Its some joke?
In the video below, you can enjoy Fabrizio Faniello's I Do from the 2006 Eurovision Song Contest. Below the video you can read more about him.
Fabrizio Faniello – a brief biography
Fabrizio was born in Malta in 1981, seven years before younger sister, Claudia who represented Malta in 2017. The siblings have one other sister, Miriana.
In 1998, Fabrizio first entered the Malta Song Contest, with the song, More Than Just A Game, when he came second, a feat he repeated in 2000 with Change Of Heart.
Fabrizio finally found success in 2001 with the release of the album, While I'm Dreaming featuring his Eurovision entry, Another Summer Night, which placed ninth, in Copenhagen, Denmark.
He has attempted to represent Malta, three times since the 2006 entry, but has just missed out.
In 2019  he performed the song, Dawl Ghajnejja at the festival for Ghanja Tal-poplu, and also released the single, Life Goes On.