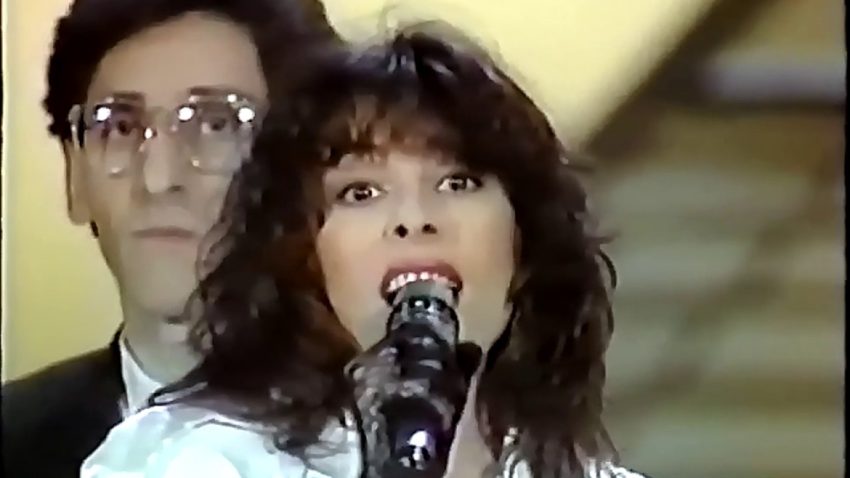 In 1984 Italian broadcaster (RAI) didn't go with the Sanremo contest to pick their Eurovision entry. Instead they internally selected two very successful Italian solo acts, Alice Visconti and Franco Battiato, duetting together on the song, I Treni Di Tozeur.
Both Alice and Franco had been scoring chart hits in Italy, when they paired together to perform I Treni DiTozeur, composed by Franco, along with Giusto Pio, who conducted the song at Eurovision in Luxembourg City in 1984. The lyrics were written by Rosario Cosentino.
Italy were drawn in 18th position out of a total of 19 entries. The song received mixed reactions, receiving maximum points from Spain and Finland, but was ignored entirely by half of the juries of the participating countries. As a result, I Treni Di Tozeur finished in equal 5th place, with the Belgian entry, Avanti La Vie, with 70 points.
I Treni Di Tozeur – opinions from fans
In order to find out what Eurovision fans today think of this Italian entry from 1984, we asked our Eurovision Fan Panel. It includes team members as well as fans from all over the world.
  Michael O. – To me there has only ever been one better song than this at Eurovision, and that is Waterloo by Abba. This Italian entry is a complex piece of musical work, meshing orchestra, electronica, opera with a moody classy tune that hasn't dated one little bit. What the juries were listening to I do not know, and while Diggiloo Diggiley may have more instant appeal, the juries should have recognised this song as a masterpiece. Italy should definitely have won in 1984.
Alexander S. – Italy in 1984 selected the masterpiece I Treni Di Tozeur which placed 5th of 19 entries that year. The song is very well, performed,full of glamour. In my view, it is a sweet melody that catches you. Both singers have got different tones of voices which match perfectly….I only disliked the clothing …..The song turned out to be a success in its home country , as well as others ….the song is one of the best entries of the 80's
Charlotte J. – I had Italy in top 3 a total of seven times between 1980 and 1990 – and this is of course one of those times. But do forgive me, I was eight years old in 1984 and it was three Swedish brothers that stole my first place back then. But damn, I do love I Treni Di Tozeur, and it's one of those classic entries that still holds a place in my heart – just like so many other Italian entries. No wonder why Italy is one of my favourite Eurovision countries – together with Norway and Iceland. Italy hasn't been nearly as strong in recent years as they were in particular in the 1980's, but they should have had more victories than just two!
 Jill R. – I treni di Tozeur appeals to me. But it feels like the song is building up to something more, and doesn't´ quite get all the way. I like the instrumental symphonic parts, but they could have skipped the opera. The end of the song is a bit abrupt and I kind of expected a more powerful finale. The artists both sing very well, especially Alice, and their voices work really well together. Alice shows a lot of emotion when she sings, but Franco lacks charisma with his face mostly totally blank. Overall it´s a good song and they deserved to be top 5, but in my opinion they didn't stand a chance against Herreys.
Alvaro S. – I needed to watch this song to connect with it. I think that the song is good but the way this couple performed looked to me unexciting even apathetic. They know how to sing but it looks like they don't feel what they are singing. On a more positive note, the backing vocals at the end were great.
Jacques H. – I treni di tozeur by Franco Battiato & Alice is one of those other child hood memories I cherish a lot. This is such an exciting song, although Franco had difficulties hitting the right notes in the first verse. I still find it unjust it ended equal with the unremarkable Belgium Jacques Zegers. 1984, was the year of Dutch Maribelle with a huge bow on her belly and a whispering sweet Ik Hou Van Jou ('I Love You So'). Linda Martin's Terminal 3 was a powerful song, but no one could beat the Mormons from Sweden. Diggi-loo Diggi ley and the Herreys' golden shoes. Bring me more memories of 'Eurovision Past'…
Robert I. – This is one of the most memorable Eurovision entries. It's a beautiful, yet original song. I love the way the singers interact vocally, and how Franco passes the words over to Alice. I have been humming I Treni Di Tozeur ever since 1984.
Gunec Y. –  A very charismatic performance from Alice and Franco Battiato. But I think the song itself is not as powerful as should be. Franco and Alice's performance saved the day for Italy.
  Steve P. – Italy can always (well, usually – I'm thinking about you, 2019!) be depended upon to provide some classy sophistication, but this year, even they excelled themselves! 'I Treni ……….' sounded good at the time and the years have not taken away anything. In fact, they have only served to establish this song as a true classic of the contest. Only Italy would have the courage of their convictions and have operatic backing singers! The collaboration between Franco and Alice was not a one-off, the pair continued to perform together until recently.
Enjoy the performance of I Treni Di Tozeur by Alice and Franco Battiato below, with a few quips by Terry Wogan as an added pleasure. Below the video you can read more about them.
Alice and Franco Battiato – a brief biography
Franco was born in Sicily in 1945, and became well known in Italy as a composer of off the wall compositions, recording his first single L'amore è partito in 1965. His first album Fetus appeared in 1972.
Alice, born in 1954 in Forli, with the birth name Carla Bissi first teamed up with Franco in 1981 when she went on to win the Sanremo festival, with Per Elisa, a song they both composed.
The duo sporadically collaborated together, with Alice often releasing albums, with songs written by Battiato. In total she has released 17 studio albums and multiple compilations. However Franco totally outnumbers Alice, with nearly 50 albums out on release.
Their most high profile performance outside of Italy was of course at Eurovision 1984, with I Treni Di Tozeur, which became a big hit in many European countries, most notable in Germany.
In 2016 the pair reunited for a special concert with the Ensemble Symphony Orchestra  in Rome, where they performed many of the songs, the duo have recorded together throughout their careers.