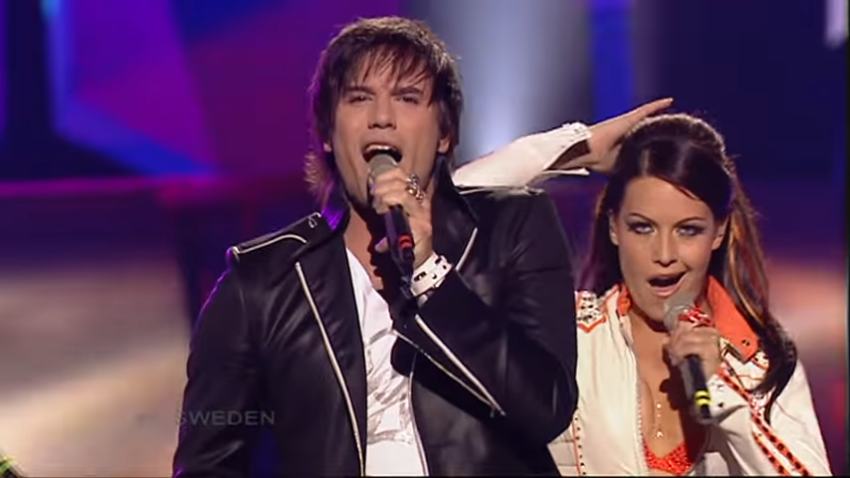 In 2005, Sweden scored their lowest result in 13 years when Martin Stenmarck didn't charm the international audience with the song 'Las Vegas'. 16 years later, some fans think it deserved much better, while others are unable to understand why it even won the Swedish selection.
Sweden used their traditional six shows Melodifestivalen to select their 2005 Eurovision participant. Martin Stenmarck won his semi-final and thus qualified directly for the final. In Globen, Stockholm the 10 finalists met in a tough selection with many well known names competing. Martin was the jury favourite whereas he finished 2nd with the public voting. Combined he received 212 points. Nanne Grönvall finished second closely after with 209 points. That it really was a two-way competition is seen in Alcazar on third place with only 135 points.
At the Eurovision Song Contest in Kyiv, Ukraine, 24 countries took part. Sweden's Martin Stenmarck finished in a joint 19th place with the home country's GreenJolly. This was back then, Sweden's worst placement in 13 years. The 30 points to Martin Stenmarck came from 7 different countries of which Denmark awarded him the highest; 7 points.
Las Vegas – opinions from fans
In order to find out what Eurovision fans today think of this Swedish entry from 2005, we asked our Eurovision Fan Panel. It includes team members as well as fans from all over the world.
🇸🇪 Jill R. – Las Vegas isn´t one of the best songs from Sweden, and it wasn't one of my favourites in Melodifestivalen in 2005 neither. But I don't hate it. It has some good vibes. I especially like the finger snapping parts. And Martin is a competent artist with a great voice and big charisma. The performance was alright but the dancing girls were a bit cheesy, and I'm not sure about the glowing stick… Las Vegas sure didn't deserve a top placing, but maybe a little higher than 19th, and Martin Stenmarck did deserve a better song.
🇬🇧 Michael O. – If ever Sweden made a mistake in their choice this was the year, as it joined the Big 4 at the bottom of the table. Having said that the 12-inch dance version is actually very good.
🇩🇰 Charlotte J. – It's rare that I can say that I think Sweden scored too low. 2005 is an exception. This song deserved much more than it got, in my opinion. It's not winner material, but Las Vegas is a catchy song with a strong beat, one that is easy to remember and easy to sing a long to. What went wrong? If I am to point at anything, it would be the dancers that didn't do this song justice. The four female dancers sells sex, in my opinion that's not what this song needed. With a better performance, this would have finished in top 10 where it rightfully belongs.
🇳🇴 Steinar M. – OK – not a BRILLIANT song as such. But I think it makes a refreshing change. The song owes a lot to 70s funk music from U.S. I think, but also has a kind of "crooner" feel to it. It all sounds slick, professional, streamlined (which sometimes is TOO streamlined when it comes to Swedish entries). A nice arrangement with brass. Well sung. Compared to all their bad schlagers which came 5th, I think this song did far too badly. My favourite from 2005 was the amazing rock song from Moldova.
🇹🇷 Güneç G. – Martin looks very good on stage, and he gives his best. The lady dancers look good as well. But I feel there's something missing here. I think the song is not so special.
🇨🇴 🇫🇮 Alvaro S. – This was an interesting song selection for Sweden. I cannot believe that he actually won Melodifestivalen being that this national selection is so competitive. This is so cheesy. That's the word. A cheese fountain spreading all over the place. If Sweden ever deserved to stay in the semi-finals it should have been in 2005.
🇨🇿 Josef S. – Very unusual song choice for Sweden, taking into consideration what type of songs they send now regularly. But back in the 2000's this was their standard and let's be honest it's a good one, well produced, well performed, staging is on point as usual with Sweden. Today, it would be a fun interval act rather than regular entry for Eurovision. Oh, and Martin looks much better today, probably he ages like a wine. 🙂
🇸🇪 Sara T. – What a sad day it was when this boring, meaningless song won over Nanne Grönwall's Håll Om Mig back in 2005. Eurovision that year was filled with drums and women with powerful voices, and Nanne would have fit right in (and probably have reached at least top ten instead of bottom five). I even remember Martin Stenmarck publicly apologising in Swedish newspapers for his low score. He's a talented singer, but this song should never have made it to Eurovision. It's a low point in our Eurovision history.
🇷🇸 Milosav T. – What a boring, cheesy song! The guy can't really sing that well and comes of as smug, and the song itself sounds like its from the 80s or 90s. It's surprising that Sweden actually sent this garbage to represent it. Nil points!
Enjoy Martin Stenmarck's performance from the 2005 Eurovision Song Contest in the embedded video. Below the video, you can read more about him.
Martin Stenmarck – a mini biography
Born in Täby, Stockholm, Sweden in October 1972 Martin grew up with music in his veins from his grandmother and grandfather who were both well known singers. As children, him and his brother David had a hard rock band in which they won a talent competition in 1991. In 1992, he joined the band Sha-Boom and released two singles in English with them.
Working as a model and actor his career really kicked off after the mid 1990s.  As an actor he has played in among others Jesus Christ Superstar and West Side Story. As a singer, he has taken part in the Swedish Eurovision selection Melodifestivalen 4 times, and won once; in 2005 with the song Las Vegas.
Martin has released singles and albums in both Swedish and English. His first single in Swedish came in 2006 and was titled 7milakliv. That sold to 4 x platinum.
Three Melodifestivalen participations from Martin Stenmarck
2006: Las Vegas won Melodifestivalen 2005 and finished 19th at the Eurovision Song Contest
2014: När änglarna Går Hem reached the Second Chance heat in Melodifestivalen 2014
2016: Du Tar Mig Tillbaks finished 6th in semi-final of Melodifestivalen 2016
2019: Låt Skiten Brinna reached the Second Chance heat in Melodifestivalen 2019