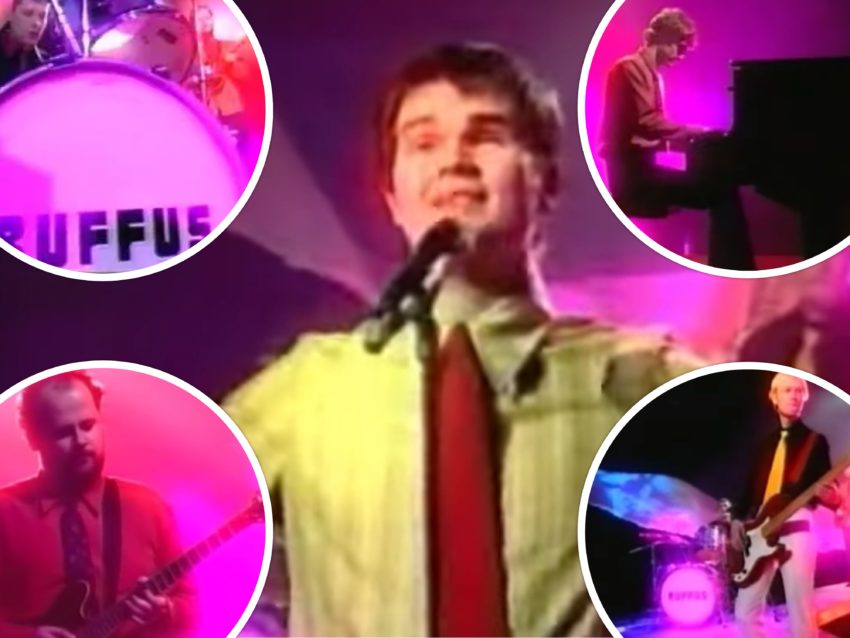 An international jury that went against the wishes of the local population, and a song that today is appreciated by almost our entire panel of Eurovision fans. Whatever happened to 'Eighties Coming Back' in 2003 remains a mystery, for Estonia it marked the start of a dark period in their Eurovision history.
Estonian broadcaster ETV had been using their Eurolaul format for selecting their entry for Eurovision since 1993, and 2003 was no different. It wasn't just anybody Ruffus were up against. Sven Lõhmus, who since then has written four of Estonia's Eurovision songs, had two songs in. One of those performed by Vanilla Ninja (10th place), who would later represent Switzerland in the 2005 Eurovision Song Contest. Koit Toome (2017 & 1998) scored a second place, and Slobodan River (with Maria Rahula, composer of the 1998 entry) ranked 7th.
Ruffus themselves received 65 points. This one point lead over Koik Toome was enough to secure the victory, and win the right to represent Estonia in their neighbouring country Latvia. The international jury, who solely decided the outcome of Eurolaul, consisted of no less then six former Eurovision participants (🇧🇪 🇸🇮 🇮🇱 🇱🇻 🇬🇧 🇮🇸), one Eurovision conductor (🇸🇪) and Manfred Witt (🇩🇪). Ahead of the competition clear signals from the population indicated Vanilla Ninja's Club Kung Fu as their favourite.
The year after Estonia hosted the Eurovision Song Contest in 2002, they were looking to continue successful streak that started at their second participation. Until then, they had only missed out on a top 10 placement twice before – at their debut in 1994 (24th) and in 1998 (12th). Unfortunately, 2003 was the year their luck took a grim turn. Ruffus went home from Latvia with no more than 14 points and a 21st place.
Eighties Coming Back – opinions from fans
In order to find out what Eurovision fans today think of this Estonian entry from 2003, we asked our Eurovision Fan Panel. It includes team members as well as fans from all over the world.
🇱🇻 Janis O. – I really like this Estonian act in Eurovision. Ruffus has an amazing singer. I hope he will come back to the Eurovision Song Contest. He has a really cosy voice.
🇳🇱 🇩🇰 Wouter V. – While listening to this piece of art, you're not in doubt that these musicians know what they're doing. With it's laid back style, and flashbacks to a time when music in general just seemed to be better, this song is honey to my ears. On top of that, the band shows that pretending to play the instruments doesn't have to look fake at all. Such a sharp contrast to Denmark's Anti Social Media (2015).
🇹🇷 Güneç G. – A typical Baltic entry from Ruffus. I really don't find anything very special about Eighties Coming Back. But the energetic stage performance by Ruffus saves the day for the song.
🇧🇷 Amir B. – Eighties Coming Back brings the rock and roll to the Eurovision. A soft rock that I liked, an emotion of some times that don't come back. It's a lot better than Latvia and, for me, would be a better winner! Reminds me of when I was younger, I think that the song is a little bit repetitive but brings back good times!
🇳🇴 Steinar M. – Very underrated! A great song in a style too seldom heard in Eurovision: indie. This reminds me of both of the great britpop style of the 90s, and of 80s bands as Style Council, Blow Monkeys etc. Very innovative, and one of the best from Estonia. Should be top 5!
🇺🇸 Grace W. – The song itself is pretty good, a bit repetitive, and it's easy to see why it placed so low. 2001-2003 were overall really weak years in Eurovision, and this is far better than most of the other entries in that three year span and 2003 in itself, but it doesn't really fit the characteristics of a Eurovision song. It's a 7/10 from me.
🇳🇱 Eric O. – Gosh, I don't remember this song at all! And it still doesn't make an impression to me, I'm afraid… Maybe because it only got 14 points? Luckily, in 2003 there were much better songs, not only the winning Turkish song Everyway that I can, but also One More Night by Esther Hart from the Netherlands (who was awarded with the award for best artist, by the way).
🇩🇰 Charlotte J. – It sounds odd to say that I miss some 1980's sound on a song titled Eighties Coming Back, but I actually do! Otherwise, I really do enjoy this one. It's catchy, and 17 years later, this is still one of those that I remember best from 2003. While not being my favourite, it was in top 5, and I believe it should have done much better than 21st out of 26 acts.
🇨🇴 🇫🇮 Álvaro S. – 80s coming back is a sweet song. I like how this act looks so unpretentious, as if they were a band of friends singing for their university graduation party or a small event. At least that is how I can imagine them, without trying to diminish them. This 'simplicity' makes this song to an extent more genuine and I love that.
🇷🇴 Doina A. – I just watched the Estonian entry for the 2003 Eurovision Song Contest…well, Ruffus did a great job!  Eighties Coming Back made a come back of those times…the 80's! Maybe not good for everyone, still, interesting lyrics, music was worth listening and danceable! Vaiko had a nice voice and the guitar following was good! Of course, the piano completed an enjoyable song! Yes, I like the 80's!😊
🇬🇧 Michael O. – Well if the eighties were coming back we'd have gotten Spandau Ballet, Wham or Duran Duran, of which this is not. After a pretty good run from Estonia at the beginning of the 2000's, this was a step back to run of the mill.
Enjoy Ruffus' performance from the 2003 Eurovision Song Contest in the embedded video. Below the video, you can read more about them.
Ruffus – a mini biography
Estonian indie-rock band Ruffus was founded in 1997 by Vaiko Eplik as Claire's Birthday. Before changing their name and entering Eurolaul 2003, they released three albums and won several Estonian music awards. Along with the name change, Cät left the band, and Jaan Pehk as well as Ivo Etti joined. Reportedly their Eurolaul participation was only supposed to be joke. Under their new name, Ruffus only released one album: Lessons in Pop.
Ruffus' members are all highly qualified musicians. Lead vocalist Vaiko Eplik, guitarist Jaan Pehk and bass player Ivo Etti all received education at the Tallinn Music School, keyboardist Siim Mäesalu has both studied at the Tallinn Secondary School of Music as well as the Estonian Academy of Music and Theatre. Last but not least, drum player Margus Tohver plays in Estonia's first ever trash metal band Palat – with an unchanged line-up since 1987.