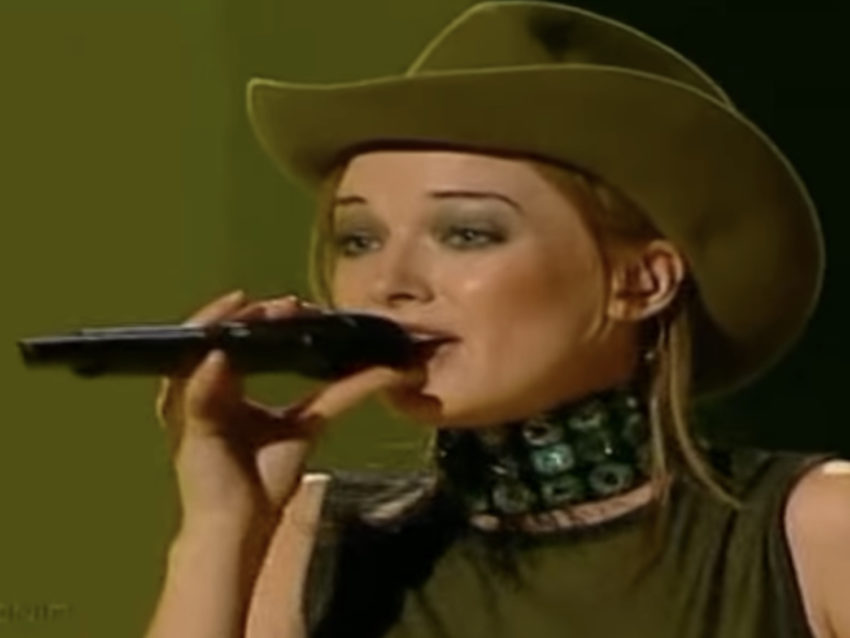 In the year 2000, Estonia, having placed in the Top 12, four years in a row, were tipped to win the Eurovision Song Contest, with Ines and the song, 'Once In A Lifetime'.
On February 5, 2000, Estonian Television broadcast that year's Eesti Laul. Nine acts took part, with ten songs, including the previous year's entrant, Evelin Samuel. Ines sang two songs, placing 8th with Kuulatan su ootamist, but winning with Once In A Lifetime.
The Eurovision Song Contest 2000 from Stockholm, Sweden was held on May 13, 2000. Ines performed in fourth place, backed by a group including her then boyfriend, Tanal Pader, who went on to win for Estonia the next year. Latvia gave Estonia their highest score of 10 points, while many countries gave the song middling points. In the end Ines was awarded 98 points, ending in fourth place.
Once In A Lifetime – opinions from fans
In order to find out what Eurovision fans today think of this Estonian entry from 2000, we asked our Eurovision Fan Panel. It includes team members as well as fans from all over the world.
Michael O. – On first hearing this entry, I was certain Ines was going to give Estonia it's first ever win. However, the performance wasn't quite as dynamic as I had expected. Nevertheless, this was a strong tune, and fourth was a respectable placing.
Liza P. – Once in a lifetime is a great entry from Estonia with a nice Swedish sound. And I had very high hopes for it before the ESC final. But on the night of the final, when I was sitting in Globen, I thought that Ines looked a bit tense on stage. Nerves perhaps. She didn't look relaxed or comfortable at all. Vocally it was fine. Though I like Estonia better than Latvia, Brainstorm did perform better, so 4th place was well deserved for Ines. And I still enjoy hearing the song, when it pops up on ESCradio or a playlist.
Christopher D. – Ines remains one of my favourite Eurovision singers for Estonia. Her song was much better than their winning song the year after. She may have been a bit anxious and her performance was not as strong as her video clip, but it remains a winning material song.
Alvaro S. – This song is better than the Estonian winner. However, my favourite Estonian song from this decade is 2002's Runaway. This song is just fine. I would listen to it in the background but still it needed something to make a difference. Not bad, but it pales compare to the Olsen Brother's
Kostas C. – A common pop song, without anything to stand out. From the beginning till the end, the same tone, no melody at all, no ups, no downs. I do not even find her voice good or distinguished. The stage appearance in my eyes is also very poor. For all the above reasons, I really can't understand the hype with this song and such a good place at the final.
Paul G. – This was my winner of 2000. I love the song and still do. Not one you hear that often at Eurovision discos I wonder why that is????
Charlotte J. – This, together with Russia, was my favourites going into the 2000 contest. My home country Denmark ended up winning, fully deserved though. This Estonian entry is still enjoyable, but the performance let it down. It becomes pale and uninteresting, but I still like the song.
Doina A. – It was quite a nice pop country song, with a nice flowing melody, lyrics telling about love, sustained backing vocalists. Although, Ines looked so nervous and her scenic movements too tight, she performed the song beautifully, leaving a nice impression to the audience and jury. All about love with a charming singer, Ines.
You can watch Ines's performance in the video below and catch up with her latest news after enjoying Once In A Lifetime.
Ines – a brief biography
Eda-Ines Etti was born in Haapsalu on May 26, 1981. Using the stage name Ines, she began her career representing Estonia in 2000 with her second single, Once In A Lifetime.
After Eurovision 2000, it was rumoured that she would return in 2002 with the song Runaway, but that never transpired. She released two albums between 2000 and 2004.
She continued to be a celebrity in Estonia, due to her continued singing and acting career. and made a further bid to represent Estonia in 2006 with the song Iseendale.
Ines formed a band in 2005 and has since released three albums with them. Her latest two projects have been the release of the 2020 single Kõik, mis tahta võin, but more importantly she gave birth to her first child, to businessman, Mart Vips.