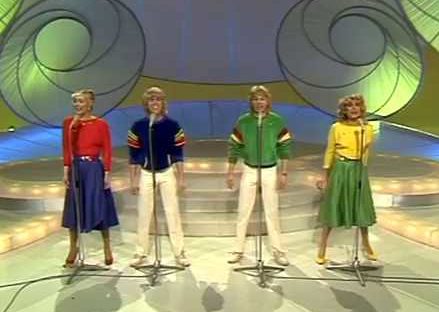 On April 4, 1981 a group specifically formed to appear at the Eurovision Song Contest won the contest in Dublin, Ireland. That group was Bucks Fizz, and the song, 'Making Your Mind Up'.
Nichola Martin and Andy Hill had two songs selected to appear in the Song For Europe 1981 final. One was the song Have You Ever Been In Love. Nichola decided to perform that song, with the group, Gem.
She had a singer, Michael Nolan, to sing the other song, but needed three more singers to form a group to sing that other song, Making Your Mind Up. After several auditions, Bobby Gubby and Jay Aston were selected, along with ex U.K 1978 entrant Co-Co singer, Cheryl Baker.
On March 11, 1981, the group performed Making Your Mind Up, fifth on the Song For Europe contest, preceding Gem who performed next. Gem finished fourth, but their song went on to become a Top 10 hit for Leo Sayer. The winners and the chosen U.K entry for 1981 was Bucks Fizz.
With the colourful costumes, catchy song and now infamous skirt ripping routine, Bucks Fizz went on to win the Eurovision Song Contest, giving the United Kingdom their fourth win. After the contest, the song went to number one in the U.K charts, and several others over Europe.
Better than that, the group began a successful after Eurovision career, scoring several number one hits over Europe, including, Land Of Make Believe and My Camera Never Lies. On December 11, 1984 a tragic coach crash abruptly changed the fortunes for the group, which led to a string of break ups, arguments and personnel changes, but as of today two versions of the group still exist, which you can read about after enjoying the video for Making Your Mind Up below.
Michael Nolan – a brief biography
Michael was born in Dublin on December 7, 1954. He began his career in a band called, Brooks, which also featured the future lead singer of Kajagoogoo, Limahl. As a group they didn't have much success, and split right before Michael was offered a job in Bucks Fizz. Michael sang lead vocals on the group's hit Now Those Days Are Gone, a number 8 hit in 1982.
Unfortunately, Michael was the most seriously injured in the December 1984, coach crash, and was put in a coma, even having the Last Rites read. However, he miraculously recovered, although he  still feels the effects of the accident today. With the original Bucks Fizz members going their separate ways, Michael formed a version of Bucks Fizz with ex Dollar member, David Van Day before they too went their separate ways.
Cheryl Baker – a brief biography
Cheryl was born, Rita Crudgington on March 8, 1954 in London. She was a member of the band Co-Co who just missed out representing the U.K in 1976 with the song, Wake Up. In 1978, she represented the U.K with her band, placing 13th with Bad Old Days. Cheryl became a regular television host on the BBC, whilst still a member of Bucks Fizz, and left the group in 1993. She hosted the show, Record Breakers and even went on to perform in Footloose in the West End. Cheryl continues to appear on celebrity television shows, like Dancing With The Stars and Mastermind. She reformed the group The Fizz, with Michael and Jay in 2011 and has released two regular and a Christmas album.
Jay Aston – a brief biography
Jay was born on May 4, 1961 in Surrey. Her brother placed third as part of Prima Donna at Eurovision 1980 with Love Enough For Two. In 1983, Jay sang lead vocals on the Bucks Fizz hit, When We Were Young. She left Bucks Fizz, in a blaze of newspaper headlines in 1984,being replaced by Shelly Preston, who scored a Top 10 hit with Bucks Fizz in 1986, New Beginning.
As a solo performer, Jay saw her fortunes diminish, even after releasing three solo albums. Eventually in 2001, she formed her own performing arts school, which turned her fortunes around. She became a member of the reformed The Fizz, with Michael and Cheryl in 2011. She stood, unsuccessfully as a potential UKIP member of parliament at the last British election.
Bobby G – a brief biography
Bobby was born on August 23, 1953 in Epsom, and had been in the building trade before joining Bucks Fizz. He had to dye his hair blonde to fit in with the groups image. During his time with the original Bucks Fizz, he recorded the solo single, Big Deal from the BBC television show of the same name.
Bobby owns the trademark to the name of Bucks Fizz, and as a result has a group of that name still in existence. Prior to Covid-19 restrictions, he often toured with the group, with his wife, Heidi Manton, and the other two current members, Paul Yates and Tammy Choat.